Eid Animal hides: a big source for Pakistani terror groups – by Shaherbano Walajahi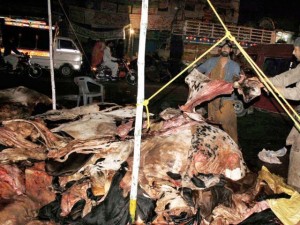 Eid animal slaughter funds Pakistan terror groups. Hides from 6m animals sacrificed during Eid sold by front organisations for militant groups. Before MQM entered in this business in karachi , Hyderabad and some interior sind cities, there was no competitor of Jamat-i-Islami. JI organized skin collection at grass root level across the country using small children even under twelve. These children were given bicycles for three days , which was a great fascination for them. These children were the non-paid workers in this billions dollar trade. Islami Jamiat-i-Tulba used to set up camps and compilation of the collection record. Jamat-i-Islami was the first to explore this source of income.
Many others jumped in to take their share. Jamat-ud-Dawa , the mother of Lashker-i-Tyabba is the biggest recipient of this hard cash source of income. This is spent to train murderers , terrorists and anti-state elements. A sad exploitation of religious rituals. Interestingly majority of the leather dealers and manufacturers are affiliates of either Jamat-i-Islami, Tablighi Jamat, Jamat-ud-Dawa & lashker-e-Tayyaba, for example–hub leather group, Bhenaro group.
Thinly disguised front organisations have been gearing up to compete against each other and legitimate charities to collect as many animal skins as possible, which can then be sold on for cash.
• Jon Boone in Islamabad
• theguardian.com, Tuesday 15 October 2013

"For us it is second only to Ramadan for our income," says an official from the Falah-e-Insaniyat Foundation (FIF).

FIF is the charitable wing of Jamaat-ud-Dawa (JuD), itself the reincarnation of one of south Asia's most dangerous militant groups, the Lashkar-e-Taiba (LeT), a banned organisation dedicated to fighting jihad against India.

JuD has successfully fought off legal bans although many believe it remains deeply involved in militancy.

http://www.theguardian.com/world/2013/oct/15/eid-animal-slaughter-funds-pakistan-terror-groups

The organisation hopes to collect 100,000 hides from around the country this year. A cow hide can fetch up to $50.

Also available to buy are JuD livestock which the organisation provides and slaughters on behalf of individuals or groups who want to pool resources to share the cost.

Such initiatives have helped the organisation take market share from other charities, including the Edhi Foundation, a much-respected social welfare group.

"It's hard to complete because they have more manpower from all their religious seminaries," said Mohammad Rashid from the Edhi Foundation in Islamabad. "They send all their students out to the streets, to volunteer."
Comments
comments