MD of Capital TV to employees: "Go to hell, there is no salary "
I slamabad: Dr Basit Riyaz Sheikh, Managing Director of Capital TV, allegedly sacked at least 50 employees who were observing strike for their outstanding dues saying 'Go to Hell there is no money'.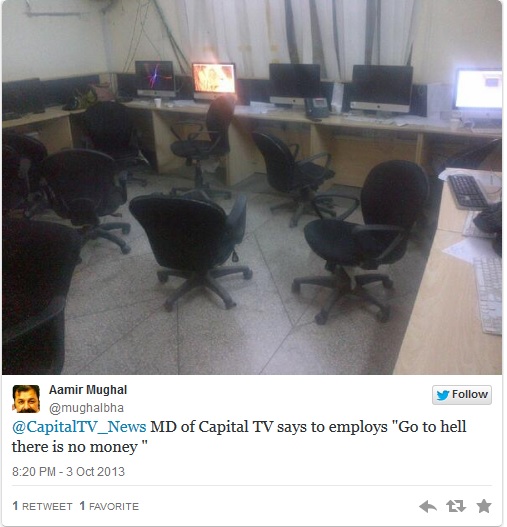 Capital TV's
financial scandal
became one of the serious issues in modern history of Pakistani electronic media on Thursday when staffers went on strike to make their voices being heard.However, the whole effort went in vain when Managing Director Dr Basit Riyaz Sheikh sacked employees by giving them post-dated cheques in settlement of their last three months' salaries.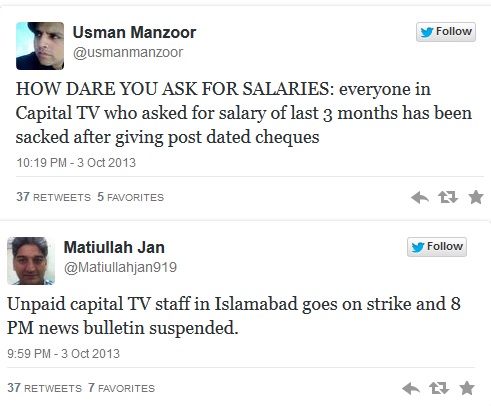 One of the employees (identity kept anonymous on purpose) told Saach.TV's correspondent in an interview, "Being an employee one should not allow exploitation of work. We have not said anything bad for organization and we defended it when many were talking against it. That was our role, and being a part of an organization we had to. But they did not care. Dont know why. (sic)"
When asked why the senior journalists associated with the channel keept their silent, employee told that they are not silent and speak to the owners everyday. They even helped few of the employees from their own pocket.
"I do not think owners are solely repsonsible, because no one prefers to shut down business, neither anyone can allow such humiliation which they are facing everyday," employee added further.
Whatever the reason might be, the strike followed by sacking of employees triggered social media out burst:
Source :
http://www.saach.tv/2013/10/04/go-to-hell-md-capital-tv-sacks-employees/
Capital TV threatens and fires employees asking for payment of salaries –
FIR against management of Capital TV: Protest against Capital TV by Pakistani journalists –
Comments
comments