FIR against management of Capital TV: Protest against Capital TV by Pakistani journalists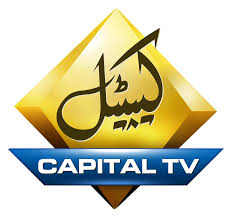 Based on Asad Kharal's tweets and emails by other journalists:
I am just sharing a text SMS, received from a senior Police Officer who received the same by Reporter Huzaifa Rehman.
Dear Sir,

Interior Ministry and IG Punjab has conveyed you about my fool proof security with in Punjab as per order of Supreme Court. My life is on risk. Today I am coming to DG Khan. Muhammad Ali Naikokar PS to IG has also conveyed DPO office. Please gave direction to provide me security ASAP.

Thanks

Huzaifa Rehman
Huzaifa Rehman, sacked reporter of Capital TV has lodged a complaint against Dr Basit Riaz and Hasham Riaz Sheikh in Shalimar Police Station. Shalimar Police registered case against Dr Basit Riaz Sheikh, CEO Capital TV and his brother Hasham Riaz Sheikh on charges of beating threatening him.
EOBI's whistle blower Huzaifa Rehman is facing troubles, sacked from the job. He was tortured and threaten by Capital TV's management on demanding salary of two months. (The Friday Times blogger Raza Rumi is an anchor of Capital TV and is an important member of the Capital TV team. Other members of Capital TV team include Nasim Zehra, Ejaz Haider etc.)
He (Huzaifa) also raised this issue before Chief Justice on July 17.  Huzaifa Rehman's mobile set was snatched and he was locked up in a CEO's room. Abusive language against Chief Justice was used by Capital TV management.
Security staff deployed for Reporter Huzaifa Rehman's protection on Chief Justice's orders also witness of this incident, sources claimed.
———–
Here is transcript of FIR copy lodged by Reporter Huzaifa Rehman against Capital TV..
میں نے27 جون کو نجی ٹی وی کے بطورنمائندہ خصوصی ایک انکشاف انگیز سکینڈل منظرعام پر لایا جس میں ملک کی با اثر شخصیات ملوث ہیں اسکے بعد مجھے جان سے مارنے کی دھمکیاں موصول ہوئیں سکینڈل پر چیف جسٹس سپریم کورٹ افتخار محمدچوہدری نے یکم جولائی کو از خود نوٹس لیا اور مجھے ملنے والی دھمکیوں کے تناظر میں مجھے ریاستی حفاظتی تحویل فراہم کرنے کے احکامات جاری کئے اور وزارت داخلہ کی طرف سے مجھے سیکورٹی کا دستہ فراہم کیا گیا سترہ جولائی کو معاملہ سپریم کورٹ کی عدالت نمبر ایک میں زیر سماعت تھا جس میں مجھے مزید سیکورٹی اور میری ملازمت کی یقین دہانی اور میرے واجبات کی ادائیگی کے احکامات جاری کئے گئے عدالت سے نکلنے کے بعد میرے موبائل نمبر 03455574464پر صدر مملکت آصف علی زرداری کے سابقہ اسسٹنٹ حشام ریاض شیخ جوکہ اس ٹی وی چینل کے مالک احمد ریاض شیخ کے بیٹے ہیں کی کال چار بجکر 16منٹ پر موصول ہوئی جس میں انہوں نے باضابطہ ملاقات کا کہااور چار بجکر 17منٹ پراپنی اسسٹنٹ کے نمبر سے میسیج بھی کروایا گیا کہ حشام ریاض آپ سے ملنا چاہتے ہیں اس پر میں ٹی وی چینل کے دفتر واقع ایف ٹین میں پہنچا تو دس منٹ بعد حشام ریاض شیخ اور ڈاکٹر باسط ریاض شیخ جو احمد ریاض شیخ کے بیٹے ہیں نے مجھے ملاقات کیلئے بلایا دونوں بھائیوں نے میرے اندر داخل ہوتے ہی میرا موبائل فون جبراًکھینچ لیا حشام ریاض شیخ اور باسط ریاض شیخ نے مجھے ماں بہن کی گندی گالیاں دیں اور مجھے کہا کہ چیف جسٹس تمہارا باپ ہے جو اسے تحفظ کی درخواست دی حشام نے گندی گالیاں دیتے ہوئے کہا کہ تمہیں شہر میں نہیں رہنے دونگا تمام ٹی وی چینلز کے مالکان پر ایوان صدر سے دبائو ڈلوائوںگا کہ تمہیں نوکری مت دیں حشام ریاض اور ڈاکٹر باسط ریاض مجھے مسلسل جان سے مارنے کی دھمکیاں دیتے رہے حشام ریاض شیخ مزید سپریم کورٹ کے چیف جسٹس کے بارے میں انتہائی غلیظ اور نازیبا زبان استعمال کرتے رہے جو میں تحریر کرنے کی ہمت نہیں کرسکتا حشام ریاض اس دوران کمرے کی کنڈی لگا کر مجھے گریبان سے پکڑ کر کہتارہا کہ چیف جسٹس سے تمہارے کیا مراسم ہیں جو اس سے تحفظ مانگ رہے ہیں اس کے تو صرف چند ماہ رہ چکے ہیں اس کے بعد تمہاری جان کا محافظ کون ہوگا، میری استدعا ہے کہ حشام ریاض شیخ اور ڈاکٹر باسط ریاض کے خلاف فوری طورپر کارروائی عمل میں لائی جائے
http://www.theurdutimes.com/fir-against-tv-owner/
——–
FIR against management of Capital TV and protest against Capital TV by Pakistani journalists
ISLAMABAD: Shalimar police have registered an FIR against two sons of the owner of Capital TV on the complaint of a reporter ( Huzaifa Rehman ) of the channel for torturing him after keeping him in unlawful detention, police said. The reporter lodged a complaint with the Shalimar Police Station stating that the accused took him to an office, forcibly confined him to a room, and thrashed him badly and threatened to kill him. The police have lodged an FIR against the accused under Sections 506-II, 342, 355/34 PPC and started.
Rawalpindi Islamabad union of journalists ( RIUJ ) & NPC will hold protest demo outside NPC F6 ISB at 5:30 pm friday(today) 19 july 2013, against brutal torture & Manhandling of a journalist by capital tv owners. Please join us.
Regards
Bilal Dar
——-
Such violence against hard-working journalists is totally unacceptable. Appropriate action should be taken against those responsible.  This issue should not be swept under the carpet. This is pure thuggery and threatening an employee like this is total injustice. Such a violation of basic rights should be taken up at the highest level. (sheharyar rizwan)
—————————————————————————————————————-

————————————————————————————————————-
————————————————————————————————————–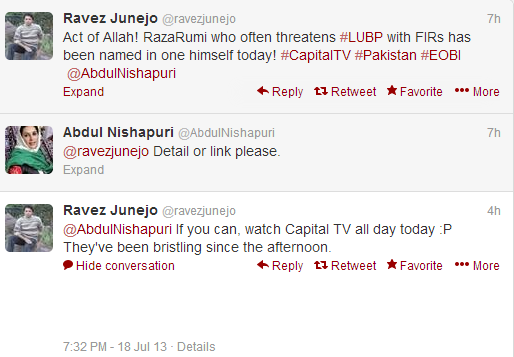 ————————————————————————–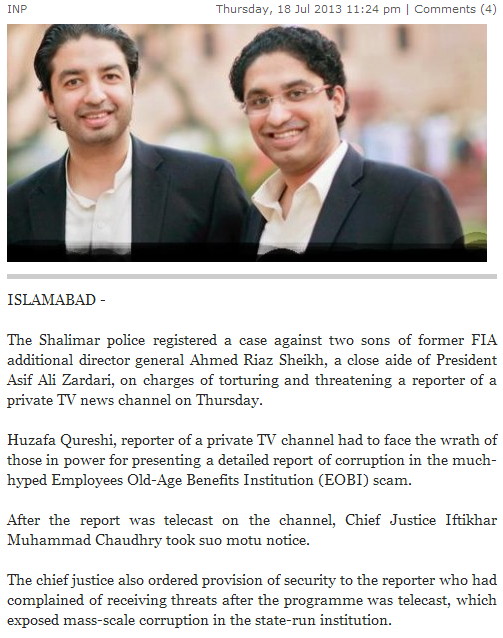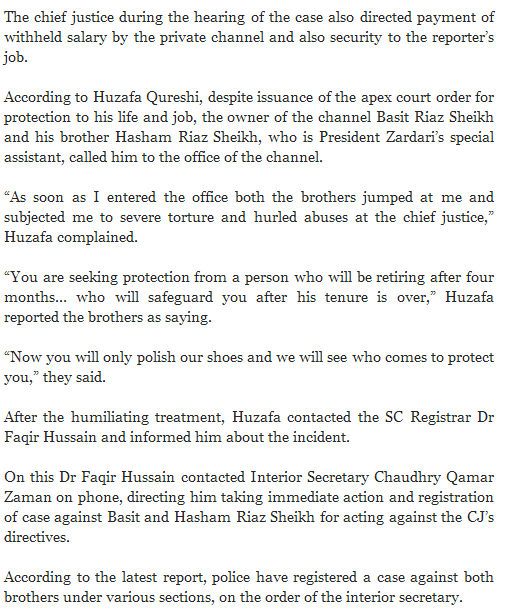 http://www.pakistantoday.com.pk/2013/07/18/news/national/case-registered-against-ahmed-riaz-sheikhs-sons-for-torturing-reporter/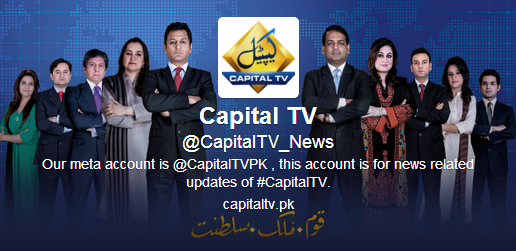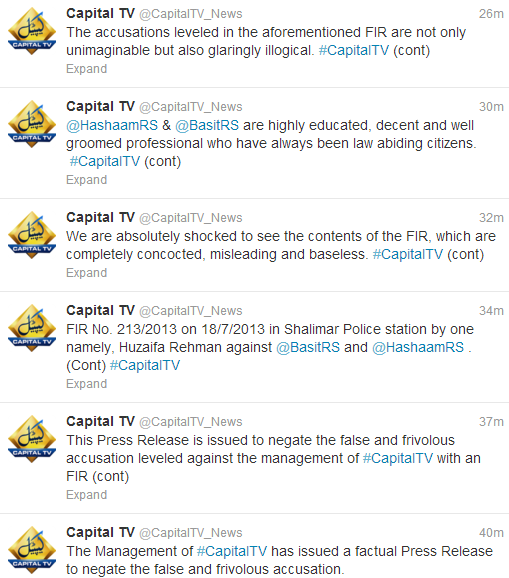 Comments
comments