Dialogue with Taliban? Deobandi militants of TTP-ASWJ massacre at least 70 Christians in Peshawar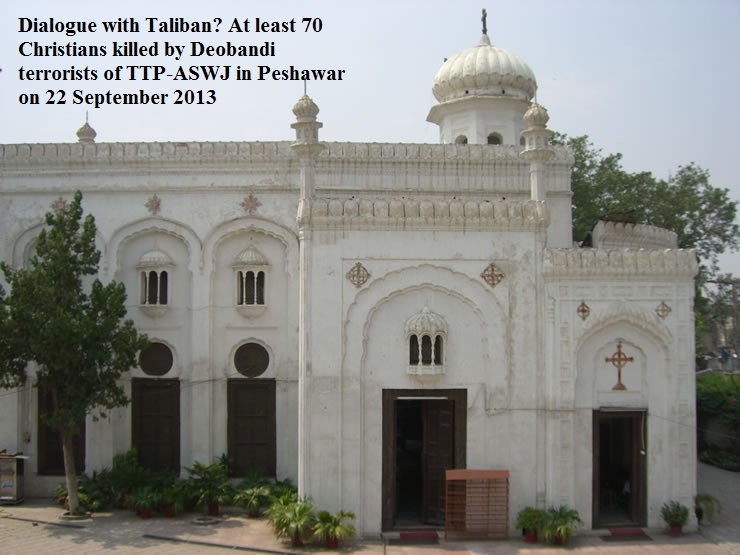 Related posts: طالبان لیڈرملا برادرکی رہائی کا بدلہ: دیوبندی دہشت گردوں نے پشاور چرچ پر حملہ کر کے 70 مسیحی شہید کر دیے
Christine Fair's clear condemnation of Deobandi terrorists who massacred 70 Christians in Peshawar
PESHAWAR (22 Sep 2013): At least 70 people, most of them Christians, were killed and more than 60 were injured in a suicide attack by Deobandi militants near Kohati Gate, Peshawar on Sunday. The Bomb Disposal Squad (BDS) has confirmed that were two suicide bombers. In the past, Deobandi militants belonging to Taliban and Lashkar-e-Jhangvi (currently operating as Ahle Sunnat Wal Jamaat Deobandi ASWJ) have attacked several churches in Islamabad, Peshawar, Karachi etc.
The latest incident of Deobandi attack on Christian community occurred outside St John's church in Peshawar after the Sunday service came to an end. Sources said suicide bomber blew himself up outside Kohati gate near the Pakistan Church. Two blast were heard in the areas.
[youtube id="32_gFUvjRiU" width="600″ height="340″ position="left"]
[youtube id="4e9rlHlyVTs" width="600″ height="340″ position="left"]
Sources said 65 injured inlcuding women and children have been shifted to Leady Reading Hospital. More causalities are feared in the blast.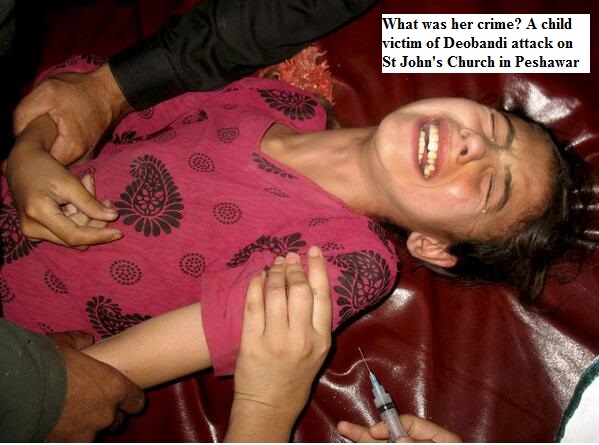 The eyewitnesses said the worshipers were leaving the Church when the blast occurred. More than 500 people were present in the Church at the time of suicide attack.
The deceased include six women and four children.
The hospital does not seem to have the resources to deal with an emergency of this magnitude and senior doctors and nurses on their day off have been called into work.
Nearby buildings were also damaged due to the intensity of the blast.
Only two days ago, Deobandi militants in Peshawar attacked a Sunni Barelvi mosque in Peshawar where people were attending a Mehfil-e-Naat. On the same day, Deobandi militants attacked a Shia mosque in Karachi killing 4 Shia Muslims.
For Peshawar to Karachi, Quetta to Gilgit, Deobandi militants are attacking Sunni Barelvis, Shias, Ahmadis, Christians, Hindus etc. Deobandi militnats enjoy full moral and logistic support of not only Jihadist elements in the ISI but also by PML-N, PTI, Jamaat Islami, JUI etc.
Pro-establishment journalists and bloggers in Pakistani media and blogs usually hide the Deobandi identity of Taliban, LeJ, ASWJ. It may be recalled that Taliban, TTP, ASWJ, LeJ etc are 100 per cent Deobandi militant groups and not a single Suni Barelvi, Shia, Ahmadi etc is a part of these militant groups. Pro-establishment writers usually misrepresent or obfuscate Deobandi terrorism in Pakistan by creating false Sunni-Shia binary. In the past pro-Taliban Deobandi clerics have been promoted by pro-establishment fake liberals in Pakistani media. For example, see this clip by a pro-Taliban cleric Tahir Ashrafi Deobandi in which he is openly threatening Pakistan's Christian community's Federal Minister Shahbaz Bhatti (who was later killed by Deobandi terrorists) and Ahmadis.
Video: Tahir Ashrafi's hate speech against Ahmadiyya Muslims and incitement to violence against Shahbaz Bhatti Shaheed.
[youtube id="DagVAN_fR3E" width="600″ height="340″ position="left"]
Tahir Ashrafi is routinely promoted by Raza Rumi, Najam Sethi and other pro-establsihment writers as a prophet of peace.
Raza Rumi writes: "It is time to engage with clerics like Tahir Ashrafi and get them to join the struggle for a moderate and progressive Pakistan. Maulana Tahir Ashrafi, Chairman of Pakistan Ulema Council (an apex body of country wide religious scholars) led a vigorous campaign on this issue and in my several meetings and conversations with him I was impressed by the remarkable clarity with which he stood by this non-Muslim child… Ashrafi is a brave exception but he also paid for it as a sinister campaign against him was launched to delegitimize him. It is never too late to remind the survival-obsessed civilian governments to institute some of these measures. More importantly, it is time to engage with thinking clerics like Ashrafi and get them to join the struggle for a moderate and progressive Pakistan" – Raza Rumi, Director of Jinnah Institute, Editor of The Friday Times, Anchor of Capital TV. A version of this article appeared in The Friday Times. http://www.jinnah-institute.org/programs/open-democracy-initiative/574-rimshas-acquittal-a-new-beginning
It may be recalled that only a few days ago, on 19 Sep 2013, a Christian was slaughtered in Karachi by a Deobandi fanatic over blasphmey charges. http://www.pakistantoday.com.pk/2013/09/20/news/national/christian-slaughtered-in-karachi-over-blasphemy-charges/
Comments
comments