Sultan Rahi – a story of betrayal, repentence & tragic end – by Asif Mall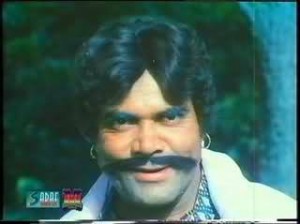 Sultan Rahi was son of a Christian called Michael, who was worked all his life as a Cook in Lahore. Sultan Rahi's mother was the niece of Robinson Magistrate in Lahore, a well-known Christian family still living in Lahore. Sultan Rahi's first wife was the sister of Dilshad Najum-ul-Dim, a famous Christian from Youngsonabad village near Sheikhupura, who also served as IG Sindh police.
Sultan Michael used to be crazy about poetry in his youth and was very impressed with Bashir Rahi – the father of famous singer Pervez Mehdi, during his twenties he changed his name to Sultan Michael Rahi; though after conversion to Islam people knew him only as Sultan Rahi.
Sultan Michael was a good friend of an actor called Changaizee – also a Christian, as both friends entered the Pakistan film industry together. Both were excellent actors and were soon spotted by the gurus of the Pakistan film industry, though there was a big problem with them; they were both Christians. Both were told that if they want to excel in their careers, then they will have to convert to Islam. Sultan Michael succumbed to the pressure and converted to Islam and touched the heights of film career; whereas Changaizee refused and all his life appeared as a villain or in less important side roles.
After becoming a Muslim, the famous Pakistani film actor Nadeem befriended Sultan Rahi and helped him become a Muslim – first time from his heart, instead of just for the sake of excelling in his film career. This was the time when Sultan Rahi paid for the building of a very expensive mosque near Mazang Chungi in Lahore; at this point he has also performed multiple Hajjs.
Sultan Rahi's first wife was a Christian, whereas the second wife was a Shia Muslim; though he had three sons and a daughter from each of his wives. Sultan Rahi had become quite well off, having properties overseas – even a hotel in Houston, Texas; which Asif Ali Zardari wanted to buy from him and there was even some dispute about its sale.
At one point Sultan Rahi becomes very ill and asked his wife for his personal copy of the Quran and started to read it like mad; though suddenly God knows what got into him, as he threw it on the floor – shouting take this away from me. He started to find his Bible and by the time he got hold of it, his wife kicked him out of the house for insulting the Quran. During that time he stayed in the home of film star Yousaf Khan and also the home of film star Saiqa; and its likely that both know about the reasons for his expulsion from home. Saiqa was also a Christian who later probably converted to Islam having married a Muslim guy.
Having touched the pinnacle of his career Sultan Rahi had started to feel a void in his life and started to secretly visit Christian prayer meetings at multiple venues in Lahore; and there are dozens of people who are eye witnesses to it. On one of such meetings at the home of film star Shabnam, he said that please pray for my salvation as I am a betrayer & renegade of Christ. The meeting was being led by a prominent Sindhi convert from Islam to Christianity, who is happy to confirm if necessary that how Sultan Rahi cried like a baby when asking for prayer for his afterlife.
Two incidents that shed further light on Sultan Rahi's state of mind during last few years of his life are as follows:
First Incident: Once there was shooting of a film in Abbotabad, though at the eleventh hour it got cancelled and the crew went to Kalar Kahar instead; and Sultan Rahi's son 'Haider Sultan' also accompanied him. A local Army Colonel recognised the crew and invited them to his home for hospitality and even encouraged them to do the filming inside his extremely large house. Sultan Rahi noticed that 'Haider Sultan' was ogling the daughter of the army colonel, which made him absolutely furious; as he took Haider to a room and started to beat his son with a belt – asking him to address the girl as his sister and leave for Lahore immediately. The eye witness who rescued 'Haider Sultan' from Sultan Rahi reports that Sultan Rahi said to his son; "I have Christian blood in me, I am no beghairat to let my son treat someone's daughter in this manner – go to Lahore immediately".
Second Incident: Sultan Rahi ordered some sarees for his wife, had sent his Christian servant called 'Mand Masih' with the money to go collect them. Mand came back with the sarees and also returned Rs 7,500 back to Sultan Rahi's 2nd wife; saying that he was able to bargain on the price and hence returning the extra money. Sultan Rahi was heard saying to his wife; "Look at him – after all he has Christian blood in him like me, he can never cheat".
A few months before his murder, Sultan Rahi talked to another Christian actor; asking his to bear witness that in his heart he has converted back to Christianity.
Note: A number of names are intentionally withheld for their safety, plus a lot of statements of Sultan Rahi are also withheld as they would be deemed derogatory to Islam by many readers on JPJ.
Source  :
https://www.facebook.com/groups/jaagpakistanijaag/600606939990323
Comments
comments