Akmal Brothers – Pariahs of Pakistan Cricket? – by Talal Mahmud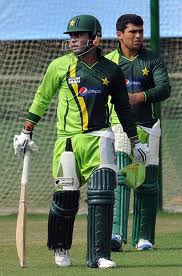 The honor for the most talented and famous cricketing families in Pakistan is a close fight between the Mohammad(s) from Karachi and the Khan\Burki clan from Zaman Park Lahore. Four of the Mohammad brothers (Wazir, Hanif, Mushtaq and Sadiq) have been test cricketers (the later three of them even playing together in a test against New Zealand at Karachi in 1969-70) while a fifth brother Raees was once twelfth man for Pakistan. Hanif's son Shoaib has also played test cricket for Pakistan. Three cousins from the Khan\Burki family (Javed Burki, Majid Khan and Imran Khan) have played with distinction (all three have also been Test Captains) for Pakistan. But before them their uncle (Baqa Jilani) and Majid's father (Jahangir Khan) were test cricketers for India (prior to partition). Majid's son Bazid has also played for Pakistan
There have also been other cricketing families like Elahi(s) (Manzoor, Zahoor & Saleem), "other" Khan(s) (Moin and Nadeem) and Raja(s)( (Waseem and Rameez) to name a few. But the honor for the most controversial and debated are the Akmal(s) (Kamran, Adnan & Umar) just piping the Farhat(s) (Imran and Hamayun) to that "honor".
Whilst the major divisive debate in Pakistan cricket is between the supporters of Misbah and Afridi (watch out for my blog coming soon on the never ending Misbah debate) followed closely by bafflement at the continued comebacks of "son-in-law of PCB" (Imran Farhat – who had the starring role in my last blog) the next most debated topic is the selection (or lack) of Akmal brothers.
The Akmal(s) have been accused of everything from the extreme of being match fixers or playing divisive politics (including deliberately playing below par or faking injury to pressurize for inclusion of a sibling) to lack of temperament or blocking path of better talent.
Their supporters on the other hand point out the obvious natural talent in the brothers, mismanagement of their talent by using them in the wrong batting position or role, to the extreme of PCB punishing of one brother for the perceived sin of the other.
So have the brothers been victimized or are they responsible for their status as Pariahs of Pakistan cricket? To tackle this question objectively and to ensure that one is not penalized for the sins of the other, I would like to analyze each one of them separately starting from the least controversial (Adnan) to the most (Kamran).
Adnan Akmal
Adnan is by far the best wicketkeeper of the trio (brothers) and even outside his family the closest competition is only Sarfraz Ahmed. Many believe Sarfraz to be slightly better keeper but when you add batting to the mix, Adnan as a package is a much better option.
Adnan has, therefore, been the most victimized of the three brother being held "guilty by association". He finally made his test debut against South African in Nov 2010 replacing Kamran after the controversial 2010 English tour. But despite performing reasonably well was dropped after just two series from the team which toured West Indies in May 2011.
His sin, averaging 34 with the bat and claiming 12 victims behind the stump in the preceding two matches including 8 of the last match (six of them in one inning). Luckily for him his replacement (an almost) 30 year old debutant Mohammad Salman proved to be a disaster with the bat (scoring 25 runs in 4 innings) and managed to grab only 3 victims behind the stumps in two tests.
Adnan made a comeback to the test squad on the September 2011 tour of Zimbabwe and was a permanent feature in the test squad for the next 5 series. He was, however, dropped again from the South African tour earlier this year for being unfit. He did get injured in his last test for Pakistan in July 2012 (Taufeeq Umar having to take up the gloves in the second inning) but by the time team for the Feb 2013 tour was announced he was fully fit (scoring a century in a domestic match on the day the squad was announced – he scored 243 runs at 121.50 in that domestic tournament).
If someone claims that injury was an excuse to drop him for lack of form then they are wrong on that account as well. He averaged 37.7 with the bat including a fighting 35 not out in his last inning whilst injured. When he came in to bat Pakistan was 8 down in the third inning with a lead of only 189 runs and more than a day left in the match. Not only did he help Asad Shafiq reach his 100 but also helped set a defendable total (the match was eventually a draw).
His replacement's (Sarfraz) performance quickly proved that injustice had been done. Excluding an inning of 40 in a meaningless situation (match already lost), Sarfraz scored only 43 in the other 5 innings on the tour and also only managed to hold on to 8 victims in 3 tests (he dropped a number of sitters \ regulations).
Unlike his other two brothers, Adnan is very low profile and goes about his business in a no-nonsense manner. His batting class was evident in his fighting inning which helped Younus Khan turn the match around in the current series against Zimbabwe. Pakistan had been outgunned in the first three days and when he came in to bat, in the first over on the 4th morning of the test, Pakistan was 5 down and only 91 ahead in the third inning of the match. By the time he was back in the pavilion Pakistan achieved a lead of 209 (eventually Pakistan gave Zimbabwe a target of 342 and won by 221 runs). If not for his cruel runout, at 64, he looked well set for his first test hundred.
Umar Akmal
The youngest and the most talented (albeit temperamental in perhaps the Afridi mode), Umar too has been a victim of by association. However, some of it has been brought on by his eagerness to get involved in gamesmanship to help his eldest brother retain his position even when (Kamran was) woefully out of form. If rumors are to be believed, Umar has at least twice pretended to be injured or implied that he would pull out of the squad if Kamran is not in the squad. But I still put the blame on the team management for mishandling a teenager (he was only 19 when he made his debut) in awe of his (at that time) more illustrious sibling.
He is by far the most talented and attacking batsmen in the country which is currently producing or converting (even those with aggressive stroke-play) into an overly cautious and tentative breed. No doubt he needs to curb his tendency to throw away good starts and be a bit more careful of his shot selection but people tend to forget that he is just 23. Even with all his flaws he still has the best record amongst his peers (test average of almost 36 and almost 39 in ODI). He is ranked 16th on the ODI ICC ranking (only two Pakistani are in the top 30 – Misbah currently on a red hot streak is at 8th) and despite a recent dip in T20 form is the third highest ranked Pakistani at 21st in the ICC ranking (was in top 10 till last year).
He started his Test career with a bang, scoring a century on his debut in New Zealand (129 in the first inning) and followed up with a 75 in the second inning. His haul as a19 year old in his first series was 379 at an average of 63.17. He followed that up with innings of 51, 27, 49 and 49 in his first four innings on his very next (tough) tour to Australia. The last two of these in that infamous match in Sydney where Kamran's inexplicable drops and Pakistan woeful batting allowed Australia a "Get out of Jail Card". This 19 year old was the sole fighter in shambolic chase of only 176.
If one is to believe the media, its from this point onwards that his initial success got to his head and his foolish attempts to save his brother's slot started. But, even with a slump in test form on the ill fated English tour (he did score 79 not out at Lords) and failure to convert starts in his last five test innings for Pakistan, he did not deserve to be axed. He has not played for Pakistan in tests since Sep 2011 despite his last 5 test inning being 33, 47, 56, 36 and 15. Not spectacular but in a team starved for batting talent not exactly axe worthy.
He was also dropped from the ODI team for ICC Champions Trophy in England where our obvious lack of batting talent forced his immediate comeback for the West Indies tour.
Besides his own mistakes, his lack of a delivery when compared to his obvious talent can be attributed to consistent shuffling in the batting order (from 3 to 7). If given a consistent run at number 3 in ODI & T20 and 5 (or even 4 when the seniors retire) in tests I have no doubts that he will be playing and breaking all kinds of records in the next decade or so.
Kamran Akmal
Kamran made it into the Pakistan team more than a decade ago in 2002.
In 2005-6 he was one of the best wicketkeeper-batsmen in the game. In 12 Tests in that time he made 52 dismissals and if he dropped any they were aberrations. He also hit four hundreds, averaging over 44. Life was rosy and he was Pakistan's Adam Gilchrist.
Then a broken finger resulted in him changing his style of grabbing the ball in his gloves to avoid getting hit again on the fractured spot. Rashid Latif had the following to say about his sudden loss of keeping form: "He has some problems with his basics. To fast bowlers, his diving position and the pressure points from which he takes off are not in sync at the time of delivery. With spinners, he's getting up too early and his hands remain low." While the legendary Wasim Bari said: "Ultimately, there is no one way of catching a ball. As long as you do catch consistently you are fine. But the basics have to be sound. The problem lies in his basic skills. He is not keeping his eyes on the ball, hard enough or long enough. Rather, he isn't doing it consistently enough. With the spinners he is getting up too quickly and his hands are not in the proper position."
Fearful of losing his spot in the team, he refused to allow backup keepers to even play in side matches on the 2006-7 English tour. It all went into a vicious circle from that point onwards. The more catches he dropped, the more he tense he got, thinking about his last mistake, and the more his confidence shattered. If not for his far superior batting skills, he can still make it as a pure opener in the limited overs teams, he would have been dropped way back in 2007.
It, however, all hit rock bottom on the 2010 during the 2nd test in Sydney. He dropped Michael Hussey thrice to give Australia an opportunity to sneak back into the match. Hussey scored a century and was involved in what turned out to be a match-winning partnership with Peter Siddle for the ninth wicket, as Pakistan capitulated in their chase of 176 to concede the series 2-0.
He was quoted as saying: "It was from my point of view my worst performance in any match of my career. It was like a scary dream and I just want to get over it and now approach the rest of my career with a new resolve and positivity".
There were accusation of match fixing and he made matters worse by dragging his youngest brother in a bid to retain his slot in the team.
But despite all this drama he has 206 dismissals off 53 matches in test and 187 off 154 matches in ODI. He has scored 6 hundreds in tests (at least two of them back at the wall ones which helped us win \ draw tests from hopeless positions) as well as 5 centuries in ODI.
Conclusion
I would have Umar Akmal in all three Pakistan squads on batting skills alone. Not exactly Test wicketkeeper material, he should definitely be the glove-man in T20s and, unless his eldest brother recovers his keeping skills, also in ODI. By taking up this dual role he improves the balance of the team tremendously.
Adnan should be the permanent Pakistan test keeper. If given a consistent run and assurance that he will not be dropped unnecessarily, he has the talent and skill to be significant force with the bat as well.
Kamran, almost 32, does not have that much international cricket left in him. Add to that allegations of everything from indiscipline and attitude problem to creating divisions in the team, I doubt he will be recalled back to the team.
But if these accusations are exaggerated and PCB can ensure his being in the narrow and straight, his aggressive batting and ability to hit over the infield makes him still the best opening option (as pure batsman) in both ODI and T20s. If he can work on his keeping, and rediscover his pre-2007 keeping form, he can definitely help fill an all-rounder role in ODI as well. His experience would be very valuable in the 2015 World Cup down-under.
Source :
http://thirdmancricket.com/?p=3966
Comments
comments