Growing sectarianism in Balochistan : Govt shunning clampdown against LeJ – by Kiyaa Qadir Baluch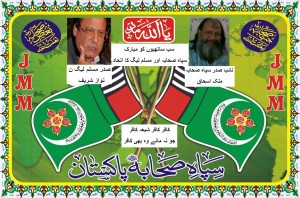 ISLAMABAD: While the Balochistan government is looking for support and help of the central government to bring an end to growing sectarian violence in Quetta, the federal government seems to control the violence with composure.
Well informed circles in the National Party and Pakhtunkhwa Milli Awami Party (PkMAP) confirmed that following a strong debate in Islamabad in recent days, the two ruling parties of Balochistan – NP and PkMAP – agreed to launch massive crackdown on Lashkir-e-Jangvi (LeJ) and defunct Sipah-e-Sahaba Pakistan (SSP) in Quetta and its adjoining areas but top leaderships of PML-N seemed to be on the other way.
Sources said in a debate among coalition parties' in Islamabad, representatives of NP and PKAMP called for a decisive crackdown against the LeJ extremist group in Quetta but PML-N leaders from Balochistan as well as from centre were reluctant to go against the LeJ.
Sources told Daily Times that Chief Minister Balochistan Dr Abdul Malik Baloch had several times held talks with Prime Minister Nawaz Sharif in Islamabad seeking help for Balochistan government in decreasing the volume of sectarian incidents but he too didn't get a positive response from the PM.
An insider of the meeting between chief minister Balochistan and PM also said that during his recent visit to Islamabad Dr Malik briefly discussed the law and order situation with the prime minister and other high ups but he didn't get a satisfactory response from the premier on several issues like sectarianism, missing persons issue and settling Bugti refugees in their respective areas.
Insider of the meeting also said the CM Balochistan discussed all ways and means with the prime minister in order to restore peace in the province.
"If you can't help us resolving other grave issues please support us in decreasing the volume of sectarianism in the province. Dr Malik requested the prime minister during his conversation with him in Islamabad.
Insider said chief minister Balochistan also sought peace formula from PM and Shahbaz Sharif which they had applied in Punjab for maintaining peace.
Dr Malik also informed the prime minister that some elements were active in Balochistan are trying to destabilize province by promoting sectarianism.
"During a conversation, Dr Malik sought the support and advice of the central government to bring an end to these powerful elements too" the source told this scribe.
However, the prime minister remained tight-lipped when Dr Malik sought for his support and help in culminating these powerful elements.
Sources also said that Balochistan police had carried out a successful operation to curb terrorist activities in Quetta, with 11 people belonging to various religious banned outfits were arrested but later on operation was stopped on the direction of high ups from the federal government.
Source :
http://dailytimes.com.pk/default.asp?page=2013\08\27\story_27-8-2013_pg7_7
Comments
comments