The Malala Issue – by Alizeh Khaleeli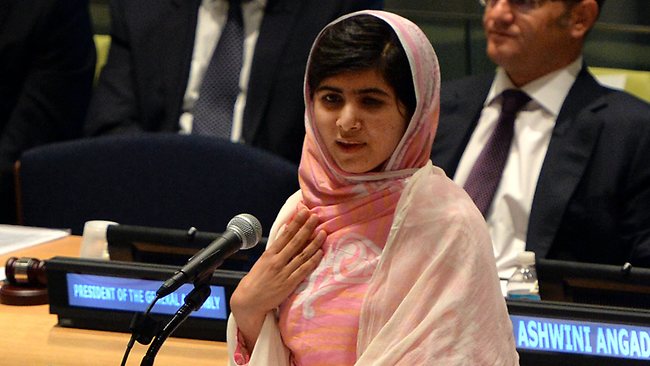 The title I just typed saddens me, it grieves me that a symbol of courage and strength has become an "issue". What is it with our conspiracy riddled nation that cannot for a moment, be joyous that a little girl who was shot in the head has recovered and is well enough to speak? Are we that stingy with our emotions that we cannot allow a small sigh of relief?
Is it our indestructible effort not to be be made a fool of (despite  letting the same leaders come into power for the third time) which will unravel us as a nation  of pitiful people .
If there are thousands of other Malala's then should we not be grateful that at least one got attention?  I recall Abbas, an eight year old Iraqi boy who lost his arms during Bush's War On Terror in Iraq. He told a journalist he'd always wanted to be a doctor and if he couldn't be one then he didn't want to live. He was flown to Boston with his father & he received the medical attention he needed.I do not know how many other thousand children lay bleeding,weeping,wounded unattended. Does that mean we begrudge Abbas and his family of their happiness? Abbas's arms- oh the poetic irony for those who understand. I will not forget the image of Abbas eyes closed, wincing in pain and his father beside him crying.
What makes it so unfathomable that a teenager can articulate her thoughts? She isn't the first little girl to speak at the UN & I doubt she'll be the last. Is it her background- the place she lived that makes her wisdom unpalatable to us? Or the fact that a girl stood up to the enemy and did not cower down as many of our leaders,politicians do, it is that she makes us feel small and with bruised egos we do all we can; belittle her.And in belittling her we show the world the symptoms  of why we do not progress as a nation.
Just Imagine you're someone who lives abroad, all you know of Pakistan is that they harbour the Taliban. Oh and add that Osama Bin Laden was hiding there. A little girl stood up to the Taliban,because she believed in education and the consequence was that she was shot in the head. Many months later she stands tall and just as courageous, with a speech that brings world leaders hollow words to shame at the UN. So why wouldn't they share it on social media?.
Yes, maybe the western media manipulated the news to their advantage.
Boo Hoo, welcome to the ruthless world .
That does not justify our intent to disown her efforts, and even more sadly disown "her". She is more courageous than a lot of us can even dream to be . She is more Pakistani than a lot of us can be (and even want to be).  I would feel proud to be associated with her over the "Pakistani " Chilgoza brained macho men who "want" to kill her. Well what is to be said of our shameless CM who tweeted that "her speech could've been better". How exactly ? Should Malala have taken a leaf from your speeches and made false promises of ending electricity woes within say..six days? Would that have hit the spot for you?. His criticism was that the speech at the UN was for "global consumption". Read that again. Speech at UN- criticism :Global Consumption. Need I say more on the futility of consulting a thesaurus to convey a controversial tweet, not even a substantial one.
And how can I not mention the Yahoodi Saazish angle? Yes, the same reasoning of people who wouldn't vote for PTI  because they feared they would be "oppressed by the jews". So, they choose to be oppressed by the Saudis instead.
I on the other hand would prefer a Yahoodi saazish to a Saudi one anyday. For true danger lies in the foe pretending to be my friend.
Alizeh Khaleeli is a photojournalist, wedding photographer and writer who is inspired by life and it's realities. She tweets @twitter.com/aly2488
Sopurce : http://www.alizehphotography.com/3/post/2013/07/the-malala-issue.html
Comments
comments