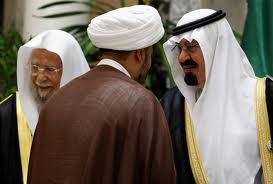 This piece is not intended to harm original Islamic values or to defame anyone except for the monarchs (tyrants) of Saudi Arabia and their ilk in Qatar, U.A.E. & other Arab states.
The title is self sufficient in raising a lot of questions. Have you ever been to Saudi Arabia? For pilgrimage? Or for a casual visit? If you have never been there and have a lot of glazing aspirations regarding Saudi Arabia, you might consider some second thoughts. Some fellow 'muslim' brothers of ours, Takfiri Deobandi militant preachers to be exact, propagate that Saudia is the symbol of Muslim glory today. You might not have heard it, but it exists (try speaking to a few normal muslims about it).
If you try googling on the topic, you'll find immense writings on the condition of human rights in Saudi Arabia.
Amnesty International : Saudi Arabia
Comprehensive Report on Saudi Arabia by HRW
Well, this is all that is on paper. There are a few things that are slowly beginning to bloom, of which one is religious exploitation by the Saudis. Rumour has it that recently when Saudi Arabia was considering it's policies on regularising the immigration status of the workers working there, they were filtering out Shias so that Saudia could clearly kick them once and for all. However, as unlucky as fate makes us, there is no on paper research or proof regarding it but this nevertheless can be rightly linked to the 'ilk' that was mentioned in the beginning. There is a country known as Bahrain (for those of our Human Rights activists who cry on patriarchy, inequality and people suffering from chronic malnutrition) where Shias suffer immense persecution by the Monarch. This too is highlighted in much in the media, where a few links have been given below.
Al-Jazeera :Bahrain 
Shia Leader's Death in Bahrain
Shia Leader's house raid in Bahrain
By the way, Bahrain is a Shia majority country ruled by Saudi influenced Wahabis. There's more to Bahrain, only if you consider it legitimate to look around regarding the issue a bit more.
The next in line is U.A.E., especially Dubai and Abu Dhabi. Shias have been kicked out of Dubai, Abu Dhabi and Sharjah just because they are Shias. Why? No one knows.
Shias being deported from U.A.E.
LUBP has already written on the subject.
https://lubpak.com/archives/74590
Slowly and gradually, Shias are being sidelined from the Khaleej, Arab and etc etc.