Pakistan floods: Govt was nowhere in Karachi – because Sindh is governed by the PPP – Shabash Geo, Shabash Hamid Mir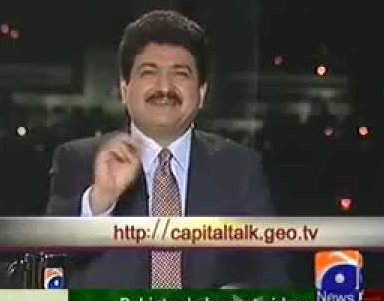 They just can't swallow the fact why the PPP is governing Sindh despite all of their propaganda. The recent flooding which seems to have become a regular phenomenon has affected Karachi badly. Without doubt, the absence of a strong local bodies system has not done any wonders for Karachi and the constant state of "gang war" gives Karachi a bad name on a perpetual basis. The flooding in Karachi has brought all the daggers out against the PPP.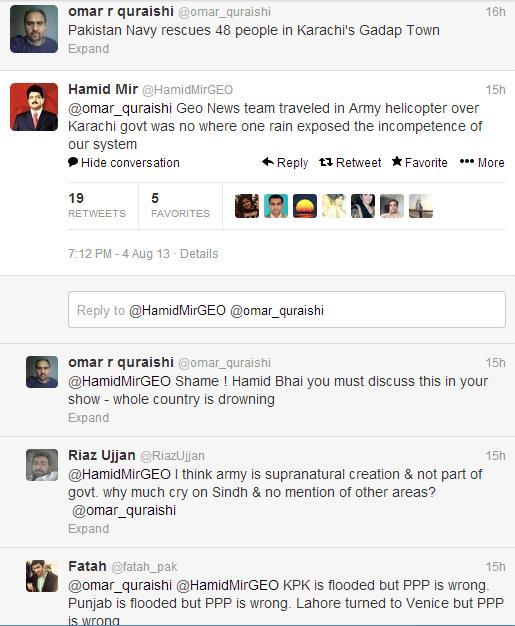 Omar R. Quraishi, the features editor of Express Tribune tweeted "Pakistan Navy rescues 48 people in Karachi's Gadap Town". This town is area wise the largest of Karachi and covers all the points that are connected with Jamshoro district and Lasbela district. The floodin seems to have been caused by breaking of dams in those districts. Hamid Mir, the erstwhile PPP hater and a leading anchor on Geo News, owned by another PPP hater Mir Shakil ur Rehman's Jang Group, responded "Geo News Team traveled in Army helicopter over Karachi. Govt was nowhere. One rain exposed the incompetence of our system". Now Hamid Mir's vitriol against the PPP and Sindh is understandable, we are happy to see responses by twitter users asking isn't the Army and Navy not part of the government system? Another user asked "KPK is flooded but PPP is wrong. Punjab is flooded but PPP is wrong. Lahore turned into Venice but PPP is wrong".
We feel that media's bias against the PPP has again been reflected.
Coming to Omar R. Quraishi, his editor Kamal Siddiqi has himself in his op-ed published on August 5, 2013 titled "Playing against one another" has highlighted the media bias by stating "Or that our media holds different persons to different standards?". He has obviously pointed towards the vilification campaign against PPP's Asif Zardari when he went to UK and France in 2010 while no one questions the non-response of the Sharifs who have all gone to the real power player – the Saudis! Though Omar R. Quraishi's tweet may be because he is from Karachi, but his applauding the stance of Hamid Mir and considering Pakistan Navy not part of the government is nothing but yet another instance of media bias by a person who has some degree of influence on social media!
Comments
comments