Taliban's attack on D.I.Khan prison was not possible without Pakistan army's connivance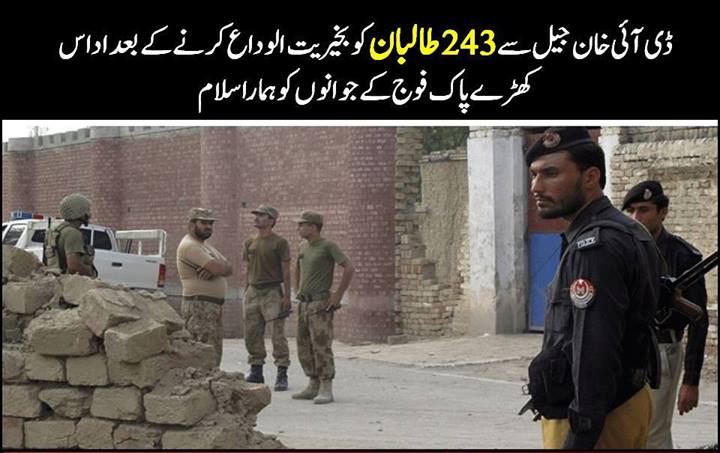 Related post (in Urdu): ڈیرہ اسماعیل خان جیل پر تکفیری دیوبندیوں کا حملہ اور پاکستانی فوج کا کردار
Media and insider reports from Dera Ismail Khan confirm that the jailbreak (29 July) and the subsequent safe transfer of Taliban and Sipah Sahaba (ASWJ-LeJ) terrorists from D.I.Khan to North Waziritan could not be possible without Pakistan army's tacit support and connivance.
It appears that Pakistan's pro-Jihadist intelligence agency, ISI, played a key role in securing release of hundreds of its Jihadist proxies from the D.I. Khan jail. It may be noted that Taliban, Sipah-e-Sahaba (Lashkar-e-Jhangvi), Jaish-e-Muhammad and other similar militant groups follow Deobandi (semi-Wahhabi) sub-sect of Sunni Islam and consider it permnissible (Halal) to kill all non-Deobandis and non-Wahhabis to enforce their version of Shariah and Khilafah.
Given that Pakistan army's cantonment is located on both sides of the D.I.Khan city, at less than five minutes distance from the central jail, and given that Taliban spent at least three to four hours within the jail, identifying each prisoner, segregating and killing six Shia prisoners, fighitng with and killing a few resisting policemen, and given that hundreds of Taliban attacked the prison using at least 13 vehicles, and the fact that hundreds of released terrorists were able to safely move to North Waziristan agency without any engagement with army shows that Pakistan army is complicit to the D.I.Khan jail break. There is heavy presence of army in that area from D.I.Khan to North Waziristan with dozens of checkposts and units deployed but none of them bothered to intecept the large Taliban-ASWJ caravan.
Instead of debating and highlighting Pakistan army's questionable role (complicity or/and incompetence), ISI's paid propagandists and Taliban apologists in the media and social media started placing the entire blame on politicians, this time on Imran Khan and his PTI government in KP province. Pakistan army's right-wing and fake liberal loyalists and propagandists in the media tried to shift blame from the ISI and Pakistan army to an incompetent PTI government in the KPK province, blaming them for army's inaction against the Taliban. There was almost no debate in Pakistani and intenrational media about the dirty role played by Pakistan army in this action replay of the Bannu Jail break (2012) in D.I.Khan (July 2013).
ISI, the mastermind of the D.I. Khan prison break, thus successfully shifted the blame to incompetent PTI govt in Khyber Pakhtunkhwa province. The current Supreme Court – Imran Khan contempt of court saga too is a diversionary tactic by Pakistan army's loyalists in Pakistani establishment (including judiciary) and media.
Dr. Taqi writes in Daily Times (with minor edits):
The jailbreak in Dera Ismail Khan (DIK) earlier this week where the TTP freed over 200 of their cohorts and a similar assault on Bannu jail last year (springing Adnan Rashid Deobandi among others) are but a page from the al Qaeda manual. The terrorist hydra is very much alive and kicking. The devastating attack in Parachinar, Kurram (killing more than 70 Shias in July 2013) and the audacious jailbreak in Dera Ismail Khan (DIK) suggest that the Deobandi terrorist outfits at minimum have support among the security and law enforcement agencies' cadres. TTP freeing LeJ terrorists from the DIK prison while assassinating five Shia inmates indicates a remarkable Deobandi ideological and operational synergy and inside knowledge. The planning and training for such massive operations is not possible without a logistical sanctuary that the HQN (Haqqani Network) continues to provide in its North Waziristan stronghold. Also, while the terrorists appear to have penetrated the security forces, the Pakistani intelligence apparatus has limited inroads into the jihadist underworld. An operation as spectacular and substantial as the DIK jailbreak may have been detected and thwarted by a more proactive intelligence service. The Pakistani security establishment needs to take a long and hard look to see how many Adnan Rashids are still hiding among its ranks. The man after all was a Pakistan Air Force employee and chose to work with the Taliban and plan an attack on General Pervez Musharraf. The establishment should also consider that they are perhaps the only ones to believe that the HQN is a legitimate contender for the Kabul government. The world at large must realise that working on the demand aspect of the al Qaeda-HQN-TTP brand is also imperative. As long as there are buyers, including states, of the deadly potion the terrorist enterprise sells, it may be difficult to put it out of business and carnage, like in Kurram, inevitable. http://www.dailytimes.com.pk/default.asp?page=2013\08\01\story_1-8-2013_pg3_2
Kamran Shafi writes in Express Tribune:
Just so long as we can deflect attention away from ourselves, the real perpetrators of all that is wrong with us, we are fine, no matter that in the next day or two all our home-spun tales come back to haunt us, making us look like utter fools. Whether it was the shame and the embarrassment of the attack on GHQ itself; attacks on our ISI's buses and offices in three (now four, cities); the Parade Lane Mosque massacre; the OBL raid deep into Pakistan; the Mehran Naval Base attack; or the Kamra airbase attack, we always have someone else to blame. We never look within ourselves: no one gets fired, even disciplined.

When, for God's sake will we grow up, have faith in ourselves as a self-reliant and confident and alive and fearless nation? When, for heaven's sake, will we stop looking for bug-bears and vampires and the walking dead out to haunt us? When will we face our real enemies who have just destroyed DI Khan jail? http://tribune.com.pk/story/585158/we-must-face-our-demons/
According to a news report in Dawn:
The heavily armed militants had attacked the prison from different sides around midnight. Armed with guns, mortars, rocket-propelled grenades and bombs, the militants dressed in police uniforms bombarded the prison before escaping with scores of inmates after a three-hour shootout.

According to police, the gunmen launched their attack with a series of heavy explosions before firing rocket propelled grenades and machine guns. The attack began with a huge explosion and several smaller blasts before security forces engaged the attackers. An intelligence official said the militants shouted "God is great" and "Long live the Taliban".

Military troops were eventually called in which conducted a six-hour long operation to take back control of the prison. A spokesman for the Pakistani Taliban, Shahidullah Shahid, accepted responsibility for the attack. Speaking to Dawn.com, he claimed around 100 militants attacked the prison including a number of suicide bombers.

The D I Khan central prison, one of Khyber Pakhtunkhwa's oldest and largest central jails, was said to house several Taliban militants and members of banned sectarian groups. According to the jail authorities, there are at least 5000 prisoners in the Central Jail Dera Ismail Khan which is near the bordering town of Tank adjacent to volatile South Waziristan tribal agency.

Senior police official Khalid Abbas told Dawn.com that jail authorities had previously received a threatening letter regarding the attack. He claimed the prison was one of the safest in the province but said it was built to house 'criminals', not terrorists and militants.

This not the first instance when militants have attempted to free their captive associates in Pakistan. Nearly 400 prisoners including militants had escaped on April 15, 2012 from Bannu Jail after an attack by insurgents armed with guns, grenades and rockets. More than 150 heavily-armed militants had stormed the central prison outside the restive northwestern town of Bannu bordering the lawless tribal regions. TTP commander Adnan Rashid, who was serving a jail term for attacking former president Gen (retd) Pervez Musharraf, was among the freed detainees.  http://dawn.com/news/1032777/pakistani-taliban-free-over-175-inmates-in-di-khan-jailbreak
Another report in Dawn:
The attack took place at around 11.30pm and went on till 2am – three hours with one hour inside the jail compound. The militants equipped with megaphones called out names of their brothers-in-faith and broke open their cells with explosive devices, all the while raising slogans of Allah-o-Akbar and TTP Zindabad. Then they went on a slaughtering spree, beheading four inmates, taking away heads of two of them.

In all, by the last count, 248 prisoners have escaped, among them 30 hardcore militants, including Qari Asif and Khalil, the group involved in bombing in Dera Ismail Khan that had left 25 mourners dead on the ninth and tenth of Muharram last year.

Law-enforcement agencies scrambled and the army was called in but what they found in pitched darkness were bodies of the slain prison guards, slaughtered and beheaded inmates, a strong stench of explosives and smouldering lockups. The hundred or so militants, along with a horde of escaped prisoners, melted away amid the ensuing mayhem and confusion. The incident has thus become the biggest jailbreak in Pakistan's history.

That no lessons were learnt from the Bannu jailbreak hardly comes as a surprise. Pakistanis as a nation, it appears, never learn from history, but what boggles the mind is that the administration would take its time to prepare for an assault which, it thought would come at a time of their choosing, said one official. They were upstaged by militants.

The irony is, according to a senior official, the civil and military authorities had done mock exercises, assigned specific tasks and roles and worked out a clear standard operating procedure of who was to do what. "On paper everything was worked out meticulously to prepare for both day and night assault. It was a video game played out in real time," the official said.

What seems more bizarre, the minutes of the meeting presided over by the commissioner were properly recorded. "Everybody had taken the threat alert seriously," the official said.

Light machinegun-mounted armoured personnel carriers and mobiles of the Elite Police force were deployed and guards deployed on rooftops.

But what happened was even more unbelievable. When the attack came, the mobiles disappeared along with the Elite force which was to stop the assault. The district police officer went to seek help from the brigade commander, but neither showed up. "The gun was there, but there was no one to pull the trigger," an official said.

There was no breach of wall of the prison. The main gate remains intact and the guard manning the gate told investigators that when he saw the militants blowing up the APC and when they approached the gate and ordered him to open it he had no option but to open it. The militants walked in, made announcements on the megaphones and took away their men. http://dawn.com/news/1033064
Apparently, the rogeu elements in Pakistan army and ISI helped at least 300 Taliban and LeJ Deobandi Jihadist fighters to escape from prison to conquer Afghanistan in 2014 and perhaps also to reinforce Al Qaeda in Syria. Such work cannot be done with inside support.
[youtube id="rgGS3Mm4lSQ" width="600″ height="340″ position="left"]
The fact that intelligence agencies had given a heads-up to just about everyone – from the provincial home secretary to the prime minister to DG ISI – makes the security lapse all the more grating for locals. The details of the collective failure of the law enforcement apparatus is an "open tale" – the success of the TTP brazenly taking their colleagues 'home' in vehicles festooned with banners sporting 'Long Live Taliban'. Residents want to know why they are imprisoned by the curfew when the prisoners roam free.
"What Sulemani topi (invisibility hat) were these militants wearing which helped them come and go with such ease? This is a complete failure on part of the district government which just sat on its hands," argued the provincial president of the Shia Ulema Council Allama Ramazan Tauqeer.
In fact, the 150 heavily-armed TTP militants were completely visible on their 15 cars and 10 motorbikes, traversing the city of DI Khan.
"If the attack could not be prevented, then helicopters should have been able to follow the escaping prisoners, many of whom were on foot," maintained a local. "The authorities could have targeted them through aerial firing and assault."
The distressed resident of D.I.Khan went on to point out "the very same aircrafts were buzzing overhead now, but what are they searching for? It's all over the news that militants have reached the safe havens in tribal areas." "Please stop this irrelevant search operation and end the curfew, the arrests and checking," he asked the government. http://tribune.com.pk/story/584698/after-the-levee-breaks-public-irate-as-useless-curfew-continues-in-di-khan-tank/
—-
Taliban provide details of their planning and operation for D.I.Khan Jail Attack
http://www.zemtv.com/2013/07/31/planning-operation-of-taliban-for-d-i-khan-jail-attack/

Planning & Operation of Taliban for D.I… by RohailAsghari
——–
This exclusive video of D.I.Khan by Voice of America (in Pashto) confirms that Taliban-ASWJ attackers of D.I.Khan jail were wearing military commando uniforms. They were chanting Shia Kafir slogans, while freeing Deobandi Taliban-ASWJ-LeJ terrorists and killing Shia prisoners. They fled in an APC (armored personnel carrier).
د طالبانو حملې وروستو د ډیرو جیل حال
——–
According to initial investigations, the first prison gate was destroyed by the attackers equipped with hand grenades and automatic weapons, but the other two gates were let open by security personnel. The police personnel who were responsible for security of the prison's outside building were not present at the time of attack and arrived there four-and-a-half hours later. It seems that the first and second defence lines of the jail offered no resistance. Clearly army too did not deem it fit to engage the attackers on their way to D.I.Khan, during their attack on the prison, and also on their way back to North Waziristan.
The fact is that the army is everywhere in Pakistan so they should have intervened and engaged with the Taliban and kill them all. Of course the army commanders dont need anyone's permission to attack terrroists. They also know how well the police are equipped. Reading from Pakistan's financial bill, the budget of the army is over 30% of the national budget. Does poor civilian police get that kind of money?
http://www.defence.pk/forums/pakistans-war/267857-pti-government-failed-protect-di-khan-jail-despite-intelligence-warning.html
———
Faisla Awam Ka: Asma Shirazi – This video shows everyone in DI Khan knew Taliban were doing a jail break. Army, police and govt silently stood by for four hours while Taliban-ASWJ terrorists successfully secured their friends from D.I. Khan jail.

Faisla Awam Ka – 30th July 2013 by zemvideos
——-
Appendix: Taliban, IMU form Ansar al Aseer to free jihadist prisoners
By BILL ROGGIOFebruary 5, 2013
In a recent video (Feb 2013), the Movement of the Taliban in Pakistan and the Islamic Movement of Uzbekistan announced the formation of the Ansar al Aseer, a unit tasked to free jihadist prisoners and support their families. The video features Adnan Rasheed, a dangerous Pakistani jihadist who was freed in a jailbreak last year; Yassin Chouka, a wanted German commander in the Islamic Movement of Uzbekistan; and Abdul Hakeem, a Russian IMU member.
Adnan Rasheed Deobandi led off by announcing the formation of the Ansar al Aseer, defining its mission, and praising the Taliban for his release. "The first purpose of this group is to make your release possible by all means," Rasheed said. "And the second purpose is to take care of you in jail, provide for your families, fulfill your needs and necessities and arrange finances for your trials. And finally the third purpose is to take revenge against the enemies."
"You should send us the names and addresses of those who serve the police, ISI, army, as well as those jail wardens, officers and their aides and spies, plus the names of those who dared to harass your families and your old parents and those who still treat you inhumanely," he continued. "We, the mujahideen in Khorasan, promise you that we will, Allah willing, take revenge against them."He also warned the Pakistani security forces against harassing the families of jihadist prisoners, and said that they "are all on our hit list."
Adnan Rasheed Deobandi is a Pakistani terrorist who was involved in the Dec. 14, 2003 assassination attempt against then-President Pervez Musharraf. A member of the Pakistani Air Force, Rasheed was sentenced to death for his role in the assassination attempt.
Rasheed worked for Amjad Farooqi, the Pakistani terrorist who engineered the two assassination attempts against Musharraf in December 2003 at the behest of al Qaeda leader Abu Faraj al Libi; Farooqi is suspected of involvement in other terror attacks as well. Farooqi was a member of the Sipah-e-Sahaba Pakistan; the Harkat-ul-Ansar and its successor, the Harkat-ul-Mujahideen; Harkat-ul-Jihad-al-Islami; and Jaish-e-Mohammed. He served as a close aide to Qari Saifullah Akhtar, the leader of the Harkat-ul-Jihad-al-Islami. In addition, Farooqi served as the group's representative to al Qaeda's International Islamic Front.
On April 15, 2012, the Movement of the Taliban in Pakistan launched a successful operation to free Rasheed and nearly 400 prisoners, including an estimated 200 Taliban fighters and jihadists, being held at a prison in Bannu. The operation was directed by Hakkemullah Mehsud, the emir of the Movement of the Taliban in Pakistan, and Waliur Rehman Mehsud, the group's emir for South Waziristan. More than 150 fighters assaulted the prison. Rasheed was later featured in a videotape celebrating the jailbreak.
Next to speak on the videotape announcing the formation of the Ansar al Aseer is Abdul Hakeem, a previously unknown Russian operative in the Islamic Movement of Uzbekistan. Hakeem chastised the Muslim Ummah, or community, for doing nothing to further the release of prisoners. "Our beloved brothers and sisters have had to live in captivity," Hakeem complained. "When they spit, they spit blood. Yet this 1.5 billion-strong Ummah is doing nothing about it." Hakeem also claimed he was detained by Pakistan's Inter-Services Intelligence Directorate, or ISI, and accused it of working in concert with the US.
"When I was in jail I witnessed how hypocritical the ISI agents were," he said. "This anti-Islamist institute of Pakistan fights against the Muslims standing shoulder to shoulder with the USA. When they interrogated us these two devils would work together."
Yassin Chouka praised jihadists who are in prison, but his statement takes a considerably more conciliatory position toward Muslims "who have not yet dedicated their love to the Muslim prisoners worldwide" than does Hakeem's. "Look into your hearts and see whom you have dedicated your love to, whom you hate and whom you love," he advised. "Let me give you a piece of advice: Force your unconcerned soul to love the Muslim captives around the world." http://www.longwarjournal.org/archives/2013/02/taliban_imu_form_ans.php#ixzz2aocNJlvn
Taliban exact revent on IB officials in Peshawar
LeJ terrorist arrested by IB
20 July 2013
Pakistan's Intelligence Bureau (IB) has arrested the chief of the death squad of anti-Shia terrorist group Lashkar-e-Jhangvi (LeJ), according to security officials. The Intelligence Bureau (IB) made the announcement on Friday during a briefing to Prime Minister Nawaz Sharif, the Pakistani television network Dunya News reported. IB officials identified the captured terrorist as Masoom Billah. The officials did not provide details about where and when Billah was arrested. http://en.shiapost.com/2013/07/20/top-anti-shia-lashkar-e-jhangvi-terrorist-arrested/
IB official succumbs to injuries
August 02, 2013
PESHAWAR: The Intelligence Bureau (IB) official, who was injured in an attack a day earlier, succumbed to his injuries in the hospital on Thursday. Unknown (Deobandi) motorcyclists opened fire on Inspector Mazhar Hussain near his house at Sarki Gate in the limits of Shah Qabool Police Station on Wednesday. The official was rushed to the nearby Lady Reading Hospital in a critical condition.
It was the third attack on IB officials in the city in the recent days. Two former assistant directors of IB — Mohammad Arif and Mujahid Khan — were killed by Deobandi terrorists in similar attacks a few weeks back. http://www.thenews.com.pk/Todays-News-2-193860-IB-official-succumbs-to-injuries
Takfiri Taliban terrorists have killed a Shia Officer of Intelligence Bureau in Peshawar on Wednesday late night, The Shia Post reported. Manzar Hussain, an Inspector of the Intelligence Bureau, was seriously injured due to Taliban terrorists attack. He was rushed to hospital for treatment. He embraced martyrdom at the hospital succumbing to the fatal wounds. The attack evoked an instant reaction from the Shia parties and leaders who demanded an army operation to eliminate the terrorists. http://en.shiapost.com/2013/08/01/taliban-terrorists-kill-ibs-shia-officer-in-peshawar/
—
2012 video: Taliban terrorists video of attack on Bannu Jail:
http://www.pakistantv.tv/2013/08/01/terrorist-release-bannu-jail-attack-video/#sthash.vMQrdWB7.dpbs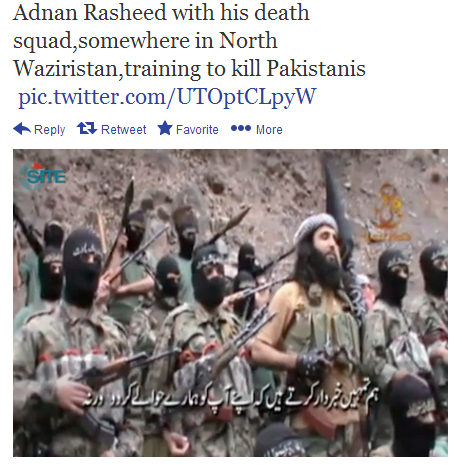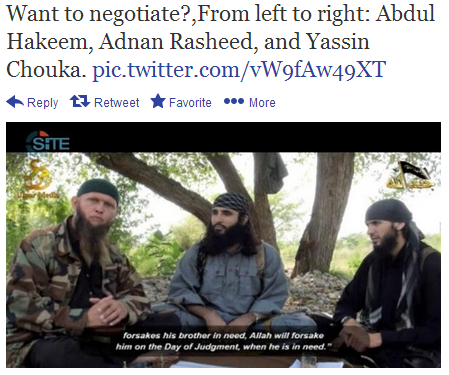 Reaction on Twitter after D.I. Khan jail break: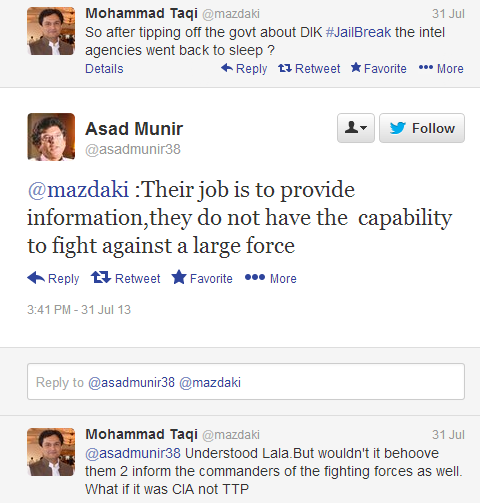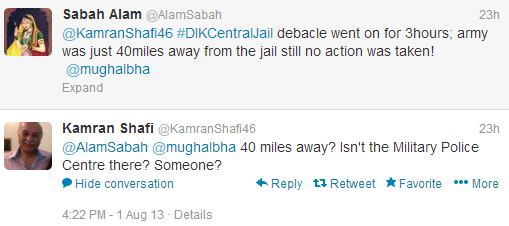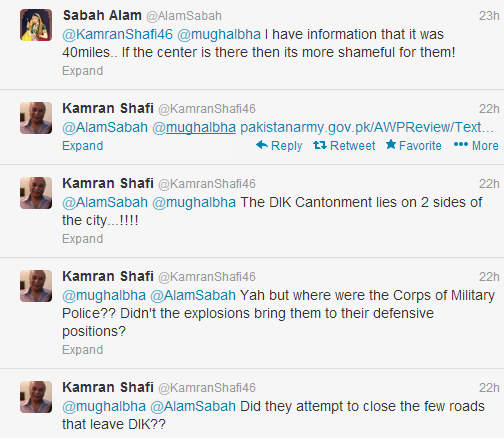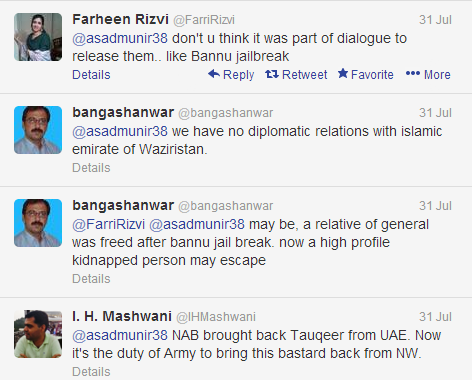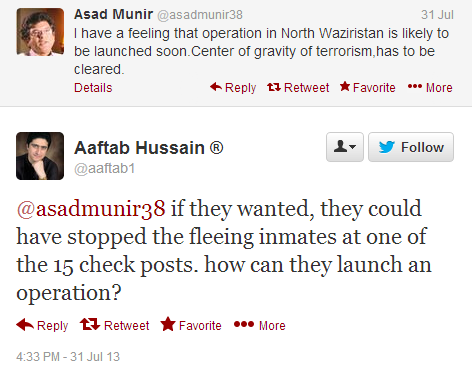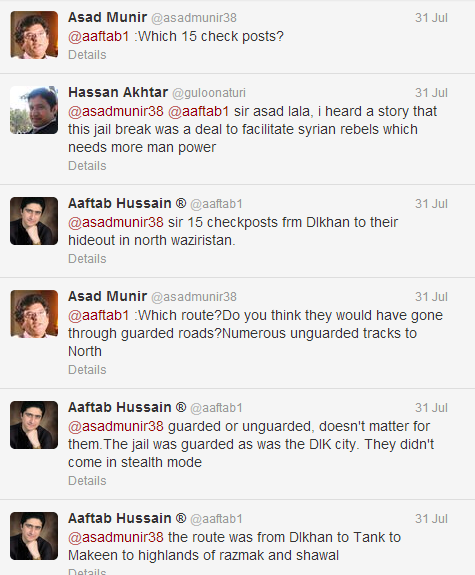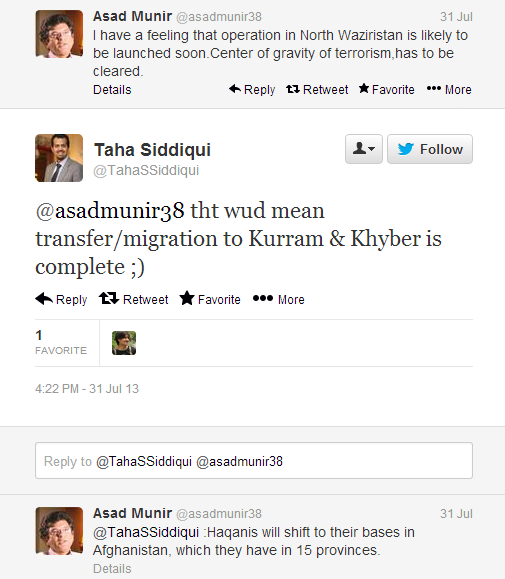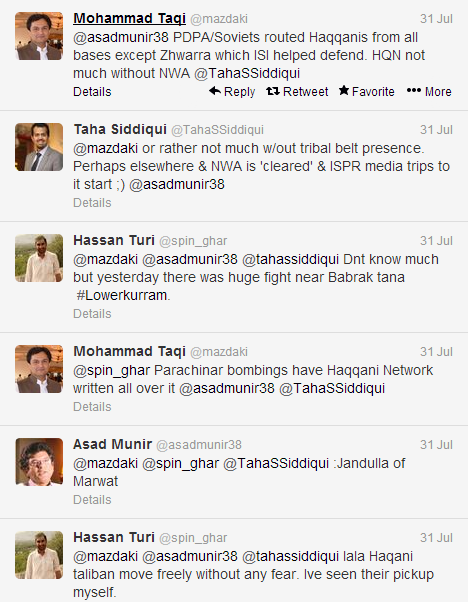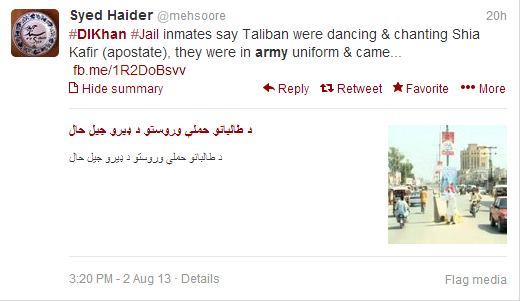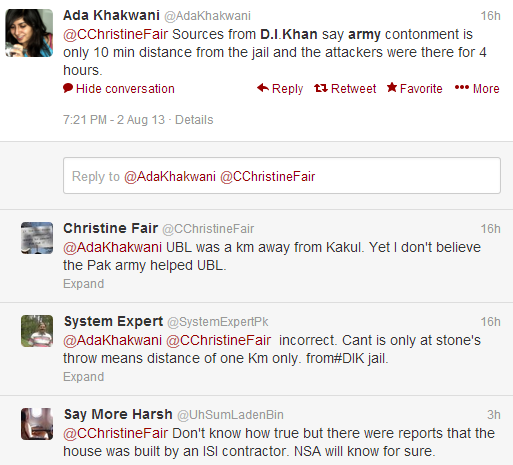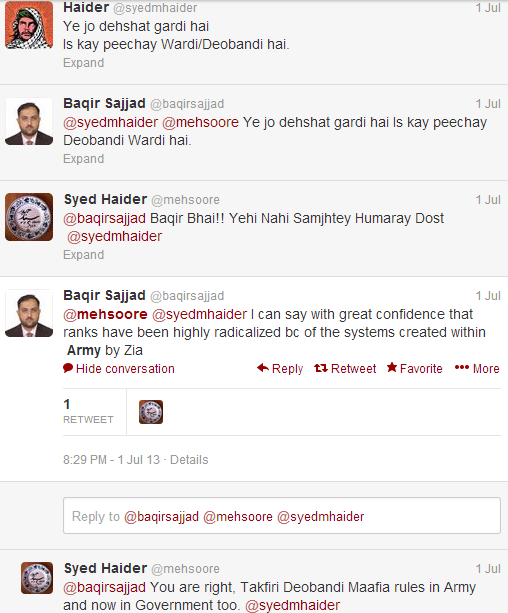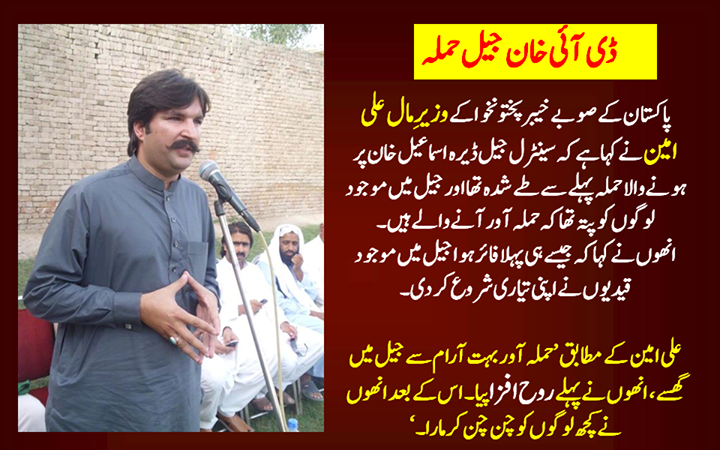 Comments
comments