Recent attack on ISI office in Sukkur – by Nasir Dharejo
posted by Taj |

July 26, 2013

| In Original Articles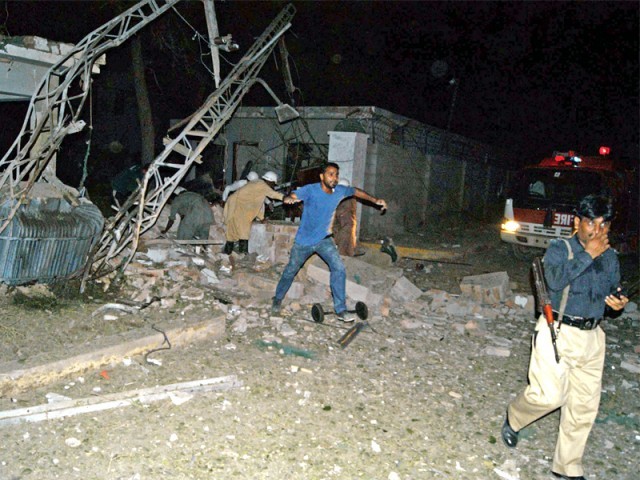 The ISI office is situated in a highly sensitive and protected area,  the question is that, How a truck full of explosive could be able to penetrate such a secure location?
General security to public is District Administration's responsibility and their role has to be questioned here.
As a native of Sukkur, I am familiar the targeted area. To reach the target area is not very easy.
The front Hamdard Road side is already barricaded and policy is posted and alert to stop and  screen any unwanted traffic, but I am amazed how other sides are left opened for any culprit to operate easily?
It is that unfortunate District administration has suffered from political interference, its administration have remained ever on the disposal of Some political figures.
I would add that former set up were competent people. Yes!  I am referring to by DIG Ameer Shaikh and SSP Peer Mohammed Shah, both very capable and dynamic officers, knowledgeable about the district.
Why were both were transferred a month apart just  few days prior to this attack?
Source: https://dharejo.wordpress.com/2013/07/25/the-recent-attack-on-isi-office-in-sukkur-2/
 SUKKUR: Suicide gunmen and car bombers mounted an unprecedented attack on the local office of the country's premier intelligence agency in the otherwise sleepy town of Sukkur Wednesday evening, sparking a shootout that killed eight people and injured over three dozen.

Although there was no immediate claim of responsibility for the brazen attack on the Inter-Services Intelligence (ISI) office in the upscale Sukkur Barrage Colony, it is likely to revive fears that the reach of militants is spreading in the country.

The Sukkur Barrage Colony is a high security zone where offices of top government officials – including Commissioner House, DIG House, Sindh Rangers Headquarters and Judges Lodges – are situated.

"It was the ISI office which was attacked. The gate and front walls have been blown away," Major General Rizwan Akhtar of the paramilitary Sindh Rangers, told AFP.

Four terrorists, armed with hand grenades, suicide vests and assault rifles, launched the organised attack just as local residents broke their fast, sources told The Express Tribune.

http://tribune.com.pk/story/581678/unprecedented-attack-coordinated-assault-on-isi-sukkur-office/
Comments
comments
About The Author
Taj
Ali Abbas Taj is the Editor of Let Us Build Pakistan. @aliabbastaj on Twitter