Banning Mathira Josh condom ad: cringe worthy – by Maheen Usmani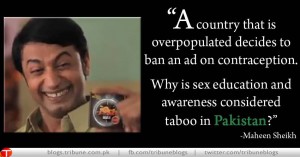 While the Mathira Josh condom ad was undoubtedly cringe worthy on many levels, was there really any need for dormant PEMRA to ban it? Why not take it as comic relief for these stressful times? Sadly women are often each other's worst enemies so we have blogs by intelligent, independent women lambasting Mathira and tweets crucifying her for having a "bad reputation". To all those emancipated women venting against Mathira for using sex (gasp!!) to sell condoms, may I remind you that women have been objectified as sex objects for products ranging from fridges, mobiles, washing machines on Pakistani channels 24/7. Why then are people getting antsy over a condom ad which dares to venture beyond the hackneyed concept of "Do bacchay hi acchay." Is it because it's implied that the husband uses sex to tame the flaming hot Mathira and that both enjoy it? As if sex has not been used since time immemorial to get those diamonds, that car, that bank balance, that status, that business deal, that prime time slot. Men and women have both used sex at times to get what they desire in the Land of the Pure. So who are we kidding here? Get real, Pakistan.
Pakistan's media regulatory agency banned the commercial Tuesday after reviewing it and determining that it violated the group's code of conduct, said Mohammad Saleem, a senior regulatory official.
"We don't take any arbitrary decisions," Saleem said
http://www.hindustantimes.com/world-news/Pakistan/Pakistan-bans-condom-commercial-for-being-too-racy/Article1-1098255.aspx






Comments
comments