Al-Qaeda-linked extremists hold 200 Kurdish civilians hostage as 'live shield' in Syria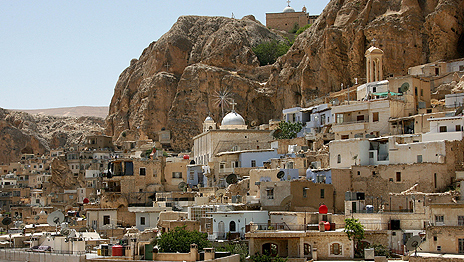 Al-Qaeda-linked extremists have taken and continue to hold hostage about 200 Kurdish civilians, including women and children, using them as live shields in north-eastern Syria, Russia's Foreign Ministry has stated.
Civilians remain hostage after Syrian Kurds clashed with Al-Qaeda linked militants in the north-eastern Syrian towns of Tal Abyad and Ras al-Ain, along the Syrian-Turkish border over the weekend.
"In these areas, there has long been confrontation between the troops of the international extremists affiliated with al-Qaeda and local Kurdish militias who stood up to protect their homes from attacks by radical Islamists," Russia's Foreign Ministry said in a statement published on its website.
Syrian Kurd fighters captured a rebel leader, or emir, identified as Abu Musab. In response, Al-Qaeda extremists abducted 500 civilians, including woman and children.
"They started to kill innocent people by cutting off their heads," the statement read. "Kurds had to free Abu Musab in exchange for an agreement to release hostages."
Despite the Kurdish fighters agreed to release Abu Musab in exchange for people, about 200 people are still in the hands of extremists. The commander was freed as agreed.
The Kurdish gunmen have been fighting to expel al-Qaeda militants from the northeastern province of Hassakeh over the past week, with the battle significantly intensifying over the weekend.
The clashes between the Kurdish People's Defense Units (YPG) and the al-Qaeda-affiliated Jahbat al-Nusra erupted in the city of Ras al-Ain in the northern province of Hasakeh on July 16, when at least four militants were killed.
The Kurds issued a "victory message," celebrating the "liberation" of Ras al-Ain, claiming to hold control over the entire city as well as the headquarters of the Islamist combatant groups there.
On Saturday evening, the fighting spread to the city of Tal Abyad.
"Moscow strongly condemns the atrocities of international terrorists in northeastern Syria and the excesses and abuses perpetrated by extremists against a peaceful Kurdish population which is not involved in the ongoing political and military conflict in Syria," the Ministry said.
The city of Ras al-Ain is home to some 50,000 people including a mix of Kurds, Arabs, Christians, and Yezidis – a Kurdish religious minority.
London-based RT contributor Afshin Rattansi says Western powers supporting organizations like al-Qaeda-linked Jahbat al-Nusra are to be blamed for the situation in northern Syria.

"There has been a discrimination of Kurds in that region, but now we have a situation where the United States, Saudi Arabia, and Britain are actively supporting al-Qaeda-linked organizations that are ransacking and murdering women and children – certainly over the past 48 hours," he said. "All we are hearing from London and Washington are talks about a no-fly zone and arming the very people who are killing women and children there. And from Turkey, certainly the Turkish right wing has brought ideas of invading Syria from the north to kill more Kurdish people."
Rattansi says the UN Security Council (UNSC) should look closely at the situation there.
"Russia and China should bring this up at the UNSC. Otherwise, the prospect for these 200 hostages is pretty grim," he said.
Source:
http://rt.com/news/al-qaeda-civilians-hostage-syria-479/  
Comments
comments