Express Tribune removes its report on release of LeJ terrorists in Rajanpur by Punjab CM Shahbaz Sharif

Note: Express Tribune editor Omar Quraishi is not being truthful when he claims that no post was removed from ET website. He is referring to a different news report. Read this entire post and reviews screen images and tweets to fully understand ET editor's lies.
**************
According to Express Tribune's (ET) reporter Mr. Abdul Mannan, ET has removed his story in which he reported that Punjab Chief Minister Shahbaz Sharif had released three Takfiri Deobandi terrorists of Lashkar-e-Jhangvi (LeJ, currently freely operating as Ahle Sunnat Wal Jamaat Deobandi ASWJ-D) in Rajanpur, Punjab. http://tribune.com.pk/?p=577850
Although link removed from website but Epaper still has access. IT expert knows how to defuse PMLN undue pressure. The story was about LeJ release in exchange Police personnel which annoyed CM Shehbaz and he got removed link.  The story was removed from website with blessing of PML-N,But luckily this link on epaper edition of ET is still alive:  http://etribune.express.com.pk/DisplayDetails.aspx?ENI_ID=11201307170239&EN_ID=11201307170208&EMID=11201307170021
On Twitter, Mr. Manan tweeted on 17 July 2013 that "PMLN has succeeded to get remove my another story from our website. @CMShehbaz sir its only way to counter terrorism. http://tribune.com.pk/story/577850/hostage-swap-three-lashkar-i-jhangvi-men-released-for-8-police-officials/" It may be noted that Chotu Deobandi of Lashkar-e-Jhangvi (ASWJ-D) was able to, on his own conditions, get released three LeJ members of his terrorist group. This tweet was tagged by the ET report to Punjab CM Shahbaz Sharif. Within a few hours of this tagging, CM Shahbaz successfully got this story removed from the ET website. No apology or explanation was offered by ET editors on their website.
This latest incident shows intolerant mindset of PML-N towards dissenting and uncomfortable news and views. It may be noted that LUBP (Let Us Build Pakistan), Pakistan's most visited political website, too is currently being harassed and witch-hunted by certain "liberal" journalists known to be close to Punjab CM Shahbaz Sharif.
In last few years, CM Shahbaz has cultivated a large number of journalists and bloggers, many of whom are also alleged to be close to military establishment. Some of these are known for promoting PML-N and Shahbaz Sharif include Mosharraf Zaid, Raza Rumi and Ansar Abbasi. It's therefore no surprise that Pakistani media has generally wiped out or underplayed the story of release of most dangerous LeJ terrorists in Rajanpur by Shahbaz Sharif government. Pakistan media is also hiding that LeJ chief in Rajanpur (Chotu Mazari) is sponsored by none else than PMLN MPA Atif Mazari.
This is not the first occasion that ET removed a story involving PML-N's alliance with banned terrorist group Sipah-e-Sahaba (aka ASWJ-LeJ).  Previously in September 2012, ET editors removed a story about PML-N's political alliance with ASWJ-LeJ. https://lubpak.com/archives/229257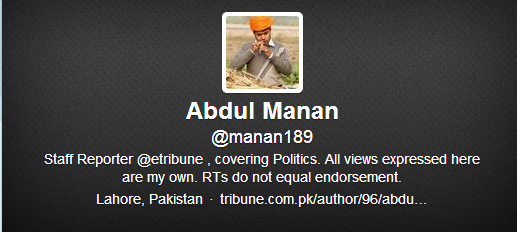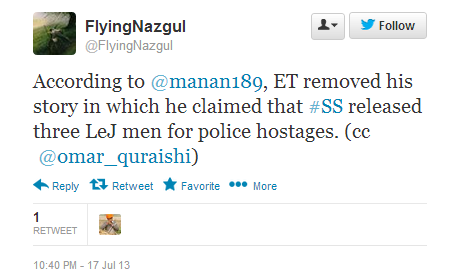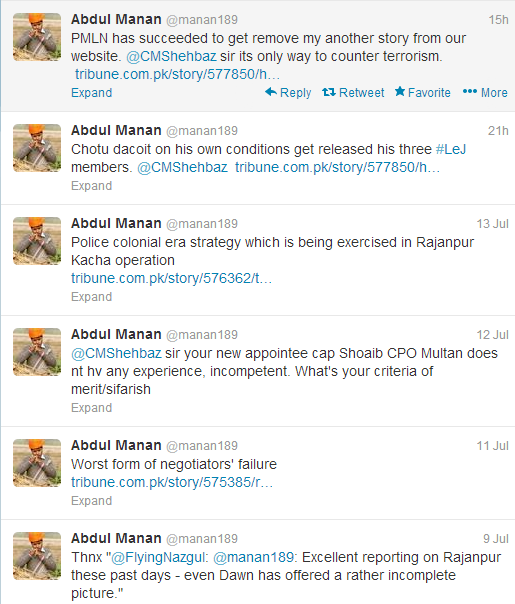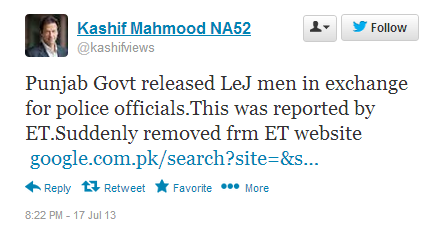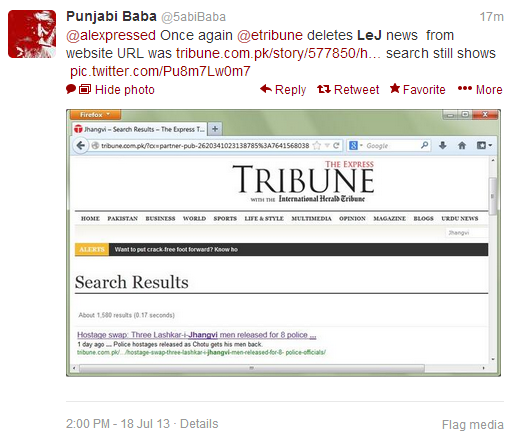 Something went wrong, this page doesn't exist.

We're sorry, the page you've requested does not exist at this address. Please note:
If you typed in the address, used a bookmark or followed a link from another Web site, the page is no longer available.
http://tribune.com.pk/?p=577850
Text and image of the original story removed by Express Tribune
Hostage swap: Three Lashkar-i-Jhangvi men released for 8 police officials
LAHORE: The police on Tuesday released three Lashkar-i-Jhangvi (LJ) men in exchange for the release of eight policemen held hostage by Chotu Mazari, The Express Tribune has learnt.
Sources said MPA Atif Mazari had struck the deal with Mazari's aide Patt Umrani and secured the exchange.
On Monday, Chotu's gang had released three civilian abductees on receipt of Rs2 million ransom.
The police hostages were released in the early hours of Tuesday morning at an agreed location.
Later, the police presented the released men in a press briefing.
Besides releasing three of Chotu's men, known to be members of LJ, the police also agreed to remove pickets from some river Indus islands and all but handed over the entire Kacha area to the bandits.
The bandits refused to return the weapons (12 guns) they grabbed from the policemen when they overran the pickets.
Police said their prime objective had been securing the release of the eight officials. They insisted that no other demand made by Chotu Mazari had been fulfilled.
But Chotu Mazari left a warning for the police. The released hostages said he had warned against any police interference in the kacha area. If the police wanted to maintain "good relations" with him, he had said, they should refrain from conducting any operations against his gang.
He claimed that police operations against his gang were a ruse to harass the poor. He said wheat crop was collected forcibly and later sold in the market.
The men released by the police were identified as Bashir Bakhrani, Ishaq Changwani and Razzaq Changwani. Police records show that the three men are active members of the LJ and Jash-i -Muhammad, both banned militant outfits. There unconfirmed reports that the police released a fourth man, Qaiser Kirtawani alias Jhangvi. The four men are known as Mazari's main hit men, sources said.
Basti Maluk SHO told The Express Tribune that Kirtawani had been active in Muzaffargarh. He was also allegedly involved in the kidnapping of Dr Wazir Khan three months ago. Dr Khan was released on Monday.
The SHO said Bakhrani had been active in Bahawalpur. He allegedly distributed ransom money among Jash-i-Muhammad.
A senior official said if Chotu Mazari brought only 10 more militants of such calibre, he could potentially take control of the entire area.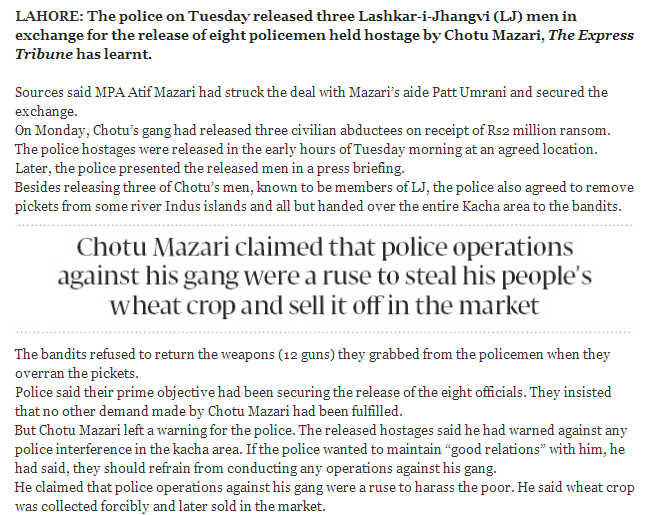 Claims by Mr. Omar Quraishi (Editor, Express Tribune)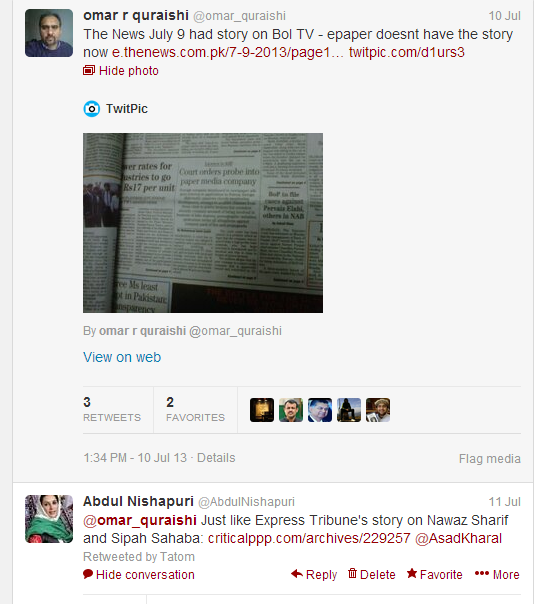 Real story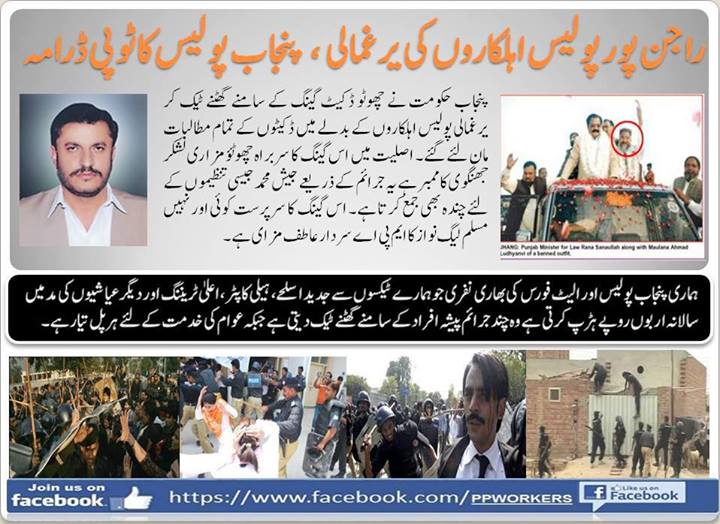 Comments from Twitter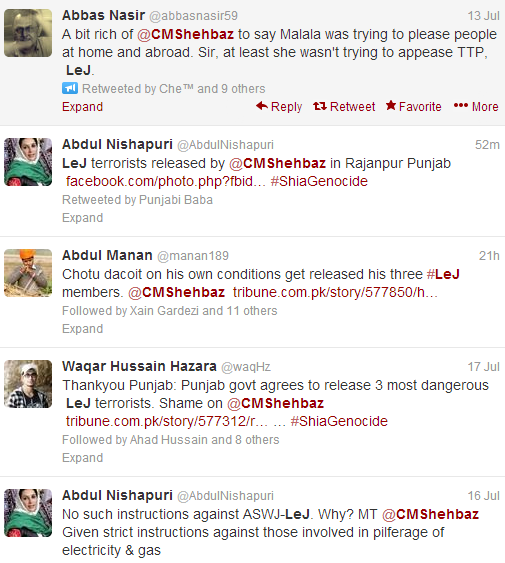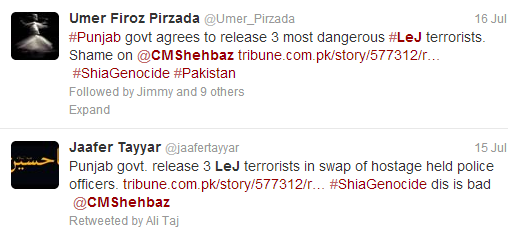 Appendix
The following news items (with screen images and text) are being reproduced because there's a possibility that under pressure by PML-N's Chief Minister Shahbaz Sharif, Express Tribune may remove these too from its web site.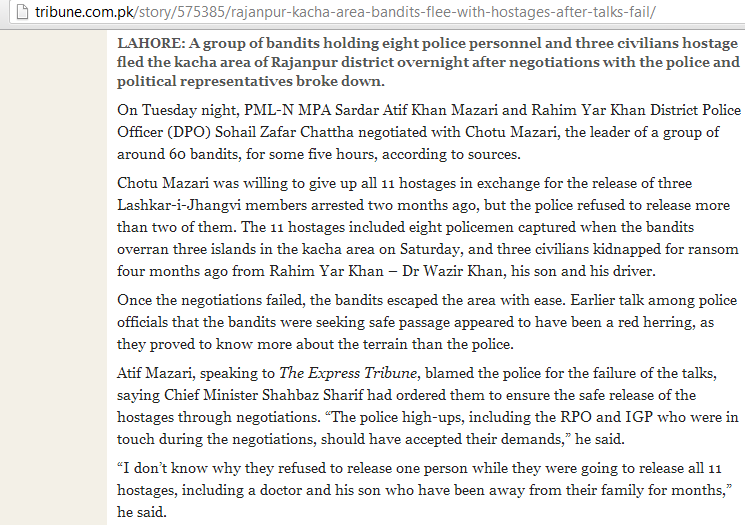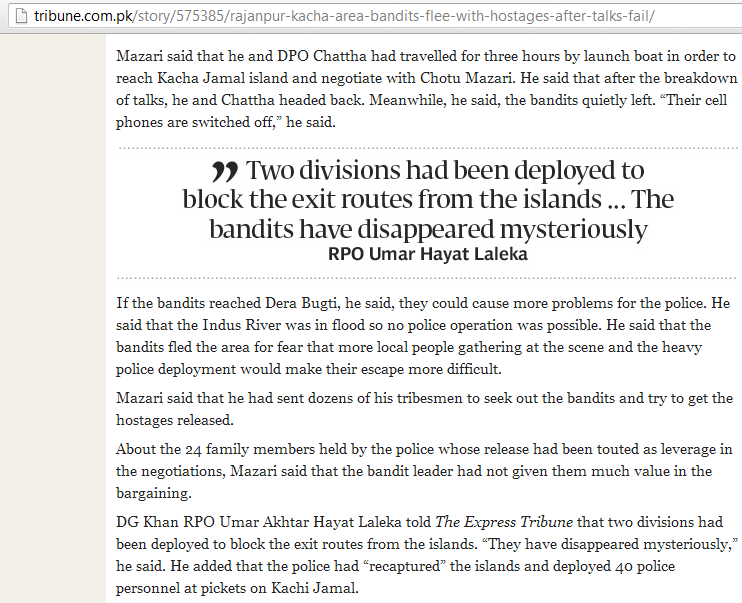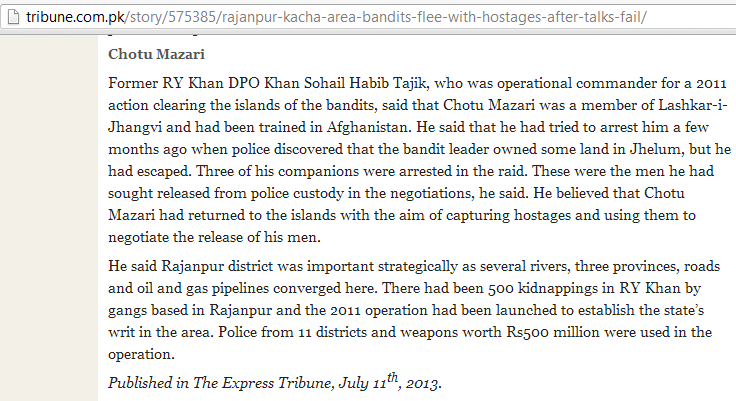 Rajanpur kacha area: Bandits flee with hostages after talks fail
By Abdul MananPublished: July 11, 2013
Share this articlePrint this page Email
"Two divisions had been deployed to block the exit routes from the islands … The bandits have disappeared mysteriously," RPO Umar Hayat Laleka. PHOTO: FILE
LAHORE: A group of bandits holding eight police personnel and three civilians hostage fled the kacha area of Rajanpur district overnight after negotiations with the police and political representatives broke down.
On Tuesday night, PML-N MPA Sardar Atif Khan Mazari and Rahim Yar Khan District Police Officer (DPO) Sohail Zafar Chattha negotiated with Chotu Mazari, the leader of a group of around 60 bandits, for some five hours, according to sources.
Chotu Mazari was willing to give up all 11 hostages in exchange for the release of three Lashkar-i-Jhangvi members arrested two months ago, but the police refused to release more than two of them. The 11 hostages included eight policemen captured when the bandits overran three islands in the kacha area on Saturday, and three civilians kidnapped for ransom four months ago from Rahim Yar Khan – Dr Wazir Khan, his son and his driver.
Once the negotiations failed, the bandits escaped the area with ease. Earlier talk among police officials that the bandits were seeking safe passage appeared to have been a red herring, as they proved to know more about the terrain than the police.
Atif Mazari, speaking to The Express Tribune, blamed the police for the failure of the talks, saying Chief Minister Shahbaz Sharif had ordered them to ensure the safe release of the hostages through negotiations. "The police high-ups, including the RPO and IGP who were in touch during the negotiations, should have accepted their demands," he said.
"I don't know why they refused to release one person while they were going to release all 11 hostages, including a doctor and his son who have been away from their family for months," he said.
Mazari said that he and DPO Chattha had travelled for three hours by launch boat in order to reach Kacha Jamal island and negotiate with Chotu Mazari. He said that after the breakdown of talks, he and Chattha headed back. Meanwhile, he said, the bandits quietly left. "Their cell phones are switched off," he said.
If the bandits reached Dera Bugti, he said, they could cause more problems for the police. He said that the Indus River was in flood so no police operation was possible. He said that the bandits fled the area for fear that more local people gathering at the scene and the heavy police deployment would make their escape more difficult.
Mazari said that he had sent dozens of his tribesmen to seek out the bandits and try to get the hostages released.
About the 24 family members held by the police whose release had been touted as leverage in the negotiations, Mazari said that the bandit leader had not given them much value in the bargaining.
DG Khan RPO Umar Akhtar Hayat Laleka told The Express Tribune that two divisions had been deployed to block the exit routes from the islands. "They have disappeared mysteriously," he said. He added that the police had "recaptured" the islands and deployed 40 police personnel at pickets on Kachi Jamal.
Chotu Mazari
Former RY Khan DPO Khan Sohail Habib Tajik, who was operational commander for a 2011 action clearing the islands of the bandits, said that Chotu Mazari was a member of Lashkar-i-Jhangvi and had been trained in Afghanistan. He said that he had tried to arrest him a few months ago when police discovered that the bandit leader owned some land in Jhelum, but he had escaped. Three of his companions were arrested in the raid. These were the men he had sought released from police custody in the negotiations, he said. He believed that Chotu Mazari had returned to the islands with the aim of capturing hostages and using them to negotiate the release of his men.
He said Rajanpur district was important strategically as several rivers, three provinces, roads and oil and gas pipelines converged here. There had been 500 kidnappings in RY Khan by gangs based in Rajanpur and the 2011 operation had been launched to establish the state's writ in the area. Police from 11 districts and weapons worth Rs500 million were used in the operation.
Published in The Express Tribune, July 11th, 2013.
http://tribune.com.pk/story/575385/rajanpur-kacha-area-bandits-flee-with-hostages-after-talks-fail/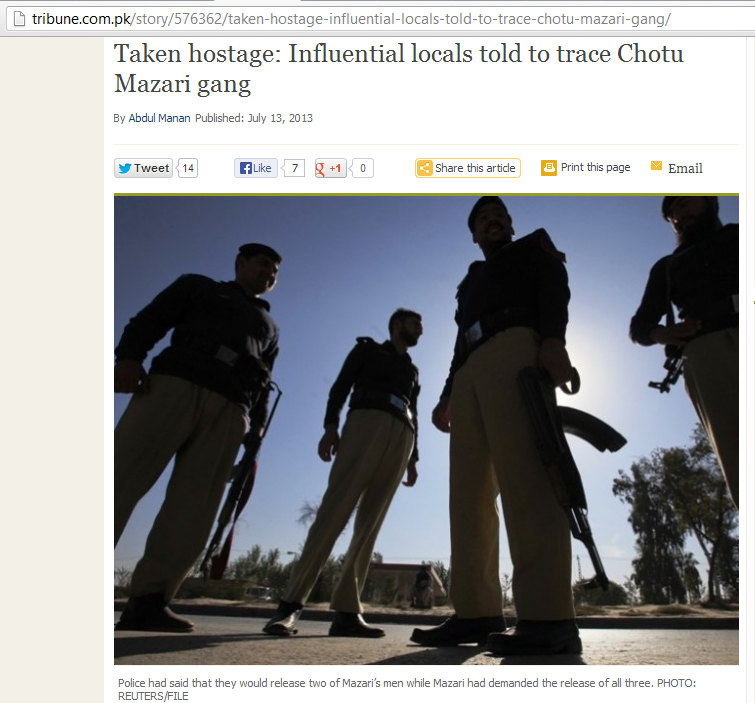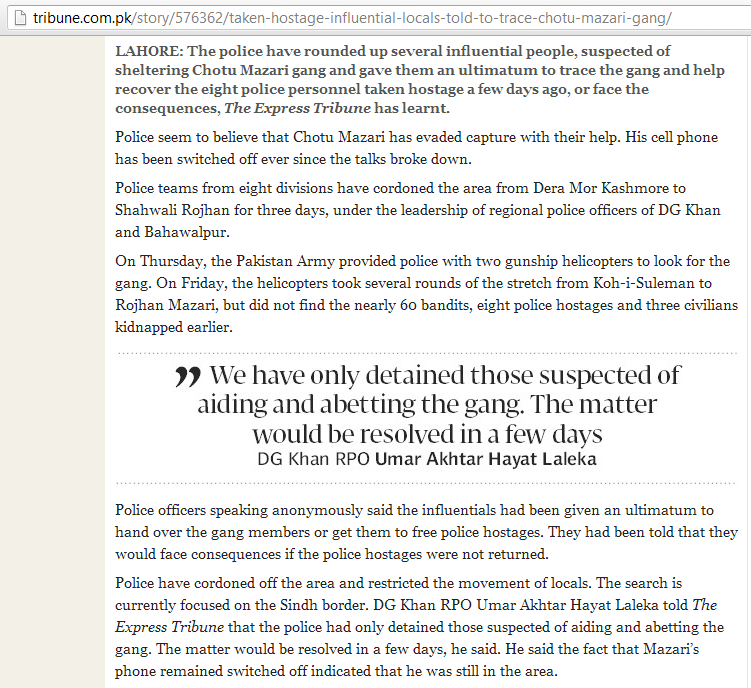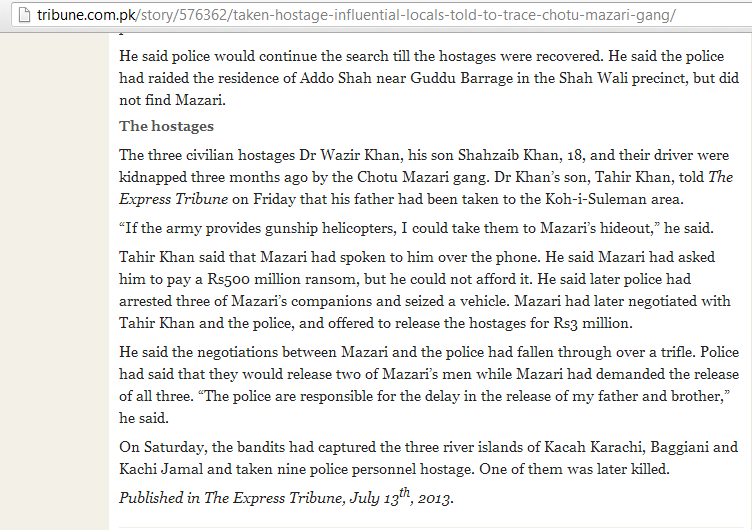 Taken hostage: Influential locals told to trace Chotu Mazari gang
By Abdul MananPublished: July 13, 2013
Share this articlePrint this page Email
Police had said that they would release two of Mazari's men while Mazari had demanded the release of all three. PHOTO: REUTERS/FILE
LAHORE:
The police have rounded up several influential people, suspected of sheltering Chotu Mazari gang and gave them an ultimatum to trace the gang and help recover the eight police personnel taken hostage a few days ago, or face the consequences, The Express Tribune has learnt.
Police seem to believe that Chotu Mazari has evaded capture with their help. His cell phone has been switched off ever since the talks broke down.
Police teams from eight divisions have cordoned the area from Dera Mor Kashmore to Shahwali Rojhan for three days, under the leadership of regional police officers of DG Khan and Bahawalpur.
On Thursday, the Pakistan Army provided police with two gunship helicopters to look for the gang. On Friday, the helicopters took several rounds of the stretch from Koh-i-Suleman to Rojhan Mazari, but did not find the nearly 60 bandits, eight police hostages and three civilians kidnapped earlier.
Police officers speaking anonymously said the influentials had been given an ultimatum to hand over the gang members or get them to free police hostages. They had been told that they would face consequences if the police hostages were not returned.
Police have cordoned off the area and restricted the movement of locals. The search is currently focused on the Sindh border. DG Khan RPO Umar Akhtar Hayat Laleka told The Express Tribune that the police had only detained those suspected of aiding and abetting the gang. The matter would be resolved in a few days, he said. He said the fact that Mazari's phone remained switched off indicated that he was still in the area.
He said police would continue the search till the hostages were recovered. He said the police had raided the residence of Addo Shah near Guddu Barrage in the Shah Wali precinct, but did not find Mazari.
The hostages
The three civilian hostages Dr Wazir Khan, his son Shahzaib Khan, 18, and their driver were kidnapped three months ago by the Chotu Mazari gang. Dr Khan's son, Tahir Khan, told The Express Tribune on Friday that his father had been taken to the Koh-i-Suleman area.
"If the army provides gunship helicopters, I could take them to Mazari's hideout," he said.
Tahir Khan said that Mazari had spoken to him over the phone. He said Mazari had asked him to pay a Rs500 million ransom, but he could not afford it. He said later police had arrested three of Mazari's companions and seized a vehicle. Mazari had later negotiated with Tahir Khan and the police, and offered to release the hostages for Rs3 million.
He said the negotiations between Mazari and the police had fallen through over a trifle. Police had said that they would release two of Mazari's men while Mazari had demanded the release of all three. "The police are responsible for the delay in the release of my father and brother," he said.
On Saturday, the bandits had captured the three river islands of Kacah Karachi, Baggiani and Kachi Jamal and taken nine police personnel hostage. One of them was later killed.
Published in The Express Tribune, July 13th, 2013.
http://tribune.com.pk/story/576362/taken-hostage-influential-locals-told-to-trace-chotu-mazari-gang/
—-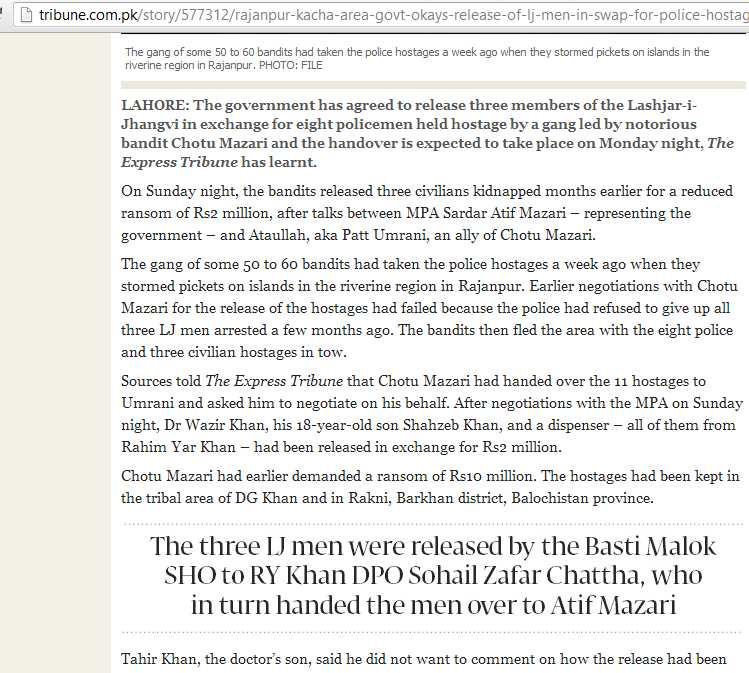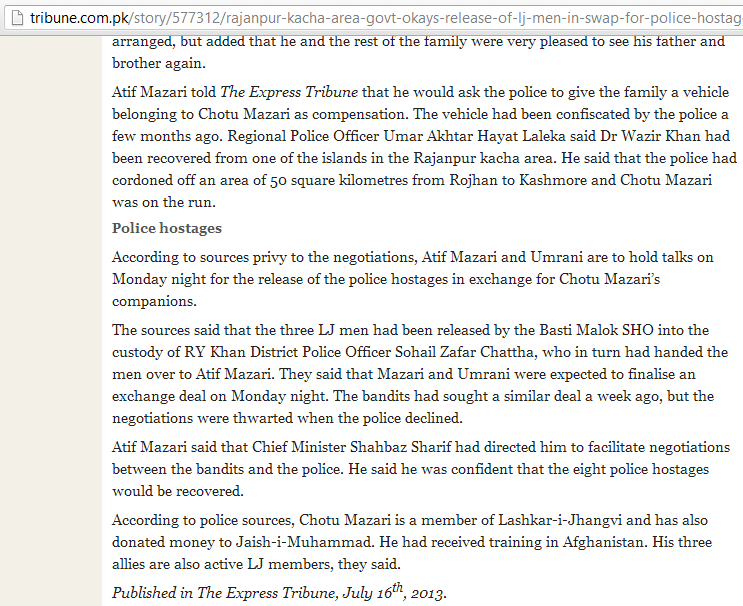 Rajanpur kacha area: Govt okays release of LJ men in swap for police hostages
By Abdul MananPublished: July 16, 2013
LAHORE:
The government has agreed to release three members of the Lashjar-i-Jhangvi in exchange for eight policemen held hostage by a gang led by notorious bandit Chotu Mazari and the handover is expected to take place on Monday night, The Express Tribune has learnt.
On Sunday night, the bandits released three civilians kidnapped months earlier for a reduced ransom of Rs2 million, after talks between MPA Sardar Atif Mazari – representing the government – and Ataullah, aka Patt Umrani, an ally of Chotu Mazari.
The gang of some 50 to 60 bandits had taken the police hostages a week ago when they stormed pickets on islands in the riverine region in Rajanpur. Earlier negotiations with Chotu Mazari for the release of the hostages had failed because the police had refused to give up all three LJ men arrested a few months ago. The bandits then fled the area with the eight police and three civilian hostages in tow.
Sources told The Express Tribune that Chotu Mazari had handed over the 11 hostages to Umrani and asked him to negotiate on his behalf. After negotiations with the MPA on Sunday night, Dr Wazir Khan, his 18-year-old son Shahzeb Khan, and a dispenser – all of them from Rahim Yar Khan – had been released in exchange for Rs2 million.
Chotu Mazari had earlier demanded a ransom of Rs10 million. The hostages had been kept in the tribal area of DG Khan and in Rakni, Barkhan district, Balochistan province.
Tahir Khan, the doctor's son, said he did not want to comment on how the release had been arranged, but added that he and the rest of the family were very pleased to see his father and brother again.
Atif Mazari told The Express Tribune that he would ask the police to give the family a vehicle belonging to Chotu Mazari as compensation. The vehicle had been confiscated by the police a few months ago. Regional Police Officer Umar Akhtar Hayat Laleka said Dr Wazir Khan had been recovered from one of the islands in the Rajanpur kacha area. He said that the police had cordoned off an area of 50 square kilometres from Rojhan to Kashmore and Chotu Mazari was on the run.
Police hostages
According to sources privy to the negotiations, Atif Mazari and Umrani are to hold talks on Monday night for the release of the police hostages in exchange for Chotu Mazari's companions.
The sources said that the three LJ men had been released by the Basti Malok SHO into the custody of RY Khan District Police Officer Sohail Zafar Chattha, who in turn had handed the men over to Atif Mazari. They said that Mazari and Umrani were expected to finalise an exchange deal on Monday night. The bandits had sought a similar deal a week ago, but the negotiations were thwarted when the police declined.
Atif Mazari said that Chief Minister Shahbaz Sharif had directed him to facilitate negotiations between the bandits and the police. He said he was confident that the eight police hostages would be recovered.
According to police sources, Chotu Mazari is a member of Lashkar-i-Jhangvi and has also donated money to Jaish-i-Muhammad. He had received training in Afghanistan. His three allies are also active LJ members, they said.
Published in The Express Tribune, July 16th, 2013.
http://tribune.com.pk/story/577312/rajanpur-kacha-area-govt-okays-release-of-lj-men-in-swap-for-police-hostages/
Comments
comments