A compilation of awards and tributes for Malala Yousafzai – by Rusty Walker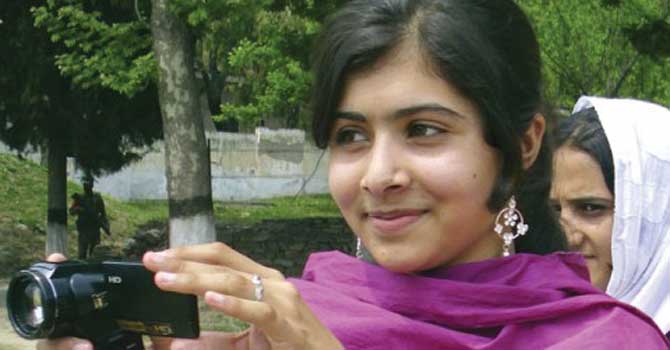 World leaders unanimously denounced the attack by Taliban, and are astonished that despite glowing praise from around the world for Malala and her message, derision emanates all too often against her within Pakistan. United States President Barak Obama found the news of the shooting "reprehensible, disgusting and tragic." Past Secretary of State Hillary Clinton said, Yousafzai had been "very brave in standing up for the rights of girls" and that the attackers had been "threatened by that kind of empowerment". The United Nations Secretary General Ban Ki-Moon called it a "heinous and cowardly act." Zardari described it as an attack on "civilized people."
Malala Yousafzai Awards and honors:
25 October 2011, International Children's Peace Prize (runner-up).The Dutch international children's advocacy group KidsRights Foundation included Yousafzai as one of five nominees worldwide for the prize, after Desmond Tutu nominated her in October 2011. She was the first Pakistani girl ever nominated for the award. The announcement said "Malala dared to stand up for herself and other girls and used national and international media to let the world know girls should also have the right to go to school.
"19 December 2011,[6] Pakistan's National Youth Peace Prize.
Prime Minister Yousaf Raza Gilani awarded Yousafzai with Pakistan's first National Youth Peace Prize for those under 18 years old — subsequently renamed the National Malala Peace Prize. Speaking to the media after attending the proceedings, Yousafzai expressed her wish to form her own political party comprising people working for the cause of education, saying "my party will operate in all four provinces." On Yousafzai's request, the prime minister directed the authorities to set up an IT campus in the SWAT  Degree College for Women.
3 January 2012, Malala Yousafzai Government Girls Secondary School.
The Government Girls Secondary School on Mission Road, Karachi, was renamed in her honor.
13 January 2012, Tribune Gamechanger.
The Express Tribune named Yousafzai in their list of "Gamechangers 2011″.
15 October 2012, Pakistan's third-highest civilian bravery award.
Pakistan's Interior Minister Malik said that Yousafzai was a symbol of bravery and will be honored with the Sitara-e-Shujaat award.
Authorities in Pakistan's Swat Valley, the area she is from, said they would rename a government girls' college in her honor.
In 2012, she was named by Foreign Policy magazine on its list of top global thinkers.
On 26 November 2012, she was nominated for Time magazine's Person of the Year for 2012, and on December 19, she was announced one of four "runners-up" for the award.
28 November 2012, Mother Teresa Memorial Award for Social Justice.
Mumbai-based Harmony Foundation awarded their 2012 prize to Malala along with Afghani women's rights activist Sima Samar, who has also received death threats from the Taliban. Malala's family was denied permission to attend the award ceremony by Pakistani authorities over security concerns, so the award was smuggled to her father by British-Pakistani film maker Sevy Ali.
Rome Prize for Peace and Humanitarian Action.
On 29 December 2012, the Mayor of Rome, Gianni Alemanno, on behalf of the city government of Rome awarded Yousufzai the 2012 Rome Prize for Peace and Humanitarian Action. An Italian human rights activist, Angela Stiena, said: "We love Malala for her great cause and fight for the rights female education. She is no more an individual, we are all with her." Malala Yousufzai has been given honorary citizenship of Rome, the document being collected on her behalf by the Pakistani Ambassador to Italy, Tehmina Janjua.
On 1 January 2013, "2012 Tipperary International Peace Award" for her courage and determination to speak out in support of equal access to education for every child.
Simone de Beauvoir Prize in 2013.
Nobel Peace Prize nominee; youngest in history.
21 March 2013, Malala Yousafzai along with three others honored at the Index on Censorship Freedom of Expression Awards in London.
On 29 March 2013 it was announced that Yousafzai had been awarded the Fred and Anne Jarvis Award by the National Union of Teachers in the UK because of her advocacy for girls' education.
Tuesday 2 April 2013,The 2013 Vital Voices Global Leadership Awards, Global Trailblazer, was awarded to Pakistani activist, Malala Yousafzai, for her courage and advocacy for girls' education.
On 13 May 2013, The Oklahoma City National Memorial & Museum honored Malala Yousafzai and her father, Ziauddin, with the 2013 Reflections of Hope Award for their resilient leadership in support of women's right to education.
27 May 2013: the president of Catalonia, Artur Mas, announced that the jury unanimously selected Gro Harlem Brundtland and Malala Yousafzai as winners of the 25th edition of the Premi Internacional Catalunya award, will be presented on 26 July in the Saló Sant Jordi of the Palau de la Generalitat.
13 June 2013: the Ministerial Council of the OPEC Fund for International Development (OFID), awarded Malala Yousafzai with the 2013 OFID Annual Award for Development in appreciation of her fearless struggle to uphold the right of girls and women. Presented at the 34th Annual Session of the Ministerial Council of OFID, the award was accepted by Mr Ziauddin Yousafazai on behalf of his daughter.
13 June 2013: Malala Yousafzai and Joanna Lumley honoured as International and British Campaigners of the Year at the 2013 Observer Ethical Awards.
Comments
comments