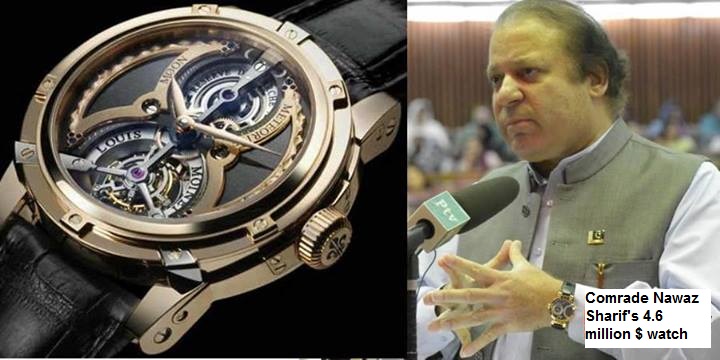 Source: Zee News, Pakistan Today, IB Times
Comrade Nawaz Sharif is a true Pakistani Marxist. We should not criticize his watch because he and his brother Punjab's Chief Minister Shahbaz Sharif sing Jalib and Faiz, and are fond of Comrade Najam Sethi. I salute their Ghairat.
Bhar day jholi meri ay Sharifa, mein hoon Sethi kaa pyara khiladi — (Riaz Malik Al Hajjaji)
**************
Islamabad (19 June 2013): Pakistan's media and social media is abuzz with reports of PM Nawaz Sharif wearing a 'million dollar watch'. Pakistan Prime Minister Nawaz Sharif wore a 'Meteoris' watch during the national budget presentation. The price of the Louis Moinet 'Meteoris' watch has been estimated to be a whopping 4.6 million dollars.
According to the Dawn, calling the budget to be anti-people and made for the rich, MNA Shazia Marri claimed that such a budget can only be expected of party leaders who are fond of wearing such expensive personal items.
The Louis Moinet 'Meteoris' watch is made by using pieces of meteorites in each watch. Moinet teamed up with Meteorite hunter Luc Labenne to collect pieces from the moon, a Mars meteorite, and an asteroid.
Government of PM Nawaz Sharif has been widely criticized for its failure to present a program to alleviate poverty in the national budget. It has been alleged the new budget favors the wealthy (particularly industrialists). What else one can expect from a party whose leaders are fond of wearing such expensive personal items?
If Sharif is indeed the owner of the Meteoris, he can certainly afford it.
According to Daily Pakistan, Sharif's family owns assets estimated at a minimum of $1.4 billion — apparently generated by their interests in steelmaking and paper mill businesses as well as land in Pakistan, Saudi Arabia and the Middle East — making them the fourth-wealthiest clan in the country. Sharif also owns a bewildering array of luxurious properties in Pakistan as well as stakes in companies from Lahore to London.
Sharif, who spent several years in the early 2000s in exile in Saudi Arabia, reportedly enjoys contacts with high-level government and business figures in the kingdom.
Very few people in Pakistan could possibly afford to purchase an indulgence like the Meteoris. Pakistan, one of the poorest nations on earth, has an average annual per capita income of about $1,257. At that rate, the average Pakistani wage-earner would have to work almost 3,700 years to be able to purchase a Meteoris.
Video:  Comrade Shahbaz Sharif reciting Comrade Habib Jalib's Marxist poetry
Comments
comments