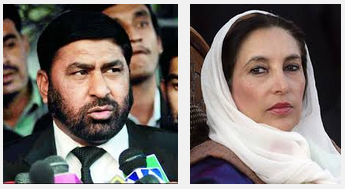 ISLAMABAD: Abdullah Umar Deobandi, the alleged assassin of a senior prosecutor Chaudhry Zulfiqar, who was handling sensitive cases, including the Benazir Bhutto assassination, had joined the Tehrik-e-Taliban Pakistan (TTP) as a reaction to avenge the alleged humiliation his father [Lt Col Khalid Mehmood Abbasi] had suffered after being arrested, court-martialed and convicted for his alleged involvement in the December 2003 unsuccessful bid to kill General Musharraf in Rawalpindi.
Not many people know that some top TTP leaders – such as the late head of the suicide training squad, Qari Hussain, and the TTP's current spokesman, Ehsanullah Ehsan – were all members of Lashkar-e-Jhangvi in Punjab at one time or another before they became part of the TTP. The boundaries between Sipah Sahaba (LeJ-ASWJ) and Taliban-TTP-AlQaida are amorphous. In the main they are Takfiri Deobandi and Takfiri Wahhabi-Salafist groups which do not represent majrity of peaceful Sunni Muslims. http://www.bbc.co.uk/news/world-asia-20983153
Abdullah Umar Deobandi, a student of the Saudi-funded International Islamic University (IIU) Islamabad, was arrested last week for killing Chaudhry Zulfiqar on May 3 in the federal capital with a view to save the alleged killers of Benazir Bhutto [belonging to the TTP] against whom the senior prosecutor had gathered credible evidence. Ch Zulfiqar was murdered while he was on his way to the anti terrorism court to attend the hearing of Benazir Bhutto's murder case, when two men on a Mehran vehicle (GAL-1171) opened fire on his vehicle near G-9 Markaz.
After the incident, Inspector General of Islamabad Police, Binyamin Khan while talking to the media revealed that police found a letter from the crime scene written by the banned TTP, which was containing threatening messages for Chaudhary Zulfiqar. Days before his death, Zulfiqar told reporters he had solid evidence to indict the arrested assassins of Benazir Bhutto.
Following intense investigations, the Islamabad Police finally arrested Abdullah Umar from Islamabad who turned out to be the son of a former Army officer, Colonel Khalid Mahmood Abbasi, who was arrested, court-martialed and dismissed from service for allegedly colluding with a banned jehadi organization to assassinate Musharraf in 2003.
The interrogation of two suspects, traced with the help of fingerprints found in a taxi used in the murder of Ch Zulfiqar, led the Islamabad police to Abdullah Umar [from a private hospital] who was paralysed below the waist due to a bullet fired by Farman, the bodyguard of the prosecutor, that had hit his spine. Abdullah has also been found involved in another attack on the Parade Lane Mosque in Rawalpindi. The Mosque attack, carried out in December 2009, killed nearly 40 people, including several khakis and their relatives.
According to the police, the accomplices of Abdullah (who had received three bullets that had hit his spine), immediately removed him from the crime scene and took him to District Headquarters Hospital Rawalpindi where they told doctors that he was fired upon by dacoits. He was later shifted to a private hospital by none other than his father, Lt Col Khalid Mahmood Abbasi who also managed to lodge a false FIR with the Ratta Amral police station of Rawalpindi, saying Abdullah was fired upon by dacoits. The investigators found Abdullah's clue from a pistol and a mobile phone which were dropped at the site when he was whisked away by his accomplices in a taxi. One of the eye witnesses noted the taxi number which was traced to be registered in Gujranwala.
The owner of the car told police that he rented it to a person from Mandi Bahauddin whose identity card turned out to be forged. However, he incidentally left his thumb impression and signature on the deal signed with the taxi driver.
The thumb impression was verified by Nadra and the police arrested a person from Mandi Bahauddin who later told police about Abdullah Umar as the mastermind of Zulfiqar's assassination. Police finally arrested Abdullah from a private hospital in Rawalpindi on June 12, 2013 and shifted him to a government hospital under tight security. Police has already obtained Abdullah's 14-day remand from an anti-terrorism court and are interrogating him.
According to the police sources, during preliminary investigations, Abdullah Umar has confessed having killed Chaudhry Zulfiqar besides being an active member of the TTP. He told his interrogators that he was hardly 12 years old when his father, Lt Col Khaled Mahmood Abbasi was arrested, court martialed and dismissed from service. He had, therefore, developed hatred against the establishment and eventually joined the Tehrik-e-Taliban.
Col Abbasi, who was posted in Kohat at the time of his arrest, was a religious-minded person who used to deliver daily lessons from the Quran to his junior officers, a practice General Zia had introduced in the army. Col Abbasi of the Signals Training Centre in Kohat (Pak Army No: PA-20082) had worked at various ranks as Communication Engineer.
As a devoted soldier, Abbasi was deeply inspired by the Pakistan Army's official motto "Eman, Taqwa, Jehad Fe Sabeelillaho" — Jehad, fear of Allah Almighty and Jehad in the cause of Allah. During the Kargil adventure of the 1999, he had made an official request to GHQ to post him at the war front, but the request was denied due to non-availability of a commanding post at the border. He had gone to the extent of making yet another request for his demotion in rank in order to facilitate his posting at the Kargil front. But his request was denied once again.
Col Abbasi was finally arrested following the 2003 capture of Major Adil Qudoos [of 45 Signals] for facilitating the stay of the former chief operational commander of al-Qaeda, Khaled Sheikh Mohammad, in Rawalpindi. Khaled Sheikh was arrested in June 2003 from the Rawalpindi residence of Major Adil Qudoos' brother, Ahmad Abdul Qudoos, who was an active member of the Jamaat-e-Islami.
Several other khakis who were arrested for being linked to this web of jehadis included Lt Col Abdul Ghaffar of the Army Aviation Command Rawalpindi, Maj Ataullah Khan Mahmood from the Judge Advocate General (JAG) branch, Major Rohail Sarfraz of HQ II Corps and Capt Dr Usman Zafar. Abdul Islam Siddiqui, a low-ranking soldier of the Pakistan Army, was hanged in 2005 after an in camera military trial for his involvement in the December 2003 twin suicide attacks.
Col Khalid Mahmood Abbasi was suspected when an al-Qaeda operative made a telephonic contact with him from Afghanistan and sought his consent for two people to stay with him at his Kohat residence for a few days. The call was intercepted by the American intelligence sleuths who had laid down a state-of-the-art espionage system in Pakistan at that time to monitor communications being carried out through the airwaves. After the suspicious phone call, the intelligence agencies moved swiftly to detain Col Khaled Abbasi and his alleged associates in the Pakistan Army who were subsequently court-martialed.
http://www.thenews.com.pk/Todays-News-2-184231-Why-did-a-soldier%E2%80%99s-son-join-the-Taliban