My Journalist Lord: This is how Najam Sethi stole Tehimna Durrani's earnings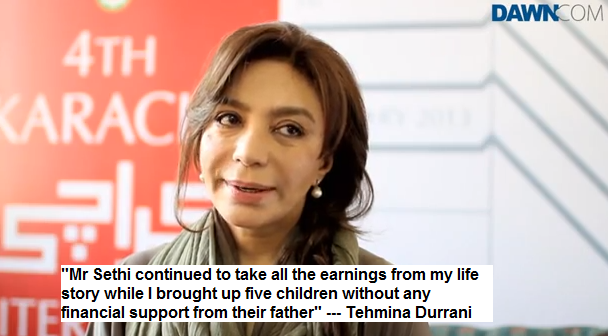 In June 1991, My Feudal Lord was released by Vanguard Books, a publishing company owned by journalist Najam Sethi and his wife Jugnu Mohsin. The husband-wife duo also owns The Friday Times, a weekly magazine known for peddling pro-establishment discourses in a refined manner.
The book (My Feudal Lord) was an "instant sensation" and later became the "hottest book in Pakistan's history".
Sethi and his wife made millions of rupees by selling thousands of copies of this book in Pakistan and abroad. They claimed that Tehmani Durrani signed a contract vesting foreign rights with Mohsin and giving them 50% of foreign royalties. Tehmani Durrani refuted having signed a contract vesting complete foreign rights with Sethi and his wife of foreign royalties and a commitment to that to continue even after her lifetime, binding her five children to the same contract.
On 19 May 1999, Durrani called a press conference to denounce Sethi as having stolen all of her earnings from the book, stating that his actions were "an even bigger case of hypocrisy than my experience with the feudal system". Durrani sued Sethi for mental torture. An earlier dispute over the foreign rights had been settled out of court in 1992.
With her politically explosive story to tell, Tehmina Durrani could go to any publisher in the world, but was lured by a journalist friend of Sethi (Sethi has a large network of influential journalists and bureaucrats) to Vanguard. Sethi immediately agreed and the book came out in Pakistan in June 1991. Strangely, the publisher's name appeared nowhere in the book, and in the contract Jugnu Mohsin was named as publisher. Vanguard and Najam Sethi were nowhere in the contract.
Sethi claims that Durrani vested all foreign rights with Sethi and Mohsin, in exchange for a 50 per cent royalty on foreign sales.
The book was an instant sensation in Pakistan and abroad. But Durrani got only a meagre amount from the book's sales. Fast-forward eight years, to 19 May 1999 in Lahore. The scene: Tehmina Durrani called a press conference. The room was packed. Even the cameras of PTV, the state-controlled television network, were present.
There followed detailed denunciation by Durrani of her publisher, Najam Sethi; a long list of crimes. The man had stolen her royalties, she said; he had insisted that the book was his; he had thrown away pages of the original contract and forged new ones in order to cheat her on foreign rights. His "blatant injustice" caused her "mental torture", she said. "Mr Sethi continued to take all the earnings from my life story while I brought up five children without any financial support from their father," she went on. Mr Sethi's behaviour was "an even bigger case of hypocrisy than my experience with the feudal system."
Tehmina Durrani sued Sethi for damages, claiming pounds 128,125 for mental torture. "All my liberal friends [ie some of them Sethi's cronies] told me not to do it, that I would look bad, my image is bad, that people would feel I'm being used by the government," she told The Independent at her home in a Lahore suburb. "I told them, whoever wants to stop being my friend should go… I flatly deny being used by the government in this matter. I am never used by the government. I am fighting for my right as an author."
http://www.independent.co.uk/arts-entertainment/media-my-feudal-lords-1107567.html
Comments
comments