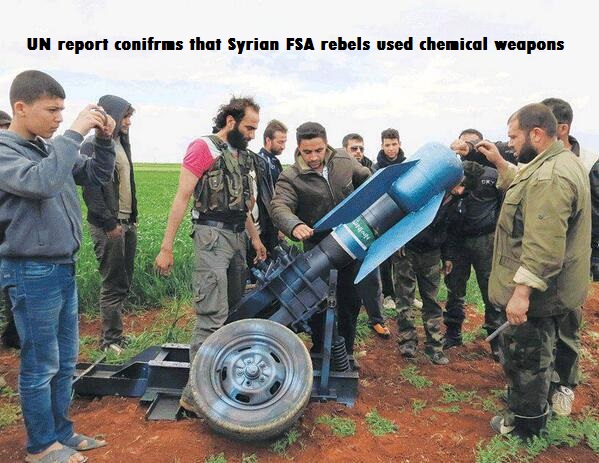 (Reuters) – U.N. human rights investigators have gathered testimony from casualties of Syria's civil war and medical staff indicating that rebel forces have used the nerve agent sarin, one of the lead investigators said on Sunday.
The United Nations independent commission of inquiry on Syria has not yet seen evidence of government forces having used chemical weapons, which are banned under international law, said commission member Carla Del Ponte.
[youtube id="B8unjc3XwS0″ width="600″ height="340″ position="left"]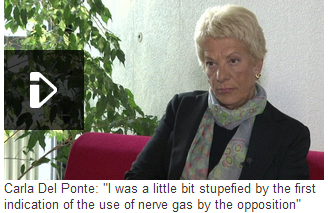 "Our investigators have been in neighboring countries interviewing victims, doctors and field hospitals and, according to their report of last week which I have seen, there are strong, concrete suspicions but not yet incontrovertible proof of the use of sarin gas, from the way the victims were treated," Del Ponte said in an interview with Swiss-Italian television.
"This was use on the part of the opposition, the rebels, not by the government authorities," she added, speaking in Italian.
Del Ponte, a former Swiss attorney-general who also served as prosecutor of the International Criminal Tribunal for the former Yugoslavia, gave no details as to when or where sarin may have been used.
The Geneva-based inquiry into war crimes and other human rights violations is separate from an investigation of the alleged use of chemical weapons in Syria instigated by U.N. Secretary-General Ban Ki-moon, which has since stalled.
President Bashar al-Assad's government and the rebels accuse each another of carrying out three chemical weapon attacks, one near Aleppo and another near Damascus, both in March, and another in Homs in December. The civil war began with anti-government protests in March 2011. The conflict has now claimed an estimated 70,000 lives and forced 1.2 million Syrian refugees to flee.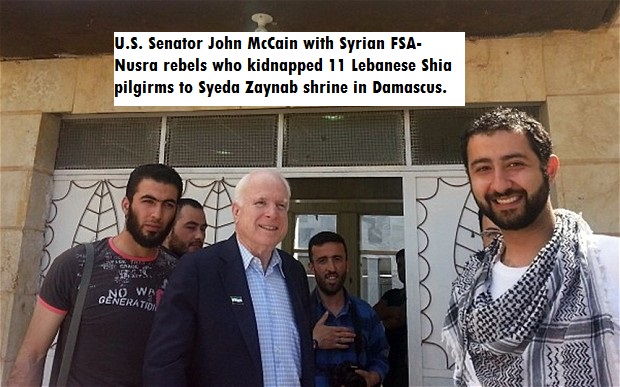 Based on CIA and media reports, the United States has said it has "varying degrees of confidence" that sarin has been used by Syria's government on its people. However, this is the first time an independent UN commission has confirmed the use of chemical weapons by any party in the Syrian civil war, confirming that Syrian rebels were guilty of the crime.
President Barack Obama last year declared that the use or deployment of chemical weapons by Assad would cross a "red line".
(Reporting by Stephanie Nebehay; Editing by Tom Pfeiffer)
http://www.reuters.com/article/2013/05/05/us-syria-crisis-un-idUSBRE94409Z20130505
A United Nations inquiry into human rights abuses in Syria has found evidence that rebel forces may have used chemical weapons, its lead investigator has revealed.
Carla Del Ponte, a member of the UN Independent Commission of Inquiry on Syria, said that testimony gathered from casualties and medical staff indicated that the nerve agent sarin was used by rebel fighters.
"Our investigators have been in neighbouring countries interviewing victims, doctors and field hospitals and, according to their report of last week which I have seen, there are strong, concrete suspicions of the use of sarin gas, from the way the victims were treated," Ms Del Ponte said in an interview broadcast on Swiss-Italian television on Sunday.
"This was used on the part of the opposition, the rebels, not by the government authorities," she added.
Ms Del Ponte said the inquiry has yet to see any direct evidence suggesting that government forces have used chemical weapon.
A UN source told The Independent that Ms Del Ponte's investigation is broader than the one focusing purely on chemical weapons use, but that chemical weapons falls under its remit.
The source said that the commission gathered over 1000 testimonies from those in Syria via Skype, and from those who have fled Syria into neighbouring countries.
http://www.independent.co.uk/news/world/middle-east/uns-carla-del-ponte-says-there-is-evidence-rebels-may-have-used-sarin-in-syria-8604920.html
Evidence from Turkey
Turkey finds sarin gas in homes of suspected Syrian Islamists – reports
May 30, 2013
Turkish security forces found a 2kg cylinder with sarin gas after searching the homes of Syrian militants from the Al-Qaeda linked Al-Nusra Front who were previously detained, Turkish media reports. The gas was reportedly going to be used in a bomb.
The sarin gas was found in the homes of suspected Syrian Islamists detained in the southern provinces of Adana and Mersia following a search by Turkish police on Wednesday, reports say. The gas was allegedly going to be used to carry out an attack in the southern Turkish city of Adana.
On Monday, Turkish special anti-terror forces arrested 12 suspected members of the Al-Nusra Front, the Al-Qaeda affiliated group which has been dubbed "the most aggressive and successful arm" of the Syrian rebels. The group was designated a terrorist organization by the United States in December.
Police also reportedly found a cache of weapons, documents and digital data which will be reviewed by police.
Following the searches, five of those detained were released following medical examinations at the Forensic Medicine Institution Adana. Seven suspects remain in custody. Turkish authorities are yet to comment on the arrests.
Russia reacted strongly to the incident, calling for a thorough investigation into the detention of Syrian militants
in possession of sarin gas.
"We are extremely concerned with media reports. Russia believes that the use of any chemical weapons is absolutely
inadmissible," Russian Foreign Ministry spokesman Alexander Lukashevich said on Thursday.
In March, the Syrian government invited the United Nations to investigate possible chemical weapons use in the Khan al-Assal area of rural Aleppo. Military experts and officials said a chemical agent, most likely sarin, was used in the attack which killed 26 people, including government forces.
Damascus claimed Al-Qaeda linked fighters were behind the attack, further alleging Turkey had a hand in the incident.
"The rocket came from a placed controlled by the terrorist and which is located close to the Turkish territory. One can assume that the weapon came from Turkey," Zoabi said in an interview with Interfax news agency.
http://rt.com/news/sarin-gas-turkey-al-nusra-021/
Video report: Syrian rebels detained in Turkey with a cylinder of highly poisonous sarin gas found in their possession.
[youtube id="vet0PV-XPlw" width="600″ height="340″ position="left"]
Evidence from Iraq
Iraq captures suspected Al Qaeda cell that planned to make chemical weapons
Jun 2, 2013
Iraq has captured a suspected Al Qaeda cell that planned to produce chemical poisons such as mustard gas to attack Iraqi forces and to ship overseas for attacks on Europe and the United States, the Iraqi government said. Al Qaeda in Iraq is known to be operating in Syria in the name of Al Nusra Front (ANF) banned by the US as a terrorist group.
The announcement was made as investigators look into allegations over the use of sarin nerve gas in next-door Syria, where rebels and president Bashar al-Assad's forces have blamed each other for using chemical weapons.
Five men were caught before they could manufacture any gas or chemical weapons in makeshift factories in Baghdad and another province, Mohammed Al-Askari, a defence ministry spokesman told reporters.
"They got some programs from Al Qaeda outside Iraq. They were working … to produce mustard gas … and other gas," he said.
"There are some confessions about organised cells to smuggle them outside Iraq through a neighbouring country in order to target Europe, America and different capitals."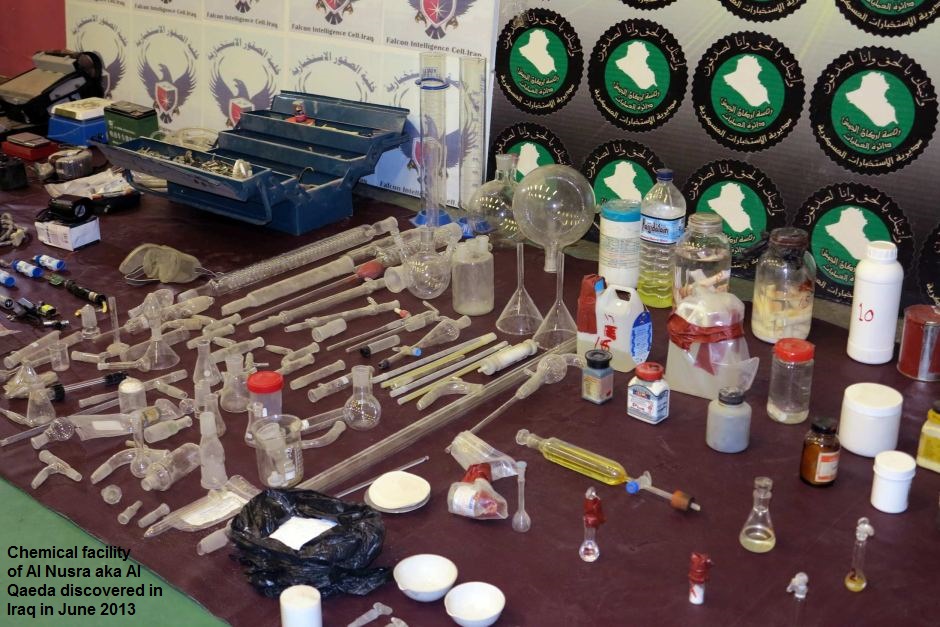 Officials showed reporters three suspects dressed in yellow jumpsuits with their heads covered by masks.
They also displayed bottles of chemicals and other lab equipment as well as remote-controlled toy helicopters authorities said the men planned to use to disperse the gas.
Bolstered by the Sunni Muslim rebellion against Mr Assad in Syria, Al Qaeda in Iraq is regaining ground and since the start of the year has stepped up its campaign of attacks to stoke sectarian conflict in Iraq.
Western powers, including the United States and Britain, say there is growing evidence of chemical weapon use in the conflict in neighbouring Syria, where fighting has killed more than 80,000 people in two years.
During the height of the Iraq war, Al Qaeda in Iraq used chlorine gas in its explosives to poison areas where their bombs detonated.
http://www.abc.net.au/news/2013-06-02/iraq-captures-suspected-chemical-weapons-team/4727750
Specimen reaction on Twitter to the USA's allegations the Assad regime has used chemical weapons