Maulana Tariq Jameel and Agha Rahat Hussaini meet for Sunni Shia Muslim unity in Gilgit
Published: June 11, 2013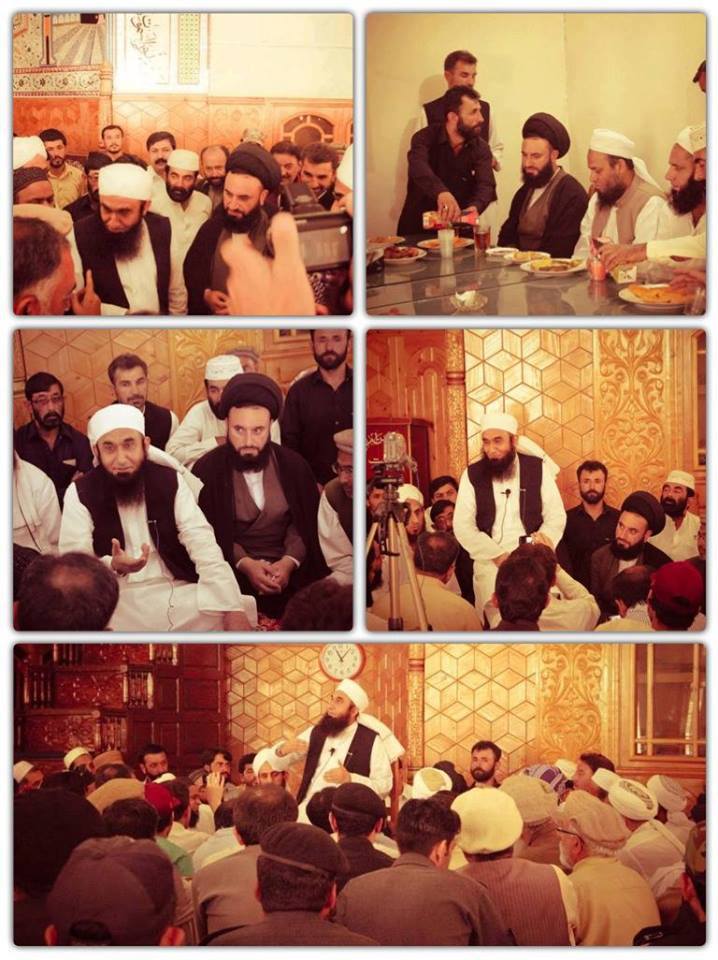 GILGIT: The ongoing Tablighi Ijtima in Gilgit-Baltistan (G-B) has provided an opportunity to bring Sunni and Shia sects closer in a manner the region has never witnessed before.
On Monday, Maulana Tariq Jamil delivered a sermon in the central Shia mosque, preaching peace, tolerance and respect for each other's beliefs. Jamil is a well-known Deobandi preacher whose religious activities took root in Raiwind, Lahore.
He is one of the few hundred scholars who reached Gilgit from various parts of Pakistan to participate in the Ijtima being held in Gilgit from June 9 to 11. Ijtima is a Sunni religious congregation held over a couple of days, where often hundreds of thousands gather to hear sermons. The one in Gilgit was organised under the banner of the Tablighi Jamaat.
"Differences in beliefs don't mean people should kill each other, Islam doesn't allow this," said Jamil in a speech delivered at the Central Imamia Mosque in Gilgit. He had been invited there by Shia clerics in a move clearly intended to reflect tolerance at some level.
Members of the Masjid Board were also present at the occasion.
The board is a representative body of Shias and Sunnis which was formed after violence on the fractious lines of religion led to imposition of curfew in Gilgit during 2012.
"We are all Muslims therefore we will have to accept this reality (of religious differences). We are here to preach love and respect, and not hatred." Jamil's sermon lasted over 30 minutes and urged adherents of each sect to follow the golden principles laid down in the Quran and ahadith.
Top Shia scholar in G-B, Agha Rahat Hussaini reciprocated in a similar fashion, thanking Jamil for accepting his invitation and addressing the congregation at the imambargah.
"We are lucky to have you here among us and it's a great pleasure listening to you," said Rahat Hussaini. He hoped the Ijtima would promote peace and love among the residents of G-B.
In turn, Hussaini accepted Tariq Jamil's invitation to participate in the Ijtima, saying he would be pleased to attend it.
If Hussaini makes it to the Ijtima, it would be the first time in the history of G-B that a Shia intellectual would have participated in a predominantly Sunni congregation.
Earlier on Sunday, two Shia lawmakers – Raziuddin Rizvi and Didar Ali – called on Tariq Jamil at the congregation and asked him to play a role in spreading peace in the region.
The Tablighi Ijtama kicked off in Gilgit on Sunday. According to rough estimates, more than 300,000 people from all over the country are participating in it.
"It's a rare opportunity for top Sunni and Shia scholars to have demonstrated equally rare respect for each others' beliefs," said former advisor to the prime minister Maulana Attaullah Shahab. Shahab is also a senior Jamiat Ulema-e-Islam-Fazl leader.
In an attempt to avert any untoward incidents, law enforcement agencies stepped up security in the city. However, the gesture of peace from both sects eased the otherwise tense atmosphere of the city in matters related to religion.
Gilgit straddles religious fault lines; back-to-back incidents of sectarian violence marred the region last year.  At least 70 people were killed and many more were injured in different parts of G-B.
Published in The Express Tribune, June 11th, 2013
Comments
comments