Patronage of sectarian terrorists by Punjab's CT Chief Minister Najam Sethi – by Sadiq Ameen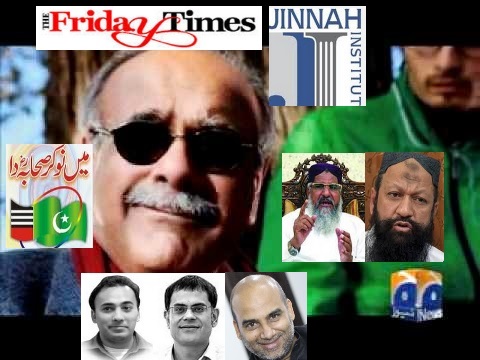 The caretaker Punjab government has released 112 Sipah-e-Sahaba (ASWJ-LeJ) terrorists who were unwillingly detained under Shahbaz Sharif's government in the aftermath of Shia genocide in Quetta and Karachi and were held in various prisons across the province. This probably is the more enlightened liberal manner of winning the hearts and minds of the Takfiri fundamentalists by Najam Sethi who scoffs at likes of Rana Sanaullah and Imran Khan for their attempts to appease the extremists. However, only Mr Sethi knows how this will help peace and reconciliation in the province and the country.
This may come to some as a shocking revelation but to those who know better it is just another episode that shows how liberals in Pakistan often bend backwards to placate the extremists. The people released are mostly terrorism suspects. Also, Punjab government's continued soft stance on extremist networks shows that the largest province in the country does not see itself as a stakeholder in an important national security issue. It is unfortunate that this has happened at a moment, when a new government voted in with a powerful mandate is likely to start at the government's highest point of leverage in recent years to deal with the terrorists and extremists. Punjab seemingly is not interested in playing an effective role in ensuring that the state power and intelligence outstrip the means of terror cells and networks. Little does it matter that releasing these alleged terrorists will be harmful to state interests and apart from swelling the ranks of currently active terrorism networks it will also encourage would-be terrorists lying in the woodwork. As a consequence of these terrorists' remarkable achievement in negotiating their release, moderate Islamists with less of a flair for drama and violent threats have come to seem impotent, given their inability to extract concessions without resorting to terror. Remarkably, the Punjab government continues to profess that it refuses to negotiate with terrorists — a line that does not seem to hold. This approach is the complete inverse of what reason would dictate, that is delivering the message that acts of violence against civilians do not pay.
Punjab needs to look at the big national picture and consider the long-term implications of placating the terrorists in the cost-benefit analysis of the situation. From a purely strategic point of view, trying to please the terrorists for local calm is suicide. It demonstrates susceptibility to pressure and sends out a message that, for the terrorists, staying in the game pays off. Additionally, it undercuts moderates, empowers violence, and invites a recurrence of actions. Releasing 112 dangerous suspects could mean an ensuing blitz of attacks that would cost many more lives ,like those of an advocate and his two young sons brutally murdered in Karachi today:
https://lubpak.com/archives/266729
Najam Sethi's decision to release 112 Takfiri terrorists of ASWJ-LeJ allegedly with blood on their hands is akin to offering a reward to terrorism in an act of pathetic capitulation. This is the same Najam Sethi who used to brandish his liberal credentials on Geo TV by criticizing Rana Sannaullah's overtures to the terrorists of Sipah e Sahaba ASWJ/LEJ. Najam Sethi is well known for his stand against PMLN for not taking action against the Taliban of Southern Punjab. So what does he do to fix that situation once he becomes the Chief Minister, he proceeds to release all of them. As a rule, governments should never negotiate with terrorists. That is the consensus of the global community because it is understood that declaring this policy may deter acts of terror. The logic is simple: If aspiring terrorists expect that their demands will not be considered, they will not waste their resources targeting innocent people. But proving its efficacy requires knowing a counter factual. Non-negotiation with terrorists is the most reasonable declarative stance on an issue in which no stance can be definitely validated. There is nothing about the terrorism and  murder of oppressed communities in Pakistan that should call this into question. The terrorists responsible  must be given no reason to expect that they have won a voice through their dastardly violent acts. Instead, they should expect to hear a haunting whir far overhead, and then, if only for a moment, a terrible crash: a sentence, issued from a bench unseen and unexplained, to the eternal silence of death.
History shows us many examples of Hussainis and Yazeedis. Whether it be Billour or Shaheed Mohterma Bezanir Bhutto, they are Hussaini for standing up for the oppressed and against the oppressor. Najam Sethi has clearly shown to be in alliance with evil. He is not unlike Umar Ibne Saad, the murderer of Hazrat Imam Hussain a.s. Umar Ibne Saad was the General of the Army of Yazeed  l.a., he visited and begged Imam Hussain to kneel to Yazeed, Imam Hussain a.s. stood firm in bowing only to the one God.
Umar Ibne Saad l.a. justified the act of killing the son of the founder of Islam, through the legality of an usurper's order and what helped his own monetary and political ambitions. Najam Sethi's behavior is exactly like that Umar Ibne Saad l.a.
Najam's proxies justify it in the same terms, "what should Najam do he gets death threats?", well he is an extremely wealthy man and getting wealthier, perhaps he can resign and retire from the public office and media. Else do the right thing and be prepared for a bullet.
Related:
https://lubpak.com/archives/266435
https://lubpak.com/archives/265751
Comments
comments