Balochistan: Nawaz Sharif directly in partnership with the ISI – by Amir Mateen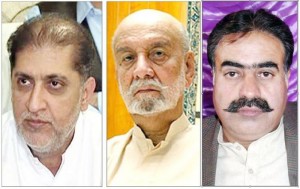 PML (N)'s Balochistan Chief, Sanaullah Zehri's electoral alliance with ISI-backed Shafiq Mengal group has thrown Balochistan politics into a tailspin. This may have seriously threatened the security and political stability of the already violence prone province.
This also brings Nawaz Sharif directly in partnership with the intelligence agencies. Shafiq Mengal is the son of former Balochistan Caretaker Chief Minister Naseer Mengal and is accused of running the Baloch Mussalah Difah Tanzim (BMDF). Naseer Mengal and his two sons, Shafiqur Rehman and Ataur Rehman, have a decades- long rivalry with Sardar Attaullah Mengal and his sons, including the president of his own BNP faction, Aktar Mengal. Both groups compete with each other—while being on the opposite sides of the establishment–for local supremacy around Khuzdar and Kalat, but mostly in their home town Wadh.
The rivalry has turned into a bloody feud in the last decade or so. Akhtar Megal continues to accuse Shafiq Mengal of running private militias backed by ISI to eliminate him and his party. The Shafiq Mengal group is known as the face of the intelligence agencies in countering the insurgents. The security agencies found Shafiq Mengal handy as Akhtar Mengal's brother, Javed Mengal, ran his own separatist militant wing, Lashkar-i-Balochistan. Shafiq used official patronage to demolish and occupy Harbiyar Marri's house in Quetta.
However, in the process Shafiq Mengal targeted the Akhtar Mengal group more than others because of the local family enmity.
Akhtar Mengal's concerns about not getting a "level-playing field" and his warnings about being "pushed to the wall" are mostly hints at the Shafiq Mengal group.
The Shafiq Mengal group's alignment with Sardar Sanaullah Zehri has made things even more difficult and complicated for Akhtar Mengal. This may just be the beginning of a new round of tribal warfare, making the Balochistan situation more complicated. Nawab Sanaullah Zehri survived a bomb attack but his son, brother and nephew got killed recently. He is an angry man who has vowed vengeance. He has named Akhtar Mengal and his father, Sardar Attaullah Mengal as accomplices in the attack.
Earlier, Akhtar was looking towards Islamabad and Rawalpindi to protect him from the "armed militias" but now he also has to protect himself from the tribal forces of Sanaullah Zehri, who in a tribal tradition is the bigger Nawab of Jhalawan (southern Baloch region). The tribal warfare has already started. According to one report the house of BNP (M) candidate from NA 269 (Khuzdar), Abdul Rauf Mengal, was attacked by grenades. He survived but his house was severely damaged. The attack was claimed by Zehri Youth Army, which is a new militia that has cropped up to avenge the attack on Sanaullah.
This has electoral consequences also. Ataur Rehman Mengal has withdrawn against Sanaullah Zehri in NA 269 (Khuzdar) whereas the latter has withdrawn from two provincial seats against Ata (PB-35) and Shafiq (PB-37) in Sorab and Wadh, the home constituency of Akhtar Mengal. The Shafiq brothers also help Sanaullah in Zehri (PB-33).
This alliance further dampens the electoral prospects of Akhtar Mengal's party. The BNP (M) failed to hammer out an electoral understanding with its natural ally, Hasil Bizenjo's National Party (NP). Such was the bad blood between the two nationalist parties that the NP preferred to have an electoral alliance with JUI (F) rather than Akhtar Mengal. National Party sources say Akhtar Mengal overestimated his strength and was asking too many seats in return. "You see, he was out for so long and does not know the new reality on ground," said an NP leader requesting that he should not be named. "Frankly, we don't trust Akhtar. He stabbed us in the back in 1998 and also Nawab Akbar Bugti when he manipulated politics to deny the Nawab's party a midway to run the provincial government as promised."
Obviously, scars exist from the old rivalry in 1998 when the two groups parted ways over mutual acrimony. All of this leaves Akhtar Mengal and his BNP in a difficult situation. And it is not just because of the ISI.
However, the new alliance between Sanaullah Zehri and Shafiq Mengal also puts Nawaz Sharif in a quandary. By default, this means that PML (N) is in league with a group that owns the ISI backing—so much for Mian Sahib's accusation against Imran Khan of having the support of Rawalpindi. PML (N)'s provincial Chief is now officially in an electoral partnership with the ISI-backed group.
Ironically, Nawaz Sharif went out of the way to visit Sardar Attaullah Mengal's residence and expressed his support for Akhtar Mengal. It will be interesting to see whether he will disown Sanaullah Zehri's alliance or wait for the time to see its results. Whatever the case, the symbolic value of Akhtar Mengal's return seems to matter less now. Politics, they say, is a cruel game when it comes to electoral arrangements.
But the empowerment of the Shafiq Mengal group may also bring pressure on the army and its 'agencies.' This can lead to many scenarios that may have long-term consequences for Balochistan as well as Pakistan. Akhtar Mengal may not have won many seats anyway–he has a chance on three provincial seats and one national seat. However, this will give him the chance to cry about foul play. A possibility exists that he might boycott the elections before or after the results. This will be a jolt to the efforts of bringing back the moderates. Although it is just a matter of two or three seats, its repercussions will go far and wide. The intelligence agencies should not only be out of this game but, more importantly, also seen to be out of it. Otherwise, it will be a delightful 'we-told-you-so' moment for the Baloch extremists who will be quick to quip "there you go again." And not without reason.
Source :
http://thespokesman.pk/index.php/history/item/4634-akhtar-mengal-cornered-not-just-by-agencies
PML (N) may have blundered in its first political decision even before their third government by choosing Sardar Sanaullah Zehri as its nominee for Balochistan's Chief Ministership.
The troublesome province needed somebody who was less tainted in controversy, crime and corruption charges. True, he suffered a tragedy during the elections when his son, brother and a nephew got killed in an ambush. But this should not be the sole reason for anointing him for the top job in Balochistan. Here's why:
Sardar Sanaullah Zehri, almost as Nawab Aslam Raisani before him, has feuds of blood running with half of Baloch tribe. He has named Sardar Attaullah Mengal, Akhtar Mengal, Khair Bakhsh Marri, among others, as accused in the FIR registered for the triple murder of his family. He has also registered cases of murders against his own brothers (Israr and Zafar), uncles and cousins. In a tribal society 'vengeance' is predominant code and the office of the Chief Minister will actually facilitate him to fulfill his tribal 'obligation.' This happened in the case of former Chief Minister Aslam Raisani when his sworn enemy, MPA Yar Mohammad Rind remained holed up in his village for five years as he feared for his life.
Another trail of tribal feuding is the last thing that the war-torn province needs at this stage. Sanaullah ascension will also put Nawaz Sharif's effort for reconciliation in Balochistan, particularly with moderates as Aktar Mengal. He took a risk by returning to the country but feels aggrieved that he was wronged in the elections by irregularities. His ire is particularly directed at Sanaullah Zehri who aligned with Akhtar's arch rivals in Khuzdar—Naseer Mengal. Naseer two sons, Attaur Rehman and Shafiq, contested against Akhtar and are accused of running a Rawalpindi-backed militant militia. Akhtar won the provincial seat but the result on the national seat in Khuzdar remains withheld. But this rivalry is crucial to any effort for peace in Balochistan and Sanaullah is seen as aligned to one group. He is the last person in Balochistan who could initiate the peace process, which everybody expects from the government.
Aslam Raisani may have other faults but was acceptable to all parties as a compromise candidates—even the Baloch extremists.  One cannot say this about Sanaullah Zehri.
In any case, Sanaullah was not particularly known for his honesty and good practices when he was a Cabinet member (who was not) in the last government. He too wasted Rs 300 millional annual development grant with the same abandon as the others, He too was accused by a Police DIG (and his own brother) for harbouring arms gangs accused of kidnapping people for ransom. He was as much a symbol of mis-governance, corruption and lawlessness as were his worthy colleagues in the last government.
PML (N) could oblige somebody from the National Party or Akhtar Mengal's BNP if it wants to show political magnanimity—or even have a Pashtun Chief Minister from Mahmood Khan Achakzai's PMAP, which won the largest number of (ten) seats. National Party's President, Dr Malick has already suggested that there should be a Chief Minister by consensus, basically expressing his reservations about Sanaullah Zehri. And so has Mahmood Khan Achakzai who is likely to be a coalition partner of PML (N).
But if PML (N) wants to play safe and have its own Chief Minister it may have other candidates in its ranks. Tahir Mehmood may not be acceptable as he is a Punjabi settler; Akbar Askani from Kech may not be a grandee that they might be looking for. Jan Jamali should fit the criteria as he–being a former Chief Minister and Deputy Chairman in the Senate– knows political ropes well.
This decision is more important than many in PML (N) may realise. Next time the trouble starts in Balochistan—be it in the form of bomb explosions or sectarian violence against Hazaras—Nawaz Sharif will be in the eye of the storm even before he settles down in Islamabad. Sanaullah Zehri will be the last person that he will want at the helm in such an eventuality. Half of the Baloch tribes will even refuse to talk to him—and for the other half he will be a proverbial red flag that will keep the fires of hatred aflame.
PML (N) seems in alliance with Rawalpindi as far Balochistan is concerned. PML (N)'s Provincial President Sanaullah Zehri was in electoral alliance with Mussallah Dafa-i- Balochistan that, we all know, is backed by the ISI. PML (N) won all the seats where the establishment matters. Lt General (Retd) Abdul Qadir and the MPAs under him in the crucial Avaran, Panjgur, Kech could not have won without 'bhai log'—or even Changez Marri in Kohlu.
But then this may have been the national plan all along. PTI may just have been the deflection as the establishment's baby. If Balochistan is any guide, it is clear that PML (N) is in partnership with Rawalpindi. And that just may be the decisive factor in the selection of Sanaullah Zehri—Balochistan be damned.
Source:
http://thespokesman.pk/index.php/history/item/5243-zehri-as-baluchistan-cm-pml-n-s-first-blunder
Comments
comments