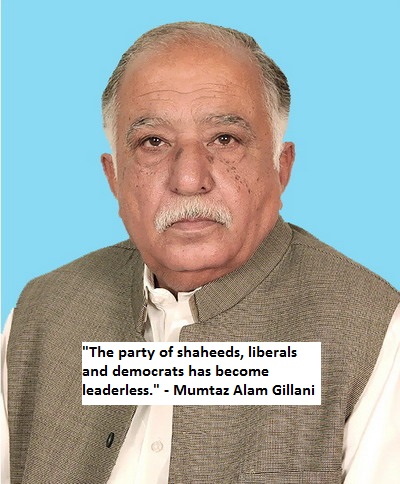 Note: This letter was written a few weeks before the elections 2013.
To whom I should address because all of a sudden the party of shaheeds, liberals and democrats has become leaderless.
I feel being proud of the fact that I started my political career with Shaheed Zulfikaar Ali Bhutto and have given 46 years of my life to the party.
I feel honored that as brother of Benazir Bhutto Shaheed following her foot steps during the era of General Zialu-Haq for about four and a half year of imprisonment and without any source of income. A lawyer of middle-class was honored in 1988 to be the first ticket holder from Bahawalnagar (then NA-144 and now NA-189) and I was competing against the family whose Head the only seat for PML (Q) from Punjab, with the support of landless peasants. labourers, rehri wallas, tonga wala, students, non-Muslims and lower and middle class families and I defeated the biggest landlord and secured seat for the party.
During the period of Bibi Shaheed, she honored my constituency Bahawalnagar to launch the PEOPLES WORKS PROGRAMME during her first government. During that period I had acted as Chief coordinator of Bibi Shadeed. Indeed not to repeat my services for the party as again under the leadership of President Asif Ali Zerdari and I have remained as member of National Assembly and was honored to become the first ever full flagged Minister of Human Rights and during the last four months of this assembly was elevated as Chairman Standing Committee for Parliamentary Affairs.
This time, I was given OK signal by the parliamentary board of the party on 23rd March to be the candidate of the party for NA-189 Bahawalnagar II. And again on 28th March by the order of Madem Faryal Talpur to file the nomination papers I started my campaign but all of a sudden the party ticket was allotted to Dr. Akhtar Ali Lalika who few days back was District President of PML-N and was defeated by me in elections 2008 with a margin of fifteen thousand (15000) votes. Along with him both the provincial assembly tickets were given to strangers. One who belongs to PTI and his son the President of PTI Bahawalnagar against Rao Ajaz Ali Khan District President of the party for the last 20 years and represented the party in Punjab Assembly in 2003-2008. In view of above facts, we the most senior members of the party without being taken into confidence have been deprived of the honor are a logic which is unparalleled in any political, social or ethical party. We being the loyalist would have never come in the way of party if better electable persons have been given party tickets. If the party was ever being considered to be given on lease to Gillanis, Makhdoms and Wattos then we would have not wasted 40 years of our lives in politics.
I understand the restrictions on the office of the President of Pakistan to remain inactive in politics and the security hazards to the personalities of Chairman Bilawal Bhutto Zerdari, Bakhtawar and Aseefa Bhutto Zerdari but being the senior most member of the party, can I question that what stoppped Mr. Yousaf Raza Gillani, Mian Manzoor Ahmed Wattoo and Makhdom Shahabuddin to run an effective party campaign in northern and southern Punjab? If they are confined to their constituencies alone, having born out the fruits as Prim Minister and full fleged Federal Minister for more than four years then for loyalist like me they are nothing more than minions who have further plunged the party to Peer Pagara their teacher in politics (quoting yousaf raza gillani and makdom ahmed mehmood).
Bahawalnagar District in Elections 2008 had won 3 National Assembly seats out of 4 and 5 Punjab assembly seats out of 8. This time God forbids if the above mentioned seats are given to the above named candidates from the constituency and two other National Assembly seats given to new entranats Ch. Abdul Gafoor's sons who are not even today the member of the party, my political estimation is that the party will gain only one seat and lose all the others in District Bahawalnagar. And my fears again forecast that the part will retain from District Okara including the whole of Southern Punjab only one fourth (1/4) seats as compared to 2008 Elections, that too if lucky.
My respected President, with your wisdom you were able to create a full five year tenure of the party. I wish for you another five year turn in office till our beloved Chairperson Bilawal Bhutto Zerdari comes to age.
With best regards.
N.B while writing these few lines I have come to know that in Bahawalnagar city on the order of the "high command" one Mr. Abdul Qadir Shaheen Ex. MPA, who has very successfully campaigned for Naheed Khan and Dr. Safdar Abbassi against Honourable President and the party for last four and half year and who has now joined the personal staff of Makhdoom Ahmed Mehmood Governor Punjab is campaigning for the above candidates. Alas! I would have not seen this horrible day of cheating fraud and disloyalties. It's high time that the party "high command" gets rid of such advisers and consultants who are ruining the party from within.
Source: fb – with minor edits