Elections 2013: Convicted LeJ terrorist Chaudhry Abid Raza Deobandi contesting on PML-N ticket from Gujrat – by Amir Mir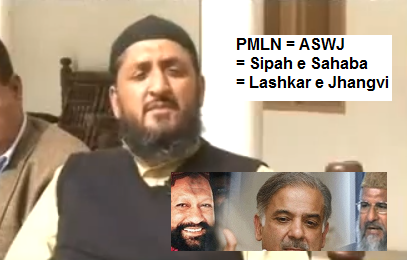 Source: The News, 6 May 2013
ISLAMABAD: A Lashkar-e-Jhangvi-linked alleged terror suspect who has already spent five years in jail on murder charges and had known links with a slain al-Qaeda linchpin Amjad Hussain Farooqi is running for a National Assembly seat from Gujrat on a PML-N ticket.
Chaudhry Abid Raza Gujjar Deobandi had been handed down death sentence under section 302 and section 7 of the Anti Terrorism Act 1997 for the murder of six people during a failed assassination attempt on the former Nazim of Gujrat, Ghulam Sarwar Bhooch, in 1998. His nomination papers for the upcoming elections were rejected by Returning Officer Malik Ali Zulqarnain Awan on April 6, 2013 after an independent candidate, Raja Haq Nawaz, took up his conviction on the murder charge as well as his alleged connections with some banned sectarian outfits, including the Lashkar-e-Jhangvi (LeJ) and Sipah-e-Sahaba Pakistan (SSP). Abid was also listed under Section 11 (E) of the 4th Schedule of Anti-Terrorism Act 1997 for his alleged involvement in terrorism-related activities. But strangely enough, he was cleared by an election tribunal of the Lahore High Court on April 18, 2013 to contest the general elections.
The PML-N leadership's decision to award the party ticket for NA-107 to Abid Raza Deobandi of Kotla Arab Ali Khan Group instead of the party's district president Malik Hanif Awan has surprised many because Awan and his nephew Jamil Awan had won that seat twice in 2008 general elections and in 2012 by-elections, respectively. According to Awan, the party leadership told him that Hamza Shahbaz had made a commitment to award the PML-N ticket to Abid Raza at the time of the December 2008 by-elections to appease the Kotlas who had also been vying for a PML-N ticket for the by-election. But some PML-N rebels allege that the leadership of a banned sectarian group, which is well-known for its proximity with the PML-N, in Punjab had persuaded the Sharifs to award the ticket to Abid Raza.
Nevertheless, the PML-N's decision to award the party ticket to Abid Raza Deobandi from NA-107 is equally alarming for the law enforcement agencies which had arrested him many times for interrogation since his 2003 release from Gujranwala Central Jail. It was during his detention in Gujranwala jail on murder charges that Abid had developed close ties with LeJ's Malik Mohammad Ishaq and Ghulam Rasool Shah who were languishing in the same jail for the May 1997 murder of the SSP Gujranwala Ashraf Marth. While Abid's appeal against the death sentence was being heard by the Lahore High Court, his family managed to strike a deal with Ghulam Sarwar Bhooch. After an 'out of court settlement' between the two groups and the withdrawal of the murder case, Abid Raza was set free on July 3, 2003 from Gujranwala jail.
However, he was taken into custody by the intelligence agencies a few months later in connection with the December 2003 twin assassination attempts on Pervez Musharraf by two suicide bombers in Rawalpindi. According to well-informed sources in the law enforcement agencies, Abid Raza was arrested in the wake of intelligence reports that the most wanted al-Qaeda linchpin in Pakistan Amjad Hussain Farooqi had been using the huge haveli/dera of Abid [spanning over more than six kanals] located in the Kotla town (also called Kotla Arab Ali Khan) of the Kotli district of Azad Jammu & Kashmir as his base camp to mastermind and plan the Rawalpindi suicide attacks on Musharraf.
The former ameer of the al-Qaeda-sponsored Brigade 313, Commander Ilyas Kashmiri who was killed in a US drone attack on June 4, 2011 in South Waziristan, also belonged to Kotli. Kashmiri was arrested in December 2003 following two failed assassination attempts on Musharraf in Rawalpindi. In 2008, five years after he was named in the bids on Musharraf's life, Kashmiri was accused of plotting to assassinate General Ashfaq Kayani in Rawalpindi. Ilyas Kashmiri was considered close to Amjad Hussain Farooqi.
On September 26, 2004, ten months after Musharraf put the state agencies on his track with Rs20 million on his head, Amjad Farooqi was killed in a shootout in Nawab Shah. In an interview with a private TV channel on June 4, 2004, Musharraf had named Amjad Farooqi, the man who had also masterminded the kidnapping and murder of Wall Street Journal reporter Daniel Pearl with the help of Sheikh Ahmed Omar Saeed, as the chief plotter of the two failed assassination attempts against him.
Amjad Farooqi was killed 50 days after the August 7, 2004 arrest and extradition of the fugitive ameer of the Harkat ul-Jehad al-Islami (HUJI) chief Qari Saifullah Akhtar from Dubai and the ensuing information he had provided to his interrogators. Subsequent investigations revealed that Qari Saifullah, during his stay in the UAE, had actually been tasked by Abu Faraj Al Libbi, the then chief operational commander of al-Qaeda in Pakistan, to carry out the twin suicide attacks on Musharraf. In turn, Qari Saifullah had engaged Amjad Farooqi to plan the attack by hiring two suicide bombers – Khaliq Ahmed and Jameel Suddhan.
According to sources in the law enforcement agencies, after being arrested soon after the Musharraf attacks, Abid Raza was taken to Rawalpindi and was interrogated by a Joint Interrogation Team (JIT) composed of officials from numerous agencies and led by the then Corps Commander of Rawalpindi and the current Army Chief General Ashfaq Kayani. Abid reportedly conceded to his interrogators that Amjad Hussain Farooqi had been staying at his dera/haveli but he claimed that he never knew that he was an al-Qaeda linked terrorist who was planning to target Musharraf. Abid reportedly maintained that Amjad Farooqi actually came to him with the reference of some of his former inmates from Gujranwala Central Jail (most probably Malik Ishaq and Ghulam Rasool) and that he had nothing to do whatever Farooqi had been planning.
Abid Raza was interrogated by the agencies for almost eight months and eventually set free on the intervention of the Chaudhrys of Gujrat who were very close to Musharraf at that time. The Chaudhrys were approached by Chaudhry Naeem Raza, a member of Punjab Assembly on a PML-Q ticket and an advisor to the then Punjab Chief Minister Pervaiz Elahi (between 2002 and 2007). Naeem Raza is the elder brother of Abid Raza who had to quit as advisor after the arrest of his brother for his alleged involvement in the assassination attempts on Musharraf. However, despite being released, Abid Raza was placed on the 4th schedule of Section of the Anti-Terrorism Act 1997, under which persons charged with terrorist activities, after being released, are kept under vigilance by the law enforcement agencies.
Approached by this correspondent, Naeem Raza confirmed that he had made frantic efforts for the release of his younger brother who was picked up by the ISI for sheltering Amjad Farooqi. "But I never knew that I was paving the way for the release of an al-Qaeda-linked terrorist. I actually came to know of this fact after his release when all kinds of sectarian elements and jihadis started flooding his dera at Kotla Arab Ali Khan. To tell the truth, Abid Raza had once introduced me to Amjad Hussain Farooqi with another name, saying that he was his Ustad. I never knew he was an al-Qaeda operative and was planning to attack Musharraf. After the Rawalpindi attacks on Musharraf, the ISI not only picked up Abid Raza but they also interrogated me as a suspect, only because of my brother's jihadi links. Brigadier Ejaz Awan of the ISI had shown me a picture and asked if I knew that person. I immediately recognized him and told the Brigadier that he was introduced to me by Abid as his Ustad who was staying at his dera along with several others. But I was literally shattered to know that he was Amjad Farooqi. Frankly speaking, Abid Raza publicly claims to be a key leader of the Punjabi Taliban who had secured the PML-N ticket by assuring the Sharifs that the Taliban won't target them in their election campaign", said Naeem Raza who is contesting the coming election on a provincial assembly seat (PP-115) as a PML-Q candidate from Kharian.
When approached Abid Raza strongly refuted that he has any terrorist links as being alleged by his "political opponents". Asked if he was arrested in connection with the Musharraf attacks following his release from Gujranwala jail in a murder case, masterminded by Amjad Farooqi who used to hide at his dera in the Kotli area, Abid Raza said: "You must know that those arrested in connection with the Musharraf attacks were never released. I was seized by the agencies because of the maneouvering of my political opponents. I was taken to Rawalpindi but was finally released because the agencies had nothing against me. My opponents even allege that I was taken to the Guantanamo Bay after being arrested from Afghanistan which is absolutely baseless. That Abid Raza was someone else from Karachi, having the same name". To another question, Abid refuted having any link either with al-Qaeda, Amjad Farooqi, Lashkar-e-Jhangvi or the Sipah-e-Sahaba. But he conceded that he was a diehard Sunni Deobandi, adding that being a Deobandi was not a crime. About the murder case, Abid Raza said he was sentenced to death but was released after spending five years in jail because of an out of court settlement with the rival party as per the Islamic Shariah.
As the PML-N spokesman Senator Pervaiz Rasheed was approached by this correspondent and asked as to why an alleged terror suspect was awarded a party ticket by his leadership, he said: "All the allegations (against Abid Raza) had been proved wrong in the court of law and he was released honourably. He was in fact victimised by his influential political rivals of the area who monopolised politics (at that time). Abid Raza had challenged his rivals and fought against them bravely in the court of law to clear his name. His innocence was even acknowledged by the Election Commission of Pakistan which accepted his nomination papers and declared him a bona fide candidate for parliamentary elections".
http://www.thenews.com.pk/Todays-News-13-22694-LeJ-terror-suspect-contesting-on-PML-N-ticket
Comments
comments