RIP Abbas Ather: Your progressive voice will be missed amidst retrogressive landscape of Pakistani media
Lahore (5 May 2013): Renowned veteran journalist and Group Editor of Urdu daily Express Abbas Ather has expired after long ailment in Lahore. Syed Abbas Athar was suffering from cancer ailment from a long time and hospitalized in CMH for the treatment.
He was Pakistan's most prominent progressive columnist in the Islamnist dominated Urdu media and used to write his columns under title of 'Kankrian' in leading newspapers of the country. Abbas Ather was also a respected critic and current affairs analyst on a private TV channel (Express News – Column Kaar).
He left behind two wives, three daughters and two sons.
By virtue of his long struggle and service as a principled journalist, Abbas Ather was a true legend, a living history and an institution.
Passing of Abbas Ather is a great loss for Pakistan and greater for Pakistani journalism where ethics are scarce and opportunism is abound.
Journalist community will remember Abbas Ather for his services as a senior journalist and editor.
Unlike for-sale pro-establishment journalists in right-wing dominated Urdu media and fake-liberal dominated English media, Abbas Ather is known for his principled oppositions to military dictators and their toadies in politicians religious clerics and media. He authored a famous poem (PPP's song) "Bhutto di beti aai si" as a tribute to slain Prime Minister Benazir Bhutto. He couldn't hold back his tears after Benazir Bhutto was martyred by ISI-sponsored Takfiri Deobandi militants (Taliban, Sipah Sahaba), he said that military establishment took the life of four Bhuttos (ZAB, Murtaza, Shah Nawaz and Benazir).
We (LUBP team) offer our sincerest condolences to entire Pakistani nation, journalist community and Mr. Abbas Ather's family on his sad demise. In a country whose media is dominated by fake liberal and Islamist types, Abbas Ather's progressive and principled voice will always be missed. A selection of Abbas Ather's columns may be accessed at the following link: https://lubpak.com/archives/tag/abbas-ather
Video: An interview with Abbas Athar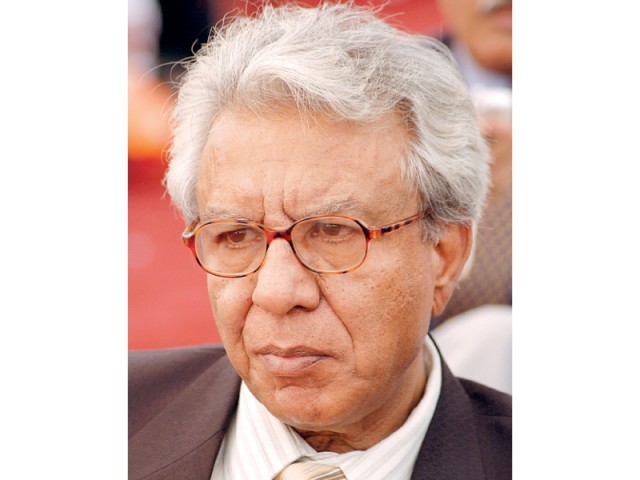 معروف صحافی، کالم نگار اور شاعر عباس اطہر طویل علالت کے بعد لاہور میں انتقال کرگئے ۔ ان کی عمر پچھتر برس کے قریب تھی۔ وہ کینسر کے مرض میں مبتلا تھے۔
عباس اطہر کی نماز جنازہ پیر کی شام کو ادا کی گئی جس کے بعد انہیں مقامی قبرستان میں سپردخاک کردیا گیا۔
متعلقہ عنوانات
پاکستان
عباس اطہر کچھ عرصے سے لاہور کے سی ایم ایچ ہسپتال میں زیر علاج تھے اور پیر کی صبح ان کا انتقال ہوگیا۔
عباس اطہر ایکسپریس اخبار کے گروپ ایڈیٹر تھے اور 'کنکریاں' کے عنوان سے ان کا کالم بھی شائع ہوتا تھا۔
سینئیرصحافی اور روزنامہ ایکسپریس کے ایڈیٹر ایاز خان کا کہنا ہے کہ شاہ جی (عباس اطہر) صحافت میں نئے آنے والوں کی حوصلہ افزائی کرتے تھے اور نئے صحافیوں کے لیے ان سے بڑا استاد کوئی نہیں تھا۔
عباس اطہر تقسیم ہند سے قبل پنجاب کے علاقے جھنگ میں پیدا ہوئے اور صحافت سے منسلک ہونے سے پہلے وہ شاعر کے طور پر جانے جاتے تھے۔
عباس اطہر کو خبروں کی سرخیاں نکالنے پر ملکہ حاصل تھا اور ان اخباری سرخیوں تاریخی حیثیت کی حامل رہی ہیں۔
انیس سو ستر کے انتخابات کے بعد ذوالفقار علی بھٹو کی تقریر کے حوالے سے انہوں نے روزنامہ آزاد میں 'ادھر ہم ادھر تم ` کی سرخی لگائی اور یہ سرخی بھی تاریخ کا حصہ بن گئی۔
انیس ساٹھ کے اوائل میں انہوں نے صحافتی سفر کا آغاز کراچی میں شوکت صدیقی کے ادارت میں شائع ہونے والے اخبار'انجام' سے کیا۔
شاہ جی کے نام سے مشہور عباس اطہر اپنے ملنے والوں کو ایک خاص انداز 'حضور کی حال اے' کہہ کر مخاطب کرتے تھے
کراچی سے لاہور آنے کے بعد عباس اطہر روزنامہ امرزور سے منسلک ہوگئے۔ پھر لاہور سے نئے شائع ہونے والے اخبار روزنامہ آزاد کے نیوز ایڈیٹر بن گئے ہیں۔
عباس اطہر اردو اخبار مساوات کے ایڈیٹر بھی رہے ۔ جنرل ضیاء الحق کی آمریت کے دوران انہوں نے جیل بھی کاٹی۔
شاہی قلعہ سے رہائی کے بعد عباس اطہر نے امریکہ میں جلاوطنی اختیار کرلی اور لگ بھگ آٹھ برس کے بعد ملک واپس لوٹے اور دوبارہ سے صحافت سے منسلک ہوگئے۔
عباس اطہر نے ایک طویل عرصہ روزنامہ نوائے وقت میں گزار ۔ شاہ جی نے روزنامہ صداقت کے نام سے اپنا اخبار بھی نکالا۔
جون دو ہزار چھ میں عباس اطہر روزنامہ ایکسپریس سے منسلک ہوئے اور آخری وقت اس کے گروپ ایڈیٹر رہے۔
عباس اطہر کی شاعری کے دو مجموعے شائع ہوچکے ہیں جبکہ ان کے گیتوں پر مبنی ایک کیسٹ بھی تیار کی گئی۔
شاہ جی کے ذوالفقار علی بھٹو اور ان کی بیٹی بینظیر بھٹو کے بارے میں کالموں پر مشتمل ایک کتاب 'بینظیر کہانی' بھی شائع ہوئی۔
بینظیر بھٹو کی ہلاکت پر انہوں نے نظم 'بھٹو کی بیٹی آئی' لکھی جو بہت مقبول ہوئی۔
عباس اطہر کو ان کی صحافتی خدمات کے اعتراف میں قومی اعزاز سے بھی نواز گیا۔
http://www.bbc.co.uk/urdu/pakistan/2013/05/130506_abbas_athar_died_ra.shtml
Abdul Qadir Hasan

Ammar Chaudhry

Asadullah Ghalib

Nazir Naji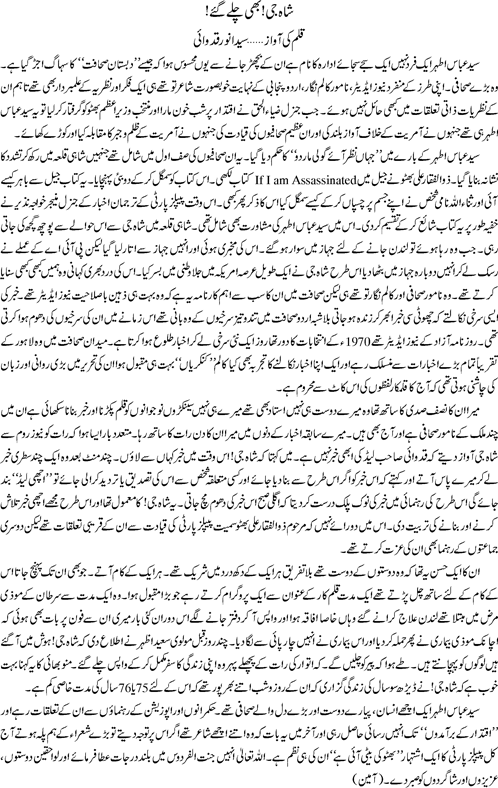 Abdul Qadir Hasan

Aslam Khan

Hasan Nisar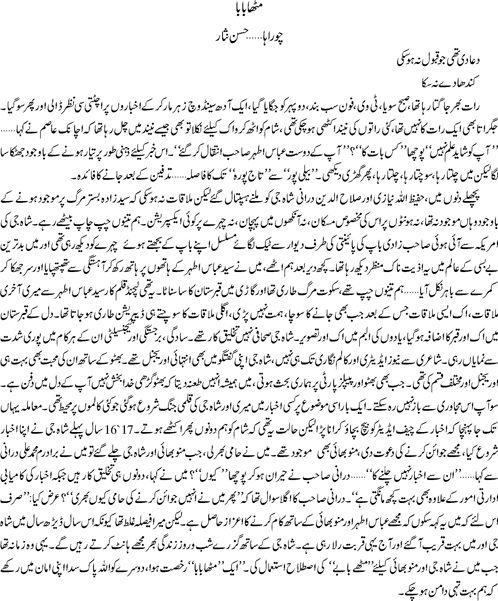 Nusrat Javed

Tahir Sarwar Mir

Javed Chaudhry


Amjad Islam Amjad

Tanvir Qaiser Shahid

Intazar Hussain

Saadullah Jaan Barq

Shakil Farooqi

Ifan Siddiqi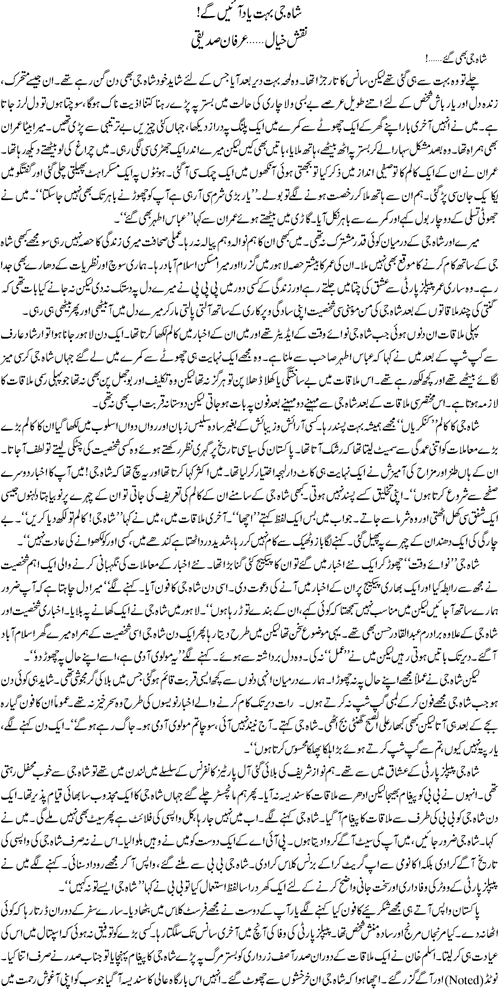 Comments
comments