Pakistan Elections 2013: Predictive Results – by Abdul Nishapuri
Pakistan's general election on 11 May 2013 will mark the first time a democratically elected government in the country has been succeeded by another. Since independence from Britain in 1947, civilian rule has been repeatedly overturned by military coups, the last led by General Pervez Musharraf who held power from 1999 until 2008, when democracy was restored.
The election is also remarkable for its relative unpredictability following a significant constitutional devolution of central government power in 2010 under the presidency of Asif Ali Zardari (of Pakistan Peoples Party PPP), and the linked development of a more open, freer public discourse. Demographic pressures, economic and security worries, the advent of social media and numerous new challenges to the hegemony of the established parties have added to the uncertainty. Generally the elections is being seen as a tough contest between allegedly pro-Taliban parties and anti-Taliban parties.
Pakistan's population totals roughly 190 million, of whom an estimated two-thirds are under 30. About 92 million of the total are adults aged 18 or over, and of them, 84.4 million are registered voters.
The issues that may shape the outcome are more clear-cut. Islamist right-wing opposition parties in particular PML-N (led by Nawaz Sharif), PTI (led by cricket turned politician Imran Khan), JUI-F (led by Maulana Fazlur-Rehman Deobandi) are known for their sympathetic and apologist stance towards Taliban and pro-Al Qaeda Deobandi-Wahhabi militants. In contrast, Pakistan Peoples Party and its secular allies Awami National Party and Muhajir Qaumi Movement have taken a clear stance against Takfiri terrorists and their sponsors.
Five terrorist attacks by Takfiri Deobandi militants of Taliban and Lashkar-e-Jhangvvi (akas Ahle Sunnat Wal Jamaat Deobandi or Sipah-e-Sahaba) since 11 April have killed 24 people, including lethal bomb explosions at election rallies of secular parties (ANP, MQM, PPP) in Peshawar, Khuzdar, Karachi, Kohat and other areas.
Pakistan's economy has been battered by three years of successive floods from 2010 to 2012 that damaged the country's agricultural heartlands. Power cuts are endemic, with some rural areas receiving only four hours of electricity a day. Clean water and food, adequate education and healthcare remain beyond the reach of many Pakistanis. Crime and unemployment are big issues in the cities. However, PPP government has been able to offer some relief through the Benazir Income Support Programme (BISP) and other social welfare and uplift projects.
Pakistan's elections largely follow the Westminster first-past-the post system, although 70 seats are reserved for women and minorities and allocated by PR. Candidates on 11 May will seek seats in the lower chamber of the national assembly and in the four provincial assemblies – Punjab, Sindh, Baluchistan and Khyber Pakhtunkhwa (formerly North-West Frontier Province).
A total of 172 out of 272 directly elected seats is required for a governing majority in the national assembly, although no single party is expected to achieve that. At present a caretaker government is in place. An independent election commission has been created to oversee the polls, and outside organisations such as the EU have agreed to send observers. Most commentators expect the election to produce another coalition government after a possibly prolonged period of wrangling. However, given the lack of level playground (in the shape of incessant attacks on ANP, MQM, PPP by pro-Taliban parties), liberal secular voters may be too scared to come out and vote parties of their choic.
Based on careful analysis of various opinion surveys as well as historical patterns of voters choice, the following is a summary of predictive results (perhaps a wish list) of general elections in Pakistan on 11 May 2013.
According to pro-progressive estimates, no single party may be able to gain simple majority in the National Assembly of 272 seats. However, as in most previous elections in Pakistan, Pakistan People Party (PPP) of slain Prime Minister Benazir Bhutto may emerge as single largest party (80 seats) followed by right-wing PML-N (70 seats), PML-Q (22), MQM (20), ANP (18), PTI (15), JUI-F (5) and PML-F (4). Other smaller parties and independent candidates are expected to win 38 seats. There may be a plus minus variance of 10 per cent anticipated in this estimate.
The following is a tabular and schematic presentation of the expected results.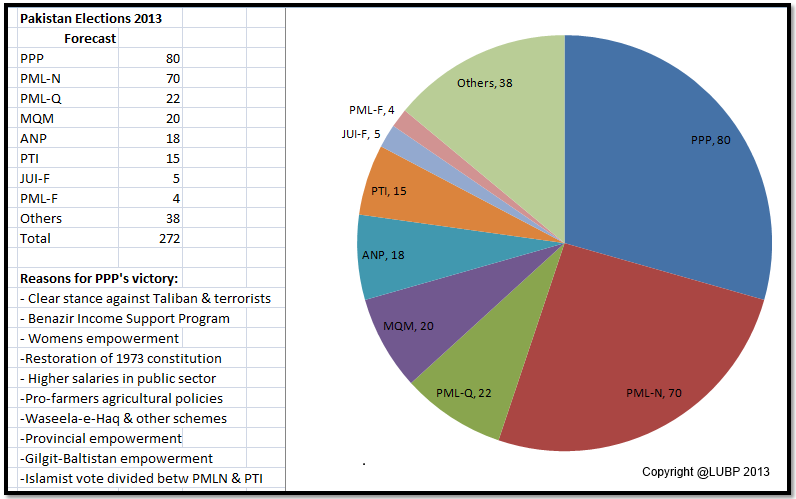 In summary, given that it is provided with level playground and results are not marred by visible and indirect rigging, PPP will be the single largest party and the Islamist PML-N will be second. PTI will be relatively smaller player with only 15 (max 25) seats in the parliament.
For contextual understanding, here is an overview of results of 2008 general elections: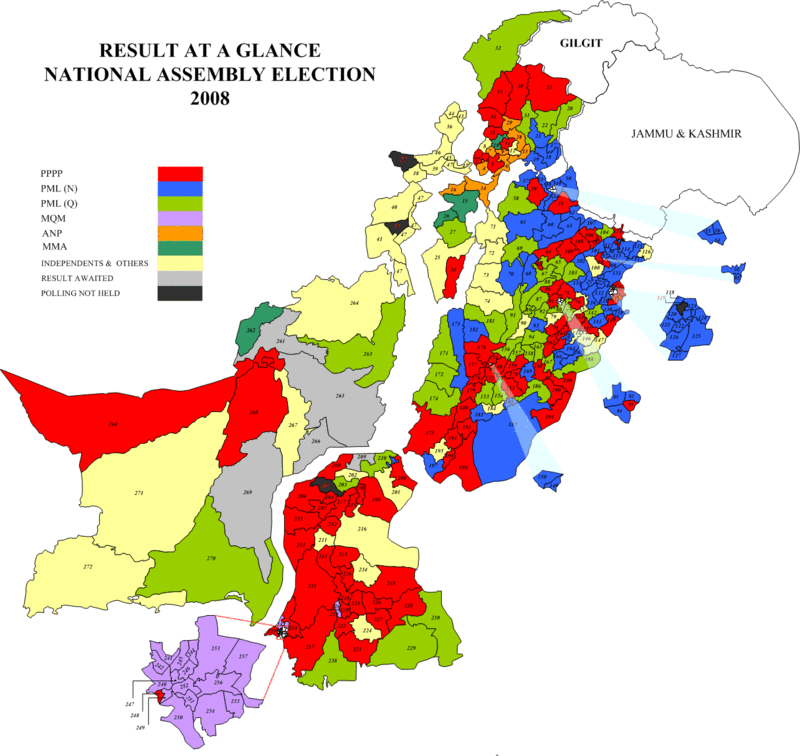 2008 results in Urdu: http://www.bbc.co.uk/urdu/pakistan/2013/05/130502_pakistan_elections_2008_map.shtml
Compiled from following sources:
http://www.guardian.co.uk/world/2013/may/02/guide-to-the-pakistan-election
http://en.wikipedia.org/wiki/Pakistani_general_election,_2008
Pakistan Democracy Review: Did PPP implement its vision of Roti, Kapra, Makan? – by Raja Asad Abbas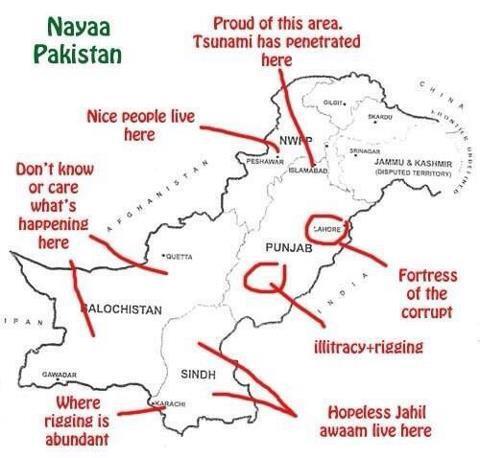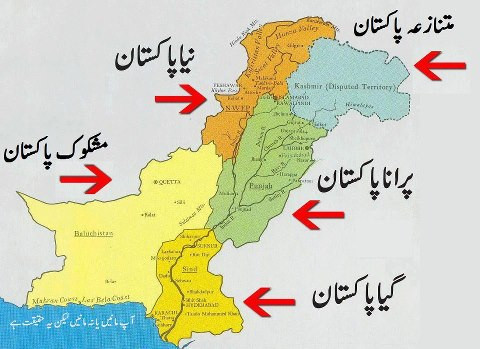 Comments
comments