To 'Khan' or not to 'Khan'?: The Election Dilemma – by A Z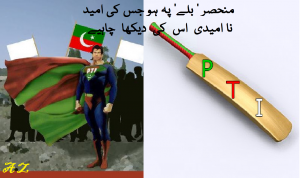 Imran Khan is an institution of cricket. Not just because of his extraordinary prowess as a player but also because of his excellence as a leader of men on the field. After retiring from cricket, he did some tremendous philanthropic work. However, he soon found mere philanthropy unequal to his immense energy and ambition. So Mr Khan jumped into politics some seventeen years ago. Looking back at his political career is like looking into a record of flop releases and it is only now that his production (PTI) has developed into a serious thriller. A thriller because while it has put everyone off guard, nobody is quite sure where it is headed. While it has been much longer in the making, the broad outline of PTI's development bears resemblance to that of the country's greatest ever thriller PPP, which still continues to attract crowds despite producing many tragic episodes from the killings of its protagonists to its poor performance when trusted with power in the latter episodes. However, this is only a far-fetched resemblance as Mr Khan and the immensely gifted producer of PPP (Mr Bhutto) are by no means in the same league as political trailblazers. Thanks to the genius of its producer, PPP was a thriller that had everything comedy, romance, philosophy, suspense, social satire, heartbreaks, and tears. No wonder, lately Mr Khan has been seen trying to take on some of the attributes and kind of popular following that PPP's producer had.
Talking about PTI, I must add that it is the most successful kiddie political production ever made in Pakistan. This is by no means a slur but just a statement of fact. Even a twelve year old finds it easy to understand and relate to its actions, rhetoric, and values. PTI's campaign betrays a combination of virtual and real-world political activity closer to the way millions of young people relate to politics. There is a new generation of populists that are young, angry, and disillusioned with the current crop of political elites. That's its appeal, a story that is fascinating to both young and old alike. While Imran may have intended his story for the youth, he has written it very earnestly and sincerely. Many take PTI's production seriously. It is set in Pakistan in the near future where corruption has been extinguished, all foreign loans are being repaid, crime is absent, TTP's volunteers are cleaning the roads, and LeJ's workers are doing social service in Shia and Christian neighbourhoods. This provides a good diversion in a country fatally lacking in play, invention, and hope. A country where the bombs go off every day, human bodies are gutted and eviscerated, the limbs are chopped off, and the heads are cut by the literal-minded religious zealots. As you watch the endless carnage, you become sure that Pakistan has gone completely, utterly mad.
PTI promises to stop all that. However, to be in a position to do that it must first fight the success of 'ironic stupidity' of the PMLN, produced by Nawaz Sharif twenty five years ago with the collaboration of ISI Political Production Studios. At the onset of his politics Nawaz was convinced that that government by the armed forces was necessarily better than government by the entire populace. But in the chaos that followed the martyrdom of his spiritual father Ameer ul Momineen Zia ul Haq, Nawaz wisely converted to democracy. PMLN is still showing successfully as it is stitched in the predominant local ethnic fabric. Somewhat like 'The Marching Morons', PMLN depicts a society in which the sub-intelligent have outbred the intelligent to such a degree that everyone with an IQ greater than 120 must work their butts off in order to keep the rest of the population alive and PMLN in power. The entire moronic population is tricked by Sharif clan into going to moon. Its history boasts myths of legal violence –like the attack on the Supreme Court or hijacking the COAS's plane- to post-apocalyptic proportions, depicting a country out of control that only one (formerly) bald man can save. Its phenomenal box-office success is a tribute to the growing dimness of masses and the race to satisfy selfish designs in the most garish way possible. Once a budding 'Ameer ul Momineen' and now eager to be acclaimed as a 'statesman', Mr Sharif stands elevated past the comic and into the ironic, where you are not supposed to laugh at him but look on in silent awe of lady luck. Mr Sharif is a past master at delivering mindlessly frenzied slabs of future jingoism that rhyme well with his ethnic group and its cousins. Sly leg pulling and slandering on the part of Mr Sharif's camp mostly centres on real or concocted entirely personal foibles of their opponents. Unfortunately, most of PMLN audiences don't know how to do anything but take the show straight up. Given the quality of the inputs described above, the output of their success can't help but be ridiculous as it was in their previous episode.
Both Imran and Nawaz's productions are equally Islamic, though Imran is not beholden to Saudi Arabia or any other country. Both their productions use religious iconography in the display of implicit and overt piety. It is understandable as religion is a great companion in a country where it resonates well the creation of the country, appeals to people on a primal level, and does not seem to mind ill-gotten wealth and power that the worldly laws will have trouble tolerating. Though no two people seem to agree on what makes a real 'Muslim', most of their audiences do agree that Pakistan must have a strong Islamic ideology and an even stronger army. And they all know our State –and therefore our ideology– is better than that of neighbouring States because our army is so much stronger than theirs. And if our army is defeated, it has nothing to do with poor strategy or losing the arms race. It's because we were sabotaged by traitors, or because the national will wasn't strong enough. We fall for the reasoning that appeals to the hunter-gatherer instincts which six thousand years of civilization and one thousand years of Islam have not yet subdued much. We want to belong to a tribe. We also want to belong to the right tribe: the strongest tribe, the one that can best protect us. And we want to provide for the tribe with which we identify so closely. Appealing to people's desire for strength and safety can open any door. Pakistan's politics amply bears this out. Even when you have doubts, you don't want to be that one animal on the far edge of the herd. Whoever is supposed to be obeyed by the herd must be obeyed and whoever is supposed to be despised must be despised. The ability to channel rage in the service of Islam or country is widely appreciated. For many of us the concept of patriotism and marriage are equally skewed. We love our country because we lay it whenever possible (from stealing electricity to usurping power) and it bears and nurtures our assets, we beat it up for our frustrations, and we guard it from others because it represents our 'honour' and are willing to die in the process. Imran is different though, he has repaid a lot to his country.
While Nawaz is several thousand times wealthier than Imran, Imran's background and lofty personality impart an 'elitist stench' to his persona that many of our masses relish to mistrust. This stops many from giving Imran the benefit of the doubt he deserves as the only untried candidate and as someone who speaks with a solemn, though naïve, intent as compared to the tongue-in-cheek future predicted by Nawaz.
So where do I stand in this show where the competition between these two productions is set to play a decisive role? To state it simply, I am imbued with as much optimism for the prospects following a Nawaz victory as most of world must have harboured for a German victory in the World War II. PMLN is a frightening prospect to me that blurs the line between patriotism and the willingness to follow its leader into fascism, which we almost did in 1999 but for Nawaz's riling up the 'angels'. Indeed, the internal strife, instability, displacement, and depression are the worst enemy for individualism of Imran Khan and the ripest fruit for a fascist (and his talented younger brother) willing to promise immediate, albeit incredibly unrealistic, solutions in order to come to power.  Having lived through historical situation after historical situation in a country that started with ideals and promises to end up with genocide, poverty, and disillusionment, Sharif has decided hell with those who are not patriots and idealists, and who do not feel they must dash right in on the shoulders of Islamists and do something about it, something so immediately important that all doubters must be liquidated. Notwithstanding his manifest allegiance to religion and his criticism of Western values –which, by the way, he knew how to best leverage when he was somewhat invested in them-, Imran does appeal in an environment fraught with politicians who promise us the world and priests who demonize other groups and sects to propel their own ideas, and Social Studies teachers who laud the virtue of violence and how it's the tent pole of Islam's history. I am not overly concerned that Imran panders to the right because even the liberal leaders in the country from Jinnah, Ayub, Yayha, Bhutto, Benazir, to Musharraf have frequently done it out of either expediency or fear. However, what does irk me is that every time Imran has erred he has betrayed a bias for Taliban and not the other way round.
And, dear readers, that's what makes 'Pakistan Tehreek e Insaaf' a work of satiric genius. It compels me to vote for an ideology I think is wrong.  And I have just one more week to decide.
Comments
comments