PMLN's shameless shenanigans continue nevertheless – by Sadiq Ameen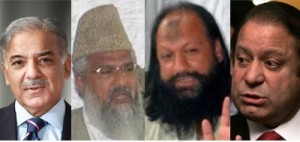 A lot has been written on this forum condemning the mainstream parties' collaboration with the extremists in the forthcoming elections. We have also explained how these elections have paved the way for the extremists in the mainstream politics. Having now found an entry, going forward their main task would be to eliminate their rivals from the arena to consolidate their power. As a first step towards that, we are witnessing TTP's cleverly orchestrated attacks on the parties they deem too secular to be a part of our scheme of democracy, while it lasts.
Here I am confronted with another news item in arguably the most respected newspaper in the country. It explains how PMLN is shamelessly wooing the extremists in a constituency in Chakwal. This is just an example of what PMLN (in particular) and some other parties' candidates are seeking in many other constituencies, especially across Punjab. As we all know, not very long ago PMLN was considering an overt party-level electoral adjustment with ASWJ (a camouflage for the dreaded SSP). While this would have pleased Sharifs' Saudi patrons no end, PMLN had to back off in the face of strong opprobrium the news generated in Pakistan.
This is a deplorable display of political expediency on the part of Sharifs, as we are aware of the perils the extremists pose to equality, peace, and democracy. AWSJ's leader Ludhianavi and many others in the party have openly called for discrimination against Shias, and the minorities. Once in the mainstream politics, they would connect with their support base by doing exactly what they vouch and are supported for. Hence, there are dangers in ignoring the true nature of PMLN's political stance and view its widespread flirtation with the extremists as individual local tactics of some candidates. Shouldn't a national party like PMLN emphatically reject the divisive populism of hatred preached by AWSJ? Politics should be about bringing people together and working for everyone in our society – something AWSJ will never do. Shouldn't the bomb blasts across Pakistan remind us where the extremist ideas of the far right can lead?
As a matter of record I am against all mainstream parties alliance with the sectarian outfits from any sect. Unfortunately all religious parties in Pakistan are sectarian and they peddle lies and play on people's prejudices or fears. But if you believe in democratic ideals and freedom of speech you have to expose them for what they are and not forge alliances with them. There is no straightforward recipe on how to deal with more rabidly sectarian parties but clearly political isolation is a better bet than collaboration and adaptation, which will only strengthen their hand to politicize their main respective issue(s).
PMLN and also PPP and PTI, please take note.
http://epaper.dawn.com/DetailNews.php?StoryText=29_04_2013_002_004

Comments
comments