Punjab CM Najam Sethi-promoted ASWJ thugs attack Indian prisoner Sarabjit Singh in Lahore jail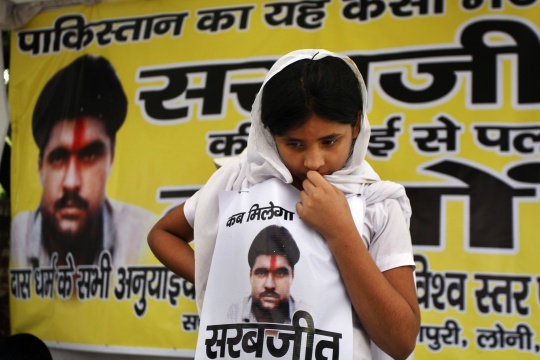 Lahore, 26 April 2013: Indian national Sarabjit Singh, currently on death row in Lahore's Kot Lakhpat jail, was seriously injured on the head after being attacked by six prisoners (Deobandi militants of banned sectarian outfit Sipah Sahaba ASWJ) and rushed to a hospital, where his condition was described as "critical".
Sarabjit was admitted to the intensive care unit of the state-run Jinnah Hospital this evening, Indian and Pakistani officials said.
The attack occurred when Singh and other prisoners were brought out of their cells for an hour-long break. The six prisoners (Deobandi militants) assaulted Sarabjit with blunt objects and he sustained a severe head injury.
Jails in Pakistan are practically ruled by Deobandi militants of banned Jihadist-sectarian terrorist outfit Sipah Sahaba (operating as Ahle Sunnat Wal Jamaat and Lashkar-e-Jhangvvi) which is alleged to have tacit support of the ISI. In the past Deobandi militants in Pakistani jails have killed a number of Shia prisoners, e.g., Basharat Hussain Zaidi in Karachi, Qalandar Bakhsh in Sukkur; a number of blasphemy accused Christians and Ahmadis too have been attacked in jails by Deobandi militants.
The attack took place in Pakistan's Punjab province which is currently ruled by senior journalist (caretaker) Chief Minister Najam Sethi who is known to have close links with Pakistan's military establishment. In recent past, Najam Sethi has been seen promoting and humanizing Deobandi terrorist clerics including Ahmed Ludhianvi of Sipah Sahaba (ASWJ) who was promoted in his TV talkshow (Aapas ki baat) and magazine The Friday Times (edited by his employee Raza Rumi). Ever since Sethi took over as caretaker Chief Minister a few weeks ago, Sipah Sahaba (ASWJ) has been given full freedom to contest elections in various constituencies in the Punjab (Jhang and other areas) and there is a surge in attacks on Christians, Ahmadis and Shias.
The main suspect in the brutal attack yesterday on Indian prisoner Sarabjit Singh had attacked him a few days ago but Pakistani authorities at Kot Lakhpat Jail did not take notice of the incident, official sources said. Death row prisoner Amer Aftab Deobandi tried to attack Sarabjit a few days ago and abused him, the sources told PTI.
Aftab, who was being held in a barrack near Sarabjit's barrack in one of the most secure sections of Kot Lakhpat Jail, was among six prisoners who attacked the Indian national at about 4.30 pm. It was well-planned systematic attack, and Deobandi prisoners were well coordinated while the police stood by. The prisoners gathered near Sarabjit's barrack after evading guards, a jail official said on condition of anonymity. The Deobandi prisoners allegedly "overpowered" two jail wardens and Aftab snatched the key of Sarabjit's cell and opened the door. Sarabjit was hit on the head with bricks and his face, neck and stomach were cut with blades and sharp pieces of a ghee tin.
"When the staff found Singh, he was unconscious and bleeding profusely. The staff removed his clothes which were covered with blood. They put on the shirt and pants of a jail warden and took him to Jinnah Hospital," the jail official said.
Earlier, unnamed officials of Kot Lakhpat Jail were quoted by Pakistani TV news channels as saying that only two prisoners Amer Aftab Deobandi and Mudassar Deobandi were involved in the attack. The officials were also quoted as saying that Sarabjit was attacked when he and other prisoners were brought out of their cells for an hour-long break. However, the sources rejected these claims and said Sarabjit was assaulted by at least six prisoners within his barrack.
Malik Mubashir, Deputy Superintendent of Prisons in Punjab province, was appointed to head the inquiry into the attack. Mubashir would probe all aspects of the incident and ascertain whether some jail officials may have been involved or linked to the attack on Sarabjit. He will also ascertain whether the attackers were motivated by "religious elements" (ie Deobandi militants of Sipah Sahaba ASWJ), the sources said.
Sarabjit was admitted to the state-run Jinnah Hospital with a severe head injury this evening and his condition was described as critical.
In January, another Indian prisoner in Kot Lakhpat Jail, Chambail Singh, died after allegedly being assaulted by prison staff in Pakistan. Though he died in mysterious circumstances, Singh's autopsy was performed almost two months after his death.
Sarabjit was convicted for alleged involvement in a string of bomb attacks in Punjab province that killed 14 people in 1990. His mercy petitions were rejected by the courts and former President Pervez Musharraf. The outgoing Pakistan People's Party-led government put off Sarabjit's execution for an indefinite period in 2008. However, Pakistan's military establishment, ISI in particular and its Deobandi Jihadist proxies of Sipah Sahaba wanted to expedite Sarabjit's execution.
Sarabjit's family says he is the victim of mistaken identity and had inadvertently strayed across the border in an inebriated state.
Owais Sheikh, Sarabjit's lawyer said, "Yes, this is very much disturbing. This is not something that we can ignore.
Naturally, this will have very very serious consequences.
"Sarabjit told me and a CID (Crime Investigation Department) official after the execution of Afzal Guru that a prisoner in Kot Lakhpat Jail had issued death threats. I brought this to the knowledge of prison authorities and the Punjab Home Department but they did not beef up his security," Awais Sheikh said.
"Whatever has happened, our jail authorities are responsible for that. Hope god saves Sarabjit Singh. He has been seriously hurt," he said.
Leading Human Rights activist Ansar Burney said, "I am going to file another mercy petition to Pakistan President to immediately release him and send him to India".
"There were serious threats to Sarabjit. After Chamel Singh's death, I alerted authorities that he may be in danger," Burney said.
"This was a murderous attack and the outcome of a conspiracy. How can a death row prisoner, who is held in strict security, be attacked?" he questioned.
The Kot Lakhpat jail currently has some 17,000 prisoners though its official capacity is only 4,000.
There have been instances in the past of prisoners being attacked and even killed within the prison.
Sarabjit Singh Still in Coma
Lahore: Sarabjit Singh continues to be in critical condition in a hospital in Lahore where he was admitted yesterday after he was brutally attacked by a group of prisoners at a jail. Sources say he is in "deep coma" and doctors will not be able to perform any surgery on him till his condition stabilises. He is believed to have suffered extensive internal bleeding caused by a severe head injury.
Sarabjit, 49, is on ventilator in the Intensive Care Unit of the state-run Jinnah Hospital in Lahore. Yesterday, he was brutally assaulted within his barrack at the Kot Lakhpat Jail in Lahore. Sources say at least six prisoners hit him with bricks, blade and sharp pieces of a ghee tin.
Pakistani TV news channels quoted their sources as saying that next 24 hours would be crucial for Sarabjit.
"Doctors attending to Sarabjit Singh have informed Indian officials that he is in coma on ventilator and receiving intravenous drip," External Affairs Ministry spokesman Syed Akbaruddin said.
Even as Sarabjit was in coma, doctors carried out X-rays, MRI, CT scans on him. They are now waiting for his condition to stabilise before conducting further tests, Mr Akbaruddin added. He also informed that Indian High Commission officials are in regular contact with the Medical Board of Jinnah Hospital.
Sources quoted doctors at Jinnah Hospital as saying that Sarabjit's condition was measured as 5 on the Glasgow Coma Scale (GCS), which indicates the level of damage or injury to a person's central nervous system.
The GCS comprises tests of eye, verbal and motor responses. The three separate values and their sum are considered in deciding a person's status. The lowest possible GCS score is 3 while the highest is 15.
Two Indian High Commission officials got consular access to Sarabjit Singh in the ICU of Jinnah Hospital this morning and spent some time with him there.
Some news channels reported that a team of Indian doctors might visit Lahore to assist in Sarabjit's treatment though this could not be independently confirmed.
http://www.dnaindia.com/india/1827421/report-sarabjit-singh-attacked-inside-lahore-s-kot-lakhpat-jail-hospitalised
http://www.indiatimes.com/news/asia/how-sarabjit-singh-was-attacked-in-lahore-jail-74443.html
Comments
comments