Judicial commission reveals anti-state activities of Deobandi militants hiding in Islamabad's Lal Masjid
ISLAMABAD (INP, 21 April 2013): Lal Masjid-Jamia Hafsa (LMJH) Commission report reveals the reasons for which Lal Masjid incident took place.
The report submits that on 6th April, 2007 'Enforcement of Sharia and Azmat-e-Jihad' Conference was held in Lal Masjid, attended by hundered of Deobandi activists affiliated with Sipah Sahaba and Taliban, and it was decided that a Shariat Court comprising of 10 Deobandi Muftis would be set up, and that court would take decisions against those found involved in running brothels and following illegal practices. Addressing 'Nizam-e-Shariat and Azmat-e-Jihad conference' at Lal Masjid on 6th April 2007, Maulana Abdul Aziz Deobandi warned the government of suicide attacks if hurdles were created in their way. He said "I want to tell the government that suicide attacks would be our option. Today we are announcing Shariah in the area which is in our control where every decision will be taken according to Shariah."
After that meeting the activities of LMJH expanded. On 15th April 2007 the students (Deobandi activists) of LMJH made rehearsal for combat in compound next to mosque. On 17th April Lal Masjid and its surrounding areas were declared 'no go' areas for security forces.
On 2nd May Imam-e-Kabah after visiting area observed that in the presence of government, no individual can establish his own Shariah court and it is unfortunate that Lal Masjid administration has not acted upon advice of religious scholars and established Shariah court. On 3rd May Maulana Ghazi Abdul Rasheed Deobandi threatened students of QAU (Quaid-e-Azam University) and said Acid will be thrown on their face.
On 18th May Lal Masjid kidnapped 4 police officials. On 30th May Maulana Abdulz Aziz Deobandi warned the government that he had sufficient number of suicide bombers inside mosque. On 16th June Maulana Aziz issued a death decree against staff of a magazine for publishing fashion shoot.
On 22nd, students of LMJH kidnapped 3 Chinese women and 2 other men for allegedly running a beauty parlour. Subsequently students also kidnapped Aunty Shamim allegedly running a brothel in Abpara vicinity.
Taking advantage of the restrain shown by the law enforcement agencies, Lal Masjid fighters (Deobandi militants belonging to Sipah Sahaba (ASWJ) and Taliban) stormed the official buildings and public property in Aabpara area. They also killed a Rangers' soldier deployed on sentry duty outside mosque, injured a photographer of a private TV channel.
Maulana Abdul Qayyum Deobandi, spokesman of Lal Masjid, publicly announced that suicide bombers of Lal Masjid have been permitted to find targets and strike wherever they chose to. Such were the circumstances which led to the LMJH incident, the commission report describes.
Source: Frontier Post
Red Mosque Commission Report says 11 army soldiers and 92 Takfiir Deobandi militants among dead, no woman included
ISLAMABAD: The report of a commission that probed the operation in Lal Masjid has verified from reports, claims, witnesses and media reports that 103 people were killed in the operation. The report by the one-man commission of Federal Shariat Court's Justice Shahzado Shaikh was made public on the directives of the Supreme Court.
The commission worked on eight terms of reference, including how many persons, if any, male or female, civilian or law enforcement agencies' personnel, lost their lives in the Jamia Hafsa-Lal Masjid operation.
The commission's 304-page report is comprehensive document, which stated that of the 103 persons killed, 92 were civilians (Deobandi militants of the Khariji cult Sipah Sahaba and Taliban) and 11 belonged to the armed forces of Pakistan.
Among the 92 civilian (Deobandi) casualties, 76 were traced/identified, whereas 16 bodies remained unidentified. It verified that no other claim of any killing could be brought in front of the commission. On page 142 of the report, it is verified that 103 persons died in the operation and no woman was killed. During the proceedings before the Supreme Court of Pakistan from July 8, 2007 to December 4, 2012, different reports were submitted regarding the number of casualties. The commission on this account summoned the record of the deceased from all government departments and agencies, verified claims and statements from volunteers.
http://www.dailytimes.com.pk/default.asp?page=2013%5C04%5C21%5Cstory_21-4-2013_pg7_3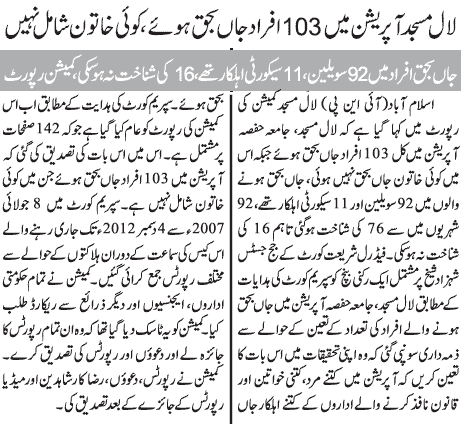 http://e.jang.com.pk/04-21-2013/karachi/pic.asp?picname=4049.gif
Confession of Lal Masjid's suicide bombers' trainer and brainwasher Umme Hassaan Deobandi: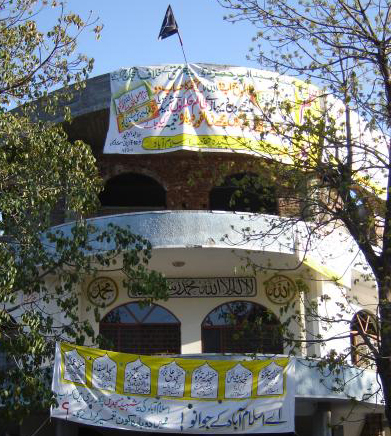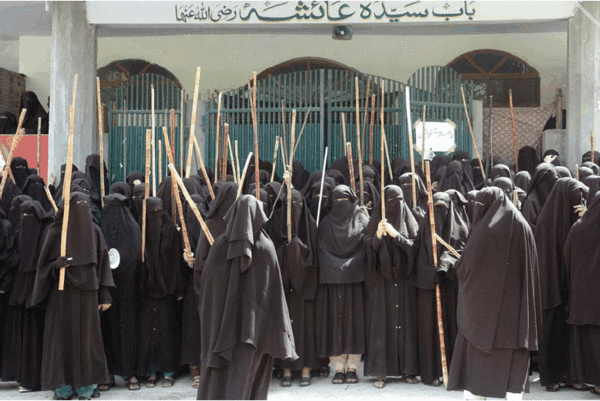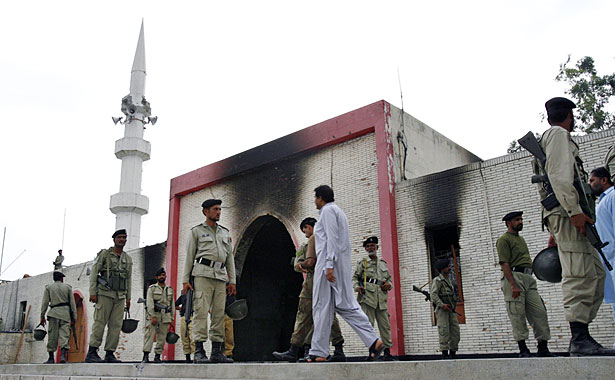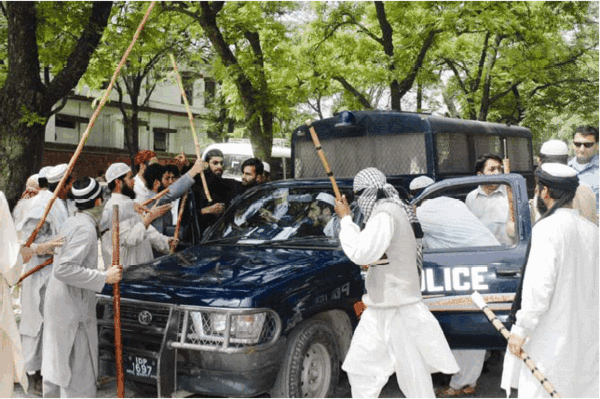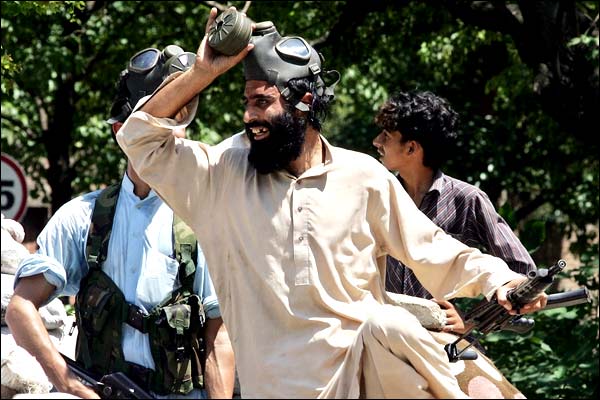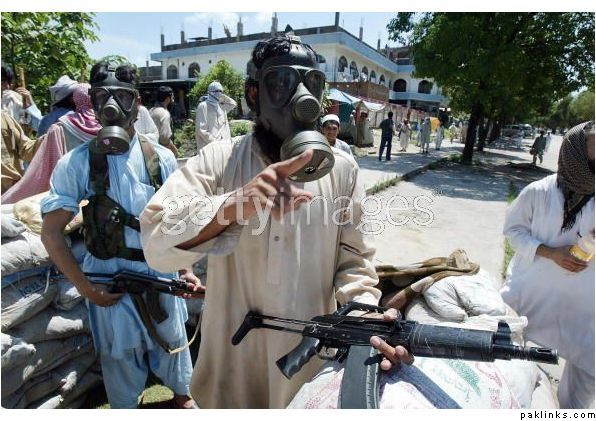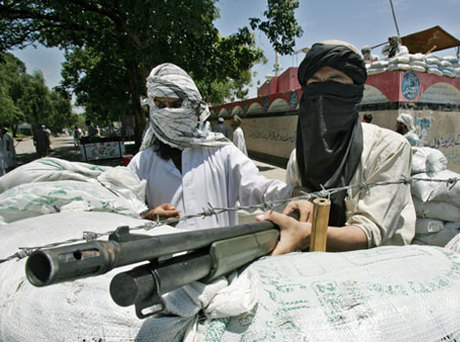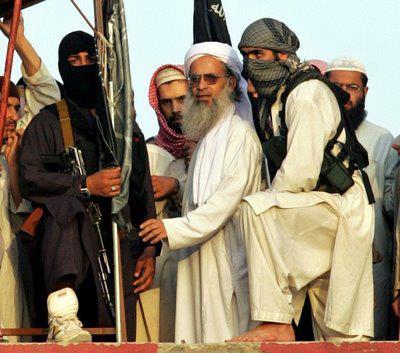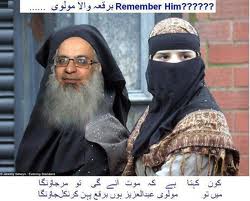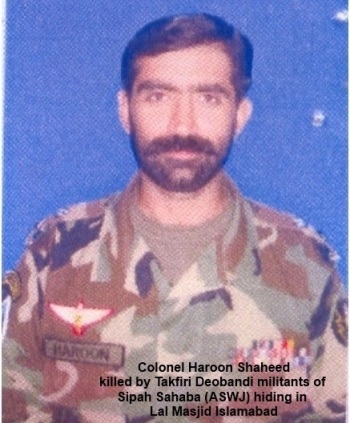 Comments
comments