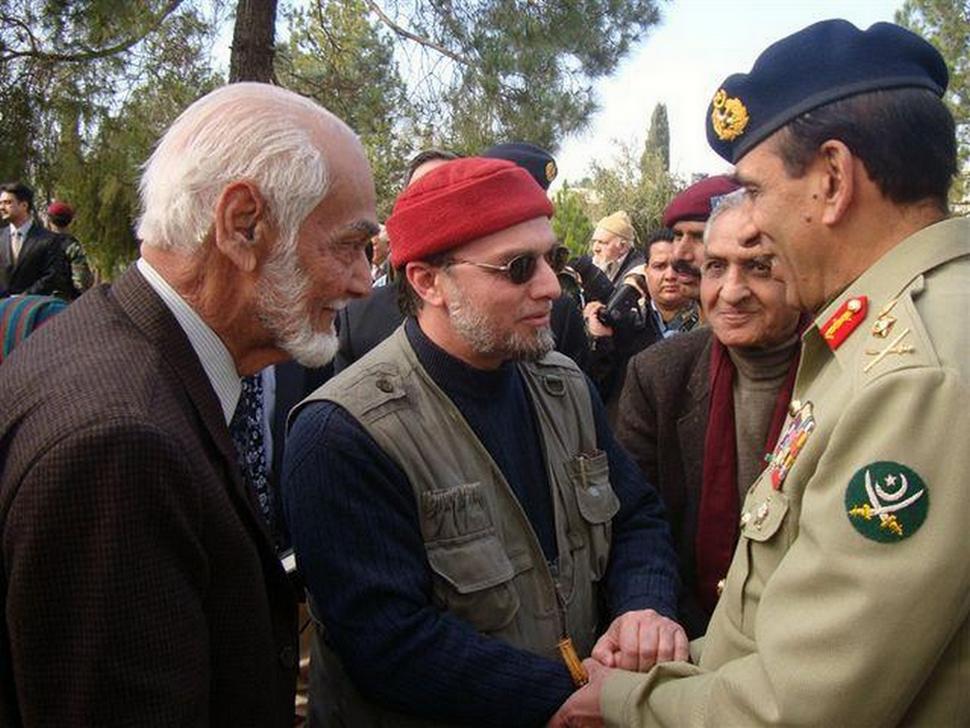 LUBP Editor's note: Zaid Hamid took money directly from the ISI. Ejaz Haider took money via the Jinnah Institute. One of them is more clever. Tiff between Ejaz Haider and Zaid Hamid is a classical case of professional jealousy. Shah kay wafadaron ka aapas ka hasad!
***********
Lately, social media is abuzz with chatter about either the former president Pervez Musharraf or Zaid Hamid, both unsavoury characters. However, what is even more depressing is to see some television channels also engage in discussion with or about Zaid Hamid, a person who, at best, can be described as an anarchist. He may not claim links with an organisation like Hizbut Tahrir (HuT) but his ideology seems to be in line with it, since both support some amount of violence and chaos to bring about a change in Pakistan and implement a system of caliphate. Just about a couple of months ago, the Oxford University Pakistani Students Union had organised a conference on Pakistan which reportedly was managed by the HuT, in which the organisation, not yet banned in the UK, had discussed its vision of seeing Pakistan as the next caliphate.
But referring to Zaid Hamid's publicity, a television programme got highly controversial and then taken off air because it involved the use of abusive language about the sitting army chief by Zaid Hamid's former assistant Emaad Khalid. He was talking about the way Hamid tries to instigate young officers against the top army leadership even suggesting use of violence to remove those at the top. Given that the HuT had successfully managed to provoke an officer into assassinating Anwar Sadaat, this almost looks like their signature move. The same evening there was yet another programme that interviewed him.
Not that either of the anchors or producers of those programmes were interested in propagating his agenda; they were probably anxious to know more facts about the report circulated by Hamid's former assistant about him getting money from various quarters, it got him more publicity than what he could have imagined. Watching and hearing about the man, one also wondered about the capacity of both the army and the ISI to make expensive mistakes. As if it was not enough that their own creation, Masood Azhar of Jaishe Muhammad was involved in an assassination attempt on a former army chief Pervez Musharraf in 2002, another character seems to have been built to either scare or attempt the killing of another army chief. The critical question is why are such vulnerabilities created?
Zaid Hamid, the man who now has an amount of traction amongst the youth and more, is a product of the establishment itself. Having done his engineering from NED, Karachi, he was attracted to jihad in Afghanistan where he went during the 1980s. He claims to have fought alongside Ahmed Shah Masood, which he presents as an argument that the jihad is above sectarian considerations. He seems to have dropped off the screen for a few years but then brought into 'strategic circles' under Musharraf's government. Apparently, he was hired by the then Interior Minister General (retd) Moeenuddin Haider as an advisor in his ministry. He claims to have provided the ministry, as well as business groups, with intelligence. When I went to visit him a couple of years ago, his office was located at a stone's throw from the main gate of Chaklala Cantonment. There were some cupboards in the office full of files that he claimed were security intelligence reports to assist commercial enterprises. It sounded like the US group Stratfor or Eurasia that claims to do the same.
The 1980s and 1990s context is self-explanatory as this was a period when people were recruited to fight the war in Afghanistan. Zaid Hamid's case was of a young man motivated by religious zeal and anxious to contribute to jihad. But then, what do you do with such characters afterwards? Do you or do you not try to re-integrate them in society? But then, Hamid was one of the many characters who were treated as assets and kept hanging around for another critical job. His resurfacing towards the end of Musharraf's years in power coincide with the urge of the military leadership to create another political alternative and narrative of an exciting middle class changing the face of the country. Here was a man extremely verbose and eloquent, addressing the youth and inciting them against the political society and political institutions.
The drive to promote Hamid didn't end with Musharraf but it continued. There were many who would refer foreign visitors to Zaid Hamid as a security expert. This expertise and its propagation were used to detract people about Pakistan. Not that the political system does not require revamping but this was a case of the army staying a few steps ahead of the people and society and trying to bring change artificially. Having tested and tried partnership with traditional power centres, the military now probably wants to create a fresh breed of stakeholders, which it would then like to market as a 'new Pakistan'. Those buying into this project completely forget that Pakistan has been through four distinct cycles of elite injection. The good or bad leadership that we see today is primarily a product of the 1980s and a lot of these people were middle class then. However, the middle class narrative, which is being used now, was missing during the 1980s.
The problem with this approach is twofold. First, until the structures remain the same or the manipulation of power from behind the scenes continues, the middle class narrative itself may not change Pakistan. There will certainly be new stakeholders or faces but not very different conditions. Second, the method is highly risky as it destabilises the country and its institutions and creates anarchy. Furthermore, it gives the impression that the army is no longer a professional whole but divided from inside. The army chief may be the most powerful man but there are other forces that can endanger his life or seriously challenge him through such non-state actors.
The main issue here is that if the army is so divided and manipulative then this is not a country that nuclear weapons could save.
Source: Express Tribune, 25 April 2013
http://tribune.com.pk/story/540083/building-the-zaid-hamid-myth/