Elections 2013: PMLN issues party ticket to Sardar Ebad Dogar Deobandi of Sipah Sahaba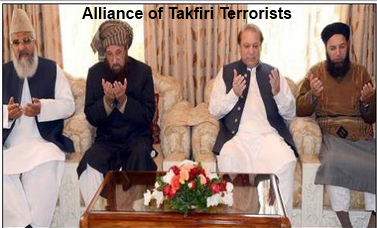 PML-N banks on a sectarian leader?
By Kashif Hussain
Source: Adapted with some additional information from Daily Times, 22 April 2013
LAHORE: Pakistan Muslim League Nawaz (PML-N) has issued a party ticket to Sardar Ebad Dogar, an alleged supporter of the banned Sipah-e-Sahaba Pakistan, to contest the general election from the NA-178 constituency, Khangarh, a tehsil in Muzaffargarh.
A hot debate about his candidature from the PML-N platform is budding on the social media, especially among the twitters.
Khangarh is considered the second most violent area after Jhang when it comes to sectarian violence of Takfiri Deobandi militants against Sunni Barelvis and Shia Muslims. It is said that both Deobandis and Shias are dominant in this tehsil, so sectarian tensions are obvious, especially in the presence of Takfiri Deobandi militant outfits (Sipah Sahaba ASWJ-LeJ, Jasih-e-Muhammad). The Sipah-e-Sahaba Pakistan is one of the banned militant or sectarian outfits in the area, which is supporting hate crime and violence against Shia Muslims.
Dogar is a prominent religious hardcore figure from southern Punjab, who gained media attention when he announced Rs 20 million head money for then Punjab governor Salmaan Taseer for voicing his support to Asia Masih, who was charged with blasphemy. Due to his hate speeches and announcement of the head money, Dogar had been placed under house arrest on January 5, 2011, a day after the governor's murder.
However, a close ally of Dogar told Daily Times that the financially strong leader was released soon after denying any involvement in the assassination, saying that his statement and announcement (regarding the head money) was just symbolic and a political stunt. The PML-N ticket holder will now face Nawabzada Iftikhar Ahmad Khan – a PPP ticket holder – and Jamshed Dasti.
Ebad Dogar is a Deobandi activist, former municipality chairman, a former tehsil nazim and also a former member of the JUI-F, led by Fazlur Rehman, who is known to have had sympathies for the Taliban and Sipah Sahaba (ASWJ-LeJ). But Dogar's affiliation with the Sipah-e-Sahaba Pakistan was an open secret, as he is considered a prominent supporter and leader of the banned outfit.
When this scribe contacted Dogar on his cell phone, he did not deny anything mentioned above, saying that he would not consider anyone, including himself, a Muslim and follower of Islam if he was not a 'Sapahi of Sahaba', and that he still wished to kill someone who was a blasphemer. About his arrest soon after the murder of the Punjab governor, he said there was no criminal charge against him, and the Election Commission of Pakistan had also approved his nomination papers.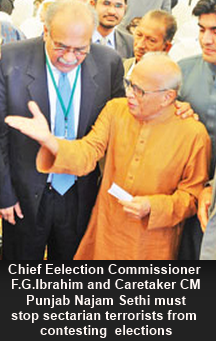 Comments
comments