Pakistan Deobandi militant Ludhianvi tries hand at elections in Punjab, striking fear in Sunni Sufi and Shia Muslims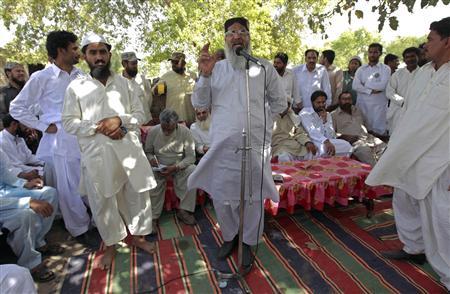 Jhang, Punjab: April 20, 2013. (Reuters, with some editing and additional information by LUBP) – When Maulana Ahmed Ludhianvi Deobandi greets supporters on the Pakistan election trail, he opens his pitch with the kind of promises to the poor that any other politician might make.
But behind the reassuring rhetoric lies what his opponents believe is a dangerous agenda – to gain a foothold in parliament and further his designs to oppress Pakistan's Shi'ite Muslim minority.
Ludhianvi, a radical Sunni Deobandi cleric, is a hate figure for Shi'ites, Sunni Sufi Barelvis and Ahmadis who accuse him of devoting his decades-long career to fomenting an escalating campaign of gun attacks and suicide bombings targeting their community.
The prospect that he might win a place in the political mainstream at the May 11 vote horrifies Shi'ites who fear his presence in parliament will give him a much stronger platform to strike out at the sect.
And it looks like Ludhianvi may have a better shot than at the last election in 2008 when he came second. His main rival has been barred from the race and a Reuters visit to his constituency of Jhang, in the heart of populous Punjab province, found no shortage of supporters. Punjab province is currently ruled by Najam Sethi, a career journalist, who was previously a member in ISI-installed caretaker government in Pakistan in 1996 after the dismissal of Benazir Bhutto's elected government. Both Najam Sethi and Chief Justice Iftikhar Chuahdry have silently allowed Ludhianvi Deobandi and other hate clerics to contest elections from Punjab and elsewhere despite the fact that Pakistani law and election rules do not allow election lobbying on sectarian lines.
"I cannot bring any change if I am sitting as a layman outside parliament," Ludhianvi, flanked by bodyguards, said in an interview. "If I get into parliament, everyone will be listening to what we want."
As he toured Jhang, Punjab, which served as the cradle of sectarian extremist groups in the 1980s, people in one village after another emerged from their homes to shower him with rose petals.
"If I get into parliament, I will be able to save this entire country from bloodshed," said Ludhianvi, who wears a thick beard and an embroidered skull cap and projects a commanding presence.
The election is seen as a milestone for Pakistan's fragile democracy, marking the first time a civilian government has completed a full term in a country which a long history of military meddling in politics.
Western powers are hoping the polls might deliver a government capable of grappling with huge domestic challenges and helping the United States bring the Afghan Taliban (Deobandi cult of Afghanistan) to the negotiating table ahead of a NATO pullout in 2014.
Any triumph by Ludhianvi Deobandi at the polls could be read as a sign that anti-Shia anti-Sunni Sufi sectarian violence by Deobandi militants – now seen as a top security threat – has made a troubling new in-road into the political sphere, which could further polarize the nuclear-armed country.
Ludhianvi was a leader of Sipah-e-Sahaba, a sectarian Sunni Deobandi group which emerged in Jhang in the mid-1980s with the support of Pakistani intelligence and which has since been linked to killings of thousands of Shi'ites and hundreds of Sunni Sufi Barelvis, Ahmadis and Christians. The Sipah-e-Sahaba is currently freely operating as Ahle Sunnat Wal Jamaat (ASWJ) and is alleged to have tacit support of Pakistan army and certain pro-establishment liberals.
The group's offshoot, Lashkar-e-Jhangvi (LeJ), evolved into one of Pakistan's most feared militant groups and has claimed responsibility for many attacks on Shi'ites and Sunni Barelvis, including a series of bombings that killed almost 300 Shia Muslims in the southwestern city of Quetta  and Karachi this year.
Police in Karachi, the commercial capital, suspect LeJ or similar groups are behind a wave of gun attacks on Shi'ites.
Pakistan banned Sipah-e-Sahaba in 2001 under pressure from the United States to crack down on militancy but the group changed its name to Ahle Sunnat Wal Jamat (ASWJ), which Ludhianvi heads.
Pakistan's sectarian fringe has long been plagued by divisions which make it hard to determine what role individual leaders play. But security officials see Ludhianvi as a member of a core group of ideologues whose anti-Shi'ite views have served as a source of inspiration for militants, though he denies any role in violence.
FALSE SUNNI-SHI'ITE BINARY
Deobandi militants and agenda driven or native media personnel continue to paint incidents of violence by Deobandi militants in Sunni-Shia binary terms which is both false and insensitive. Deobandi militants of Sipah Sahaba (ASWJ-LeJ) have killed not only Shia Muslims but also Sunni Sufi Barelvis, Ahmadis and Christians. The military has in the past quietly supported Islamist Deobandi politicians and parties in the interest of its own political agenda but it is not clear what stand the military-run security agencies that watch domestic politics are taking this time.
The army chief, General Ashfaq Kayani, has avoided the overt meddling in politics of many of his predecessors and repeatedly insisted the election must be free and fair.
The schism between Sunnis and Shi'ites developed after the Prophet Muhammad died in 632 when his followers could not agree on a successor. However, Deobandi militants in Pakistan are killing both Sunni Barelvis and Shias and as such there is no equality in violence or resistance against Deobandi militants by Sunnis or Shias.
Emotions over the issue have boiled in modern times and even pushed some countries to the brink of civil war. Pakistan is nowhere close to that, but security officials say groups like the LeJ and Sipah-e-Sahaba are stepping up their bloody campaign to persecute Shi'ites and are destabilizing the country.
These days, Ludhianvi is careful to portray himself as a man of peace and is waging a populist campaign to capitalize on resentment of Shi'ite landowners. In this pursuit, he has is being helped by certain "liberal" sections of Pakistani media alleged to have close links with Pakistan's military establishment. Ludhianvi and other Deobandi clerics are often humanized and promoted as prophets of peace by pro-estbalishment liberals including Najam Sethi and Raza Rumi of The Friday Times.
Coming himself from a modest background, Ludhianvi has vowed to build schools, hospitals and roads.
"This is a tribal area which was ruled by a few rich people who used to treat the poor people like slaves," said Ludhianvi.
"There is no education system or schools for girls and boys. Nobody even tries to build schools or colleges."
But other senior members of his ASWJ party are more vocal about their desire to restrict the rights of Shi'ites.
Aurangzeb Farooqi Deobandi, head of the party in Karachi, told Reuters in January that Shi'ites should be barred from holding important public office and their public religious activities should be restricted. Farooqi is also running for a seat in the national assembly.
In Jhang, Ludhianvi's blend of populism and sectarianism has earned him considerable grassroots appeal. He won 45,000 votes at the 2008 election, placing him second to Sheikh Waqas who won with 52,000 votes.
But Waqas has been barred from this election on the grounds that he had presented a fake education certificate, raising Ludhianvi's chances of victory. Removal of Waqas from elections indicates that Pakistan's pro-Jihadist military establishment is using its affiliates in Judiciary to disqualify anti-ASWJ anti-Taliban candidates from elections.
Politicians are taking note. Rather than making alliances with big businessmen or going door-to-door for votes, aspiring office holders like Azad Ansari, who is in the wool industry, are rallying behind Ludhianvi.
Ansari once served in the secular PML-N but now hopes Ludhianvi can help him make a mark in politics.
"I will get more popular if I join him," Ansari said.
Such sentiment has fostered a perception that leaders of the PML-N party, which controls Punjab, have deliberately been soft on sectarian groups for fear of alienating potential voters.
These suspicions were compounded when Rana Sanaullah Deobandi, Punjab's law minister and a PML-N stalwart, campaigned alongside Ludhianvi at a by-election rally in Jhang in 2010. Pakistan's incumbent Chief Justice Ifitkhar Chuahdry happens to be a first cousin of Rana Sanaullah Deobandi. Pakistan's Supreme Court has been extremely soft on Taliban and ASWJ Deobandi militants and has released hundreds of them in the last several years.
The spectacle of Ludhianvi reinventing himself sends chills through the Shi'ite community, which may make up to 20 percent of the population, though some estimates put the number lower.
"What can Ludhianvi do? He will do nothing but spread terrorism," said Raza Hussain, a resident of a Shi'ite neighborhood of Jhang.
Some fear that a victory for Ludhianvi and other hardliners at the polls will provide a veneer of political cover for violent sectarian extremists.
"This could be very dangerous," said an expert on Pakistani militancy. "This would give all of their activities political legitimacy."
But some security officials argue that bringing leaders like Ludhianvi into conventional politics may be a way to weaken the sectarian threat by isolating the most violent elements.
Conscious of the need to project a respectable image, Ludhianvi is careful to avoid the kind of inflammatory rhetoric favored by many in his party.
But the presence of young men wearing headbands with the symbols of banned anti-Shi'ite groups, who hung on Ludhianvi's every word during his whistle-stop tour, keeps Shi'ites on edge.
"He has done nothing for Jhang except terrorism," said Sheikh Hussain, a businessman. "They should be stopped."
(Editing by Nick Macfie for Reuters, further editing and amendment by LUBP)
Comments
comments