Pakistan Warms up to Elections Amidst Killings and Death Threats – by A Z
The elections scheduled for May have brought a degree of excitement and hope to a country that has witnessed a descent into violence and terrorism accompanied by economic woes over the past few years. Campaign posters, with the candidates' gleaming faces and party names emblazoned in Urdu calligraphy, seem to beckon one from nearly every blast wall and lamppost. This will be the first time in the country's history that a civilian government will hand over to another after completing its full five-year term in the office.
In most of Pakistan the politicians and candidates are highly used to campaigning based on ethnicity and rhetoric rather than ideology or substantive issues. Tribal and cast loyalties play an important role as in practice many candidates simply tag on to the main party tickets in order to exploit their captive electoral base. Class issues also do not surface except in the form of one-way promises, as most politicians are filthy rich and most voters abjectly poor. In fact deflecting class issues by appealing to ethnic constituencies and cast affinities is one of the malaises of the country's electoral system. When land and resources are scarce, and when the state represents the main way in which such assets can be acquired, it makes sense to want to see representatives of your own group in power. They will ensure you get your share, or more than your share. Perhaps even more important, they will ensure you are not deprived of your share.
Elections are never a simple business in a country where resentments fast become hatreds, murder is often more readily resorted to than discussion, sectarian killings more than reconciliation. However, these elections have another important dimension added to them as many secular and Shia candidates campaign under threat to their lives amidst palpable tension.
The sway of Islamists can be seen in the fact that many mainstream parties have made economic issues or corruption the centrepiece of their campaign, overshadowing the more pressing problems such as terrorism and extremist violence. Instead, the two biggest parties have sought collaboration with sectarian militants in some of the constituencies. While the PPP has already had a coalition government with the SSP in Punjab in 1993, the broad-based wooing of extremists by the PPP and PMLN that we witness now will lead to the mainstreaming of militant groups in a new phase of electoral politics in Pakistan.
Riven by sectarian violence, ethnic rivalries, and extremists' threat, Karachi is rightly described as a microcosm of the country in more than one respects: Shiites and Sunnis, Mohajirs and Pashtuns, Sindhis and Punjabis, Deobandis and Barelvis, feudal and urbanites all thrive in this Citi. And all live in lethally close proximity. Many Pashtun neighbourhoods are now dominated by Taliban. Perhaps the only two bona fide secular parties MQM and ANP are forced to campaign under existential menace from the extremists like TTP and SSP. One MQM candidate Fakhurl Islam was killed near his home in Hyderabad city in southern Sindh province. A few hours after his murder, Pakistani Taliban spokesman Ahsanullah Ahsan claimed responsibility and vowed to continue such attacks in future. Similarly Taliban militants are targeting the ANP leaders in the northwest, killing one of its senior politicians, Bashir Bilour, in a suicide attack in December 2012 in the city of Peshawar. On March 31, the Taliban attacked the motorcade of a campaigning ANP politician with a roadside bomb in the north-western city of Bannu, wounding him and killing two of his supporters. Another leader Mukarram Shah was killed on Sunday in Swat.
Apart from the candidates from MQM and ANP, Shia candidates participating in the election also remain concerned for their safety as they remain on the hit lists of SSP, LeJ and TTP, who all view them with unbridled hostility. At least one candidate in Punjab has been threatened and warned that he should not even distribute the pamphlets. One Shia candidate for the MQM adds, under the condition of anonymity: "We have been under a lot of threats. People are coming from outside this neighbourhood telling us not to hand out the cards. We've been told we could be killed. It is a big risk but we have to take this risk because it is our country too and whoever wins is going to be our leader and we have to choose him." This will make Shias feel further under siege in a country that has been unable to stop their genocide at the hands of the same militants over the past few years.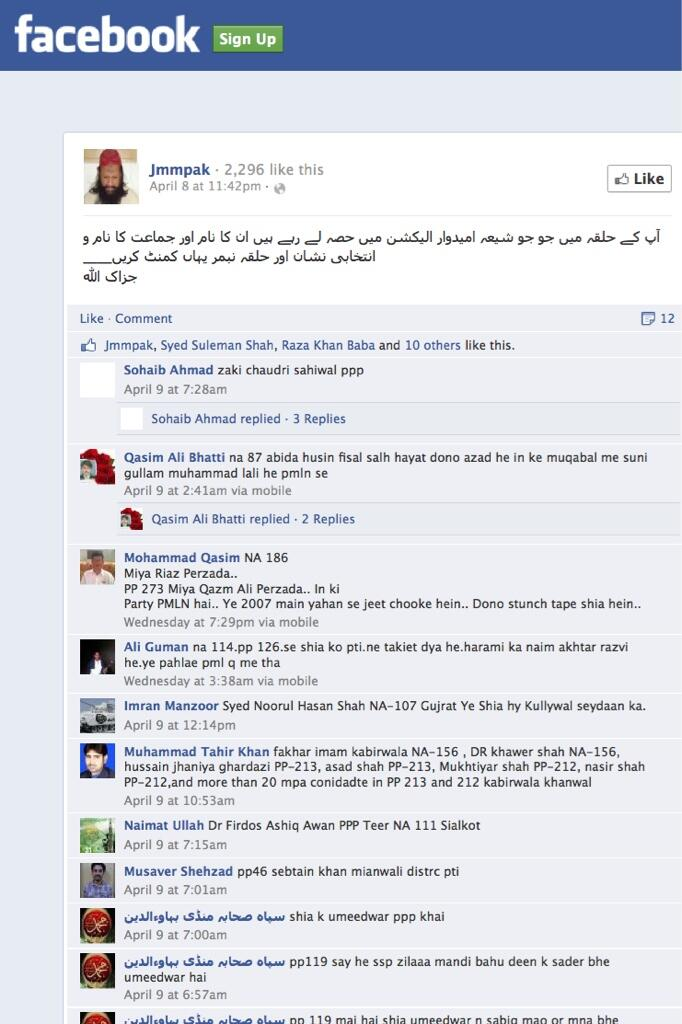 Comments
comments