LUBP pay homage to the martyred school principal Abdul Rasheed Khan who has been killed by the terrorist of Tehreek-e-Taliban pakistan with the assistance of their local partners from various Jihadi groups and anti-Shia terrorist outfit ASWJ/LeJ.
LUBP reiterates its stance against the anti-people and anti-education militant outfits and warn against hobnobing with these outfits for political means. We insist the leadership and activists of ANP to keep an eye on these elements busy in killing their officials and members of Shia community in the city. Giving a clean chit to the anti-Shia militants organisation is providing them a cover to act on part of their terrorists partners of  TTP.
The martyred principal had invited Malala Yousufzai to his school annual function to inspire children especially girls in his school. But unfortunately, Pakistan is no more a safe place for Malalas, Mehzar Zahras and Tahiras. Tahira was student of class 4th who also has been martyred after getting seriously injured in the grenade attack at The Nation School targeting Abdul Rasheed Khan.
It must be noted that Tahira was daughter of a local cleric and Pesh Imam at Rehmania Mosque, Maulana Noor Wahid. Maulana Noor Wahid is a deobandi cleric and associated to Jamiat Ulema Islam (F). People like Maulana Noor Wahid should insist their fellow clerics and religio-political leaders that these terrorists have no remoarse over killing innocent people, they must be confronted at every level to alienate them from the society and prevent abuse of religious arguments for the heinous crimes.
As ANP Sindh leader Shahi Syed has once commented, "The fire was sparked from the Minbar (pulpit) of the mosque and it can be extinguished by using it against this fire."
We offer our deepest condolences to the grief stricken families and share their pain, agony and haplessness by the hands of State backed terrorist network.
Hundreds attend funeral of slain principal Abdul Rasheed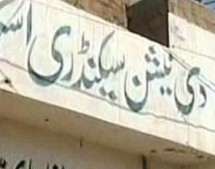 KARACHI: Hundreds of residents from Ittehad Town's Afridi Chowk on Sunday attended the funeral procession of school principal Abdul Rasheed Khan, who was killed in a gun-and-bomb attack on Saturday. He was buried in the Mochko graveyard.
However, it seems that the chapter of The Nation Secondary School has been closed with its slain principal. A number of parents, mostly labourers, drivers and vendors, have decided to pull their children out of the school. They said that boys would now contribute to the family's income by working while girls would stay at home.
"It is getting too dangerous," said Azmat Afridi, who runs a small grocery store in the neighbourhood. "I sent my son and a daughter to school because Rasheed Khan persuaded me to do so. But now there is no point in sending my children to school."
Abdul Rasheed Khan hailed from Swat, a scenic valley notorious for militant attacks on schools, a majority of them dedicated to girls. Many of the schools have yet to be revived because of lack of resources and deep-rooted fear among the area people.
Meanwhile, other parents decided to continue the studies of their children in other schools.
"I am getting my daughter admitted to another school a few blocks away," said Mohammad Rizwan. "We can't afford to send her to the same school. Besides, we don't know whether the school is going to stay open."
Mr Khan is survived by two teenaged sons, four daughters and a widow. His elder son is in the Gulf and the family will decide whether to reopen the school.
As Mr Khan's family refrained from divulging their future plans, close relatives said they believed the school was closed for good since people were afraid to send their children there. Besides, they said, Mr Khan's sons were too young to manage the school, that too in addition to the fear of more attacks.
Remembering the slain principal, neighbours said Mr Khan would charge nominal fee from students, especially for teaching girls. Being a local leader of the secular Awami National Party (ANP) and a resident of Swat, his mission was to promote girls' education. They said he had been deeply moved by Malala Yusufzai — who was wounded last year when militants shot her in the head at point-blank range — and would take pride in the fact that the teenager, who had now become a world icon for girls' education, belonged to his ancestral district.
"Abdul Rasheed Khan was killed for following the mission of Malala Yusufzai," Sindh ANP secretary general Bashir Jan told Dawn. He said that Mr Khan's killing presaged greater troubles in the city, particularly in the Pakhtun-dominated areas.
"His martyrdom shows how strong terrorists are becoming who want to dominate our society and make everyone follow their mediaeval dogmatic beliefs. If they are not stopped now, it will be too difficult to purge them later," said Mr Jan. "We sent a brigade to Swat to purge terrorists, but if they get control of Karachi, the entire army will be insufficient to get rid of them."
Mr Jan said though the attack was on a single school, its psychological effects would disseminate longer and further. "This attack has generated immense fear among parents… and this is the main objective of the militants," he said. "They will succeed when people stop sending their children to school. An illiterate child is easy fodder for militants to use for their evil agendas."
Moreover, it is feared that the death of Rasheed Khan, who had been pivotal in helping polio vaccination teams in his neighbourhood which mostly comprised people hailing from Swat, would also affect future anti-polio campaigns in the area.(Dawn)