PFUJ expresses deep concern over @BBCUrdu's decision to layoff most of its reporters in Pakistan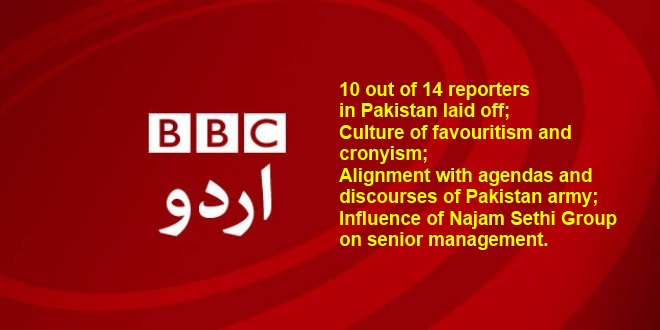 Pakistan Federal Union of journalists (PFUJ) expresses deep concern over the decision of the BBC Urdu Service management to layoff forcibly majority of its reporters in Pakistan.
"The decision is autocratic, arbitrary, unfair, without any justification and based on prejudice"
Last week, the BBC managers and HR officer suddenly made an announcement of retrenching of 10 reporters out of 14 across Pakistan claiming the move will help to save them 180,000 pounds during the next year.
The management's argument lacks rationale because the service has horde of managers that claims a major share of the salary budget and they remain unaffected by the recent announcement.
PFUJ President Pervaiz Shaokat and Secretary General Amin Yousuf said that the BBC UrduService itself had announced that 11 percent of the total budget saved in previous restructuring would be taken forward until 2014, which clearly means that the latest restructuring is unjustified.
"The decision means depriving reporters from livelihood whose years of hard work has played a significant role in making BBC one of the most credible news sources in Pakistan.
They said that "The BBC reporters in Pakistan have been working under constant stress for several years due to an unusual increase in their workload and have at times risked their lives while performing their duties, or received threats for the kind of stories they were doing,"
"Instead of recognizing their hard work, they are being constantly bullied, harassed, terrified, abused, mistreated and at times threatened with job sacking by the top management.
"Bullying, harassment and discrimination is reported to be widespread in BBC Urdu Service. This is clear negation of BBC's its own policy about respect at work place"
PFUJ urge the BBC's top management to immediately intervene and stop theBBC Urdu Service management from taking such arbitrary action". We assure reporters of BBC Pakistan of our all-out support.
PFUJ also demand that BBC's management should probe circumstances under which they were sacked.
Comments
comments