Accepting a position of political power by a journalist is a direct clash of interest: Mazhar Abbas's column on Najam Sethi
Najam Sethi will certainly go down in history as the first journalist to get the top slot in Punjab, even if it is for only 40 or 50 days. But would he prefer to be remembered for his journalistic credentials or for his political posts?
Sethi reportedly defended his decision, saying that journalists often criticise wrongdoings in the system but shy away when actually offered the opportunity to run that system. A few years back senior journalist Rahimullah Yusufzai, declined an offer to become a Minister in the NWFP cabinet, saying: "my job is journalism and not politics. I am happy where I am." Should Sethi have done the same?
There is no doubt that a good journalist should have an intimate understanding of politics, along with good contacts. However, a good journalist should never use his/her contacts or profession as a convenient ladder that can be climbed for political gain.
Having said that, there is no bar on any journalist to quit his profession and join politics. In fact, a good journalist can become a good politician, so long as they quit journalism first.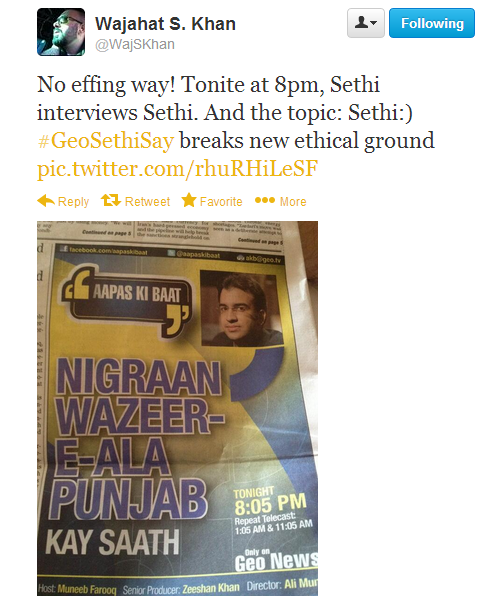 It is part of our job to keep close contacts with politicians, bureaucrats, military, police, intelligence agencies and a cross section of society, but only for professional reasons. Problems arise when good contacts turn into good friends and we cross the "red line" between professional relations and personal favours. Unfortunately, we often cross that line.  In the past, journalists who reached the position of editor often even avoided attending official dinners held by governors or chief ministers and rarely attended functions held by presidents and prime ministers.
A journalist should not accept any positions of political power because to do so is in fact a direct clash of interest. Secondly, a journalist must look for the story but not become part of the story. Thirdly, it is among the basic norms of journalism, that we should not accept any favours, political or otherwise. Fourthly, if we considered the Media as a watchdog or, as is often said, the fourth pillar of the State, then how can we journalists become a part of any other organ of the State?
But Pakistani journalists have been joining politics and serving in government ever since Pakistan emerged on the map of the world. The Ministry of Information played a pivotal role in it, by corrupting the journalists through different kinds of 'favours', starting from plots and tours and also by offering money both directly and indirectly.
Over the years, top journalists and columnists have been approached by, and have themselves approached, top politicians in order to get their support and vice versa.
It all started when the late Altaf Hussain quit his post as editor of Dawn and joined Ayub Khan's cabinet. Since then, many top former editors and journalists have also joined this elite club, such as Mushahid Hussain Syed, Dr Maleeha Lodhi, Sherry Rehman, Hussain Haqqani, and others. There are also a number of columnists who work as "advisers" for different political parties.
The names of some of senior journalists also popped up in the Mehran Bank scam for allegedly accepting money in the 1990 elections. None of them have challenged these allegations.
Sethi is an anchor par excellence and a very powerful writer indeed. He will certainly want to be remembered for his 40 years of journalistic work and not for his 40-odd days as caretaker CM, no matter how good an administrator he turns out to be.
Source: Express Tribune, 29 March 2013
Comments
comments