Malik Riaz, not Najam Sethi, is the caretaker Chief Minister of Punjab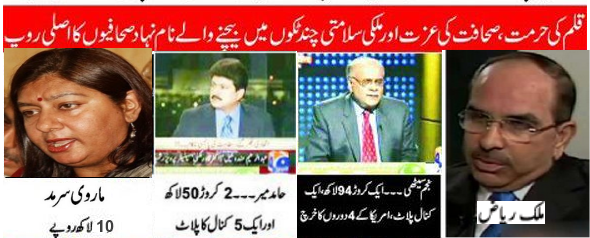 It is a fact that Pakistan's military establishment and its various Punjabi-Muhajir affiliates (e.g., Malik Riaz of Bahria Town, Yunus Habib of Mehran Bank) have kept a large number of TV anchors and journalists (both in Islamist dominated Urdu media and lifestyle liberals dominated English media) on their payroll in order to influence the media discourse and public opinion.
The most prominent name in the list of journalists (published by Aaj TV) allegedly on the payroll of real estate tycoon Malik Riaz was that of Pakistan's top "liberal" columnist and anchor Najam Sethi. An account of favors given to numerous journalists in shape of money, car and property etc is recorded in the trademarked letterheads of Bahria Town published by Aaj TV and other websites.
Critical readers will note that the list of for-sale journalists comprises names from both right-wing and fake-liberal camps of journalists, from Urdu and English press. This confirms the existence of a fake liberal right wing alliance in Pakistani media which in the main remains subservient to the agendas and discourses of Pakistan's military establishment in various direct and refined ways.
No wonder there is so much silence and misrepresentation in Pakistani media on the genocide of the Shias, massacres of the Balochs, Pashtuns, Ahmadis and other communities at the hands of Pakistan army and its various proxies.
Seen from that angle, there is not much difference between right-wing daily Ummat (or Jamat-e-Islami) or liberal-wing The Friday Times (or Jinnah Institute).
Najam Sethi, the cartaker Chief Minister of Punjab, is a close friend of Malik Riaz, Pakistan's leading and biggest land grabber. In fact, Sethi and some of his colleagues (Hamid Mir, Marvi Sirmed etc) are allegedly on Malik Riaz's payroll. This may explain from where did Mr. Sethi got millions of dollars to buy most expensive apartments in the United States.
Malik Riaz started Jinnah newspaper in 2002 and wanted to become columnist but he failed to do so that was one of the reason for paying top columnist to write for him.
Malik Riaz has close links with Saudi-Wahhabis and ASWJ-LeJ. He is the same person who offered sanctuary to Deobandi militants of Lal Masjid / Jamia Hafsa and rebuilt a new Jihadi Deobandi madrasssa for Umme Hassan and Maulana Abdul Aziz of Lal Masjid. He also has liberal Marvi Sirmed on his payroll.
In other words, Malik Riaz's influence spans from Islamofascist Umme Hassan to lifestyle liberal Marvi Sirmed.
In 2011, Chief Justice of Pakistan, Iftikhar Mohammad Chaudary had ordered inquiry into alleged land-grabbing by Pakistan Army's Defence Housing Authority (DHA) and Malik Riaz's Bahria Town. A judicial report concluded that DHA and Bahria Town were involved in massive land grabbing and encroachment under the nose of the country's regulators and police. The inquiry report revealed that three leading property developers, including Bahria Town and DHA, illegally seized around 30,000 kanals (3750 acres) of land using private militias. The criminal activities of the groups were perpetrated in connivance with police, revenue department and lower judiciary, the report added.
Sources claimed that Malik Riaz of Bahria Town has been rendering bribes of billions of rupees to renowned politicians, military officials, and even journalists in a bid to perpetuate his activities with complete impunity.
It is noteworthy that a senior anchorperson (Talat Hussain), while talking to saach.tv, claimed that Malik Riaz had given a "precious car" as bribe to Najam Sethi. Another anchorperson claimed that Riaz had also gifted a sumptuous villa in Dubai to Mr. Sethi.
http://www.saach.tv/2012/06/05/cj-scandal-malik-riaz-meets-leading-journalists/
On June 6, 2012, Talat Hussain revealed Malik Riaz had informed him that certain anchors who referred to their sources as 'churiya' (birdie) and other such birds, in their respective shows, were in fact referring to him (Riaz). However, Talat Hussain did not take any names, perhaps, because it is well known in news circles that Najam Sethi often refers to his sources as 'chiriya'.
[youtube id="wLUV9r3eDO0″ width="600″ height="340″ position="left"]
On the very same day Najam Sethi had an outburst during his show when his co-host Muneeb Farooq repeated the allegations hurled by Hussain. Sethi said he would be sending a legal notice to Talat Hussain. But Sethi wouldn't stop there: he had a few accusations of his own to hurl towards Talat Hussain. Sethi accused Talat, without mentioning his name, of reporting for Stratfor, a global intelligence company which Sethi said was a front for the Central Intelligence Agency (CIA), sourcing WikiLeaks. [Talat clarified his position on this allegation in a subsequent talkshow.]
Be that as it may, close aides of the popular newsman claim that up till now legal actions has not been taken by Sethi. When Sethi was contacted, he refused to divulge into his actions against Talat.
Talat Hussain was not available to comment on the story, although Raza Muhmood Agha, who is the producer for Hussain's talk show told The Express Tribune that it was unlikely that Sethi would send them a legal notice since Hussain had already clarified all accusations levelled by Sethi, the very next day on his talk show.
http://tribune.com.pk/story/394047/television-anchors-get-caught-in-malik-riaz-storm/
Talat Hussain exposes links between Najam Sethi and Malik Riaz of Bahria Town
[youtube id="nG3ucCH1PCs" width="600″ height="340″ position="left"]
http://www.siasat.pk/forum/showthread.php?116274-News-Night-with-Talat-6th-June-2012-Malik-Riaz-Case
News Night With Talat on Dawn News 6th June 2012
[youtube id="FPvxHzJ295c" width="600″ height="340″ position="left"]
Sethi's Aaps ki baat
[youtube id="UGnkCrp6ZA4″ width="600″ height="340″ position="left"]
Note: Watch last 20 mins of Talat Hussain's show for his allegation against Sethi while last 15 minutes of Sethis's show to see how he threatens Talat Hussain with legal consequences and also alleges that Talat is a CIA agent.
Najam Sethi talks about alleged benefits from Malik Riaz
[youtube id="M1nRrxkl42Y" width="600″ height="340″ position="left"]
Talat Hussain's allegations are Baseless: Najam… by pakdiscussion
In his program ,Talat Hussain explained his position about agreement with US based organization and looks fine and appropriate. Talat Hussain also declared his assets and bank accounts and dared Najam Sethi to follow the example.
Example of Malik Riaz's links with and influence on Pakistan military establishment
Lt Gen Shahid Aziz quoted Lt Gen Khalid Maqbool, a former NAB Chairman, as saying while trying to convince him that:
"If you stop corruption, there will be no development. If ministers and politicians are not given personal benefits in contracts, why would they pursue development schemes? They have to be given personal incentives…contracts to their sons and kinship."
Once Gen Musharraf had personally called him and asked him:
'…. drop the name of one Malik Riaz Hussain from the exit control list. (Riaz Hussain was one of prime accused in a multi-million-forest land scam) As President of Pakistan, I give my personal guarantee that he (Malik Riaz) would not run away. Isn't a personal guarantee of the President of Pakistan sufficient to satisfy you'? Malik's name was removed from the ECL subsequently. NAB; A page from our history Inam R Sehri http://www.seamonitors.org/id148.html
He said when he put the name of Malik Riaz Hussain (of Bahria Town) in the exit control list while investigating a forest land case, he had to face bitter arguments with President Musharraf to take out Malik`s name from the ECL. "As President of Pakistan, I give my personal guarantee that he (Malik Riaz) would not run away. Isn`t a personal guarantee of the President of Pakistan sufficient to satisfy you", he quoted Mr Musharraf as saying. Malik`s name was pulled out of the ECL subsequently, he said. REFERENCE: Musharraf stopped probes, says ex-chief of NAB By Khaleeq Kiani 6th December 2009 http://archives.dawn.com/archives/37897
…
Sharifs could not say no to Malik Riaz in Najam Sethi case
By Iram Salim
Islamabad, March 27 (www.pakdestiny.com) The sparrow of Najam Sethi, property tycoon Malik Riaz, has finally won the Sharif Brothers to hand over the 'priced' caretaker chief ministerhip to his man.
Sharifs also seemed to be afraid of the ire of Jang Group for not agreeing on the name of their anchor – Sethi. By agreeing on Sethi's name, Sharifs think they have got closer to Malik Riaz as well as to the Jang group but only time will tell.
Sethi has shown how desperate he was to get some "official protocol" by entering the government setup. However, the actual kingmaker behind the scene is none else than the property tycoon Malik Riaz.
http://www.pakdestiny.com/sharifs-could-not-say-no-to-malik-riaz-in-najam-sethi-case/
…….
Malik Riaz denies 'buying' journalists
June 17, 2012
* Real estate tycoon says he never distributed money, house, plots and air tickets among journalists
* All such allegations aim at defaming journalists
Staff Report
LAHORE: Zahid Hussain Bukhari, counsel for property tycoon Malik Riaz, read out message of his client that he (Riaz) never distributed money, houses, plots or air tickets among journalists.
Addressing a press conference, Bukhari read the message, "News reports alleging me for distribution of money, houses, plots and air tickets to various journalists are absolutely false and baseless. I deny and reject them completely."
The message read further the allegations were anonymous which proved that their aim was to defame journalists. This is the handy work of the dirty tricks section of a political party.
"It is reported that I told TV anchor Talat Hussain that I was one of the 'chirya' or source of anchor Najam Sethi's information. This is a white lie. I have never met or spoken with Talat Hussain. I demand him swear on oath that he talked to me and passed on this false information too. I reserve my right to sue him for this false allegation. I make it clear that I have never given money, plots, air tickets to Najam Sethi or anyone else as alleged," the message also read.
"In another instance, the allegations are printed on Bahria Town letterhead, which could have been stolen from any of Bahria Town offices across the country. This is a fake document and was not prepared by the administration of Bahria Town," it also read. "If it had been an internal Bahria Town document, at least it should have shown that these favours were given to various alleged recipients and not as received shown on document."
To a question, Bukhari said that he was reading out this letter as a messenger.
About press conference of his client while holding the holy Quran in hand, Bukhari said it was Riaz's personal act and "I did not like it". He said that he respected the judiciary and would go to any extent to defend and protect its sanctity.
http://www.dailytimes.com.pk/default.asp?page=2012%5C06%5C17%5Cstory_17-6-2012_pg7_23
Comments
comments