Letter to God about Pakistan Cricket – by A Z
My dear Almighty,
Please keep an eye on our cricket, the only thing left for us to enjoy. I can understand that you may have been busy lately, facilitating the appointment of a new Pope. Though I am no jilted lover, I have also been asking you to take the matters of our cricket in your own hand. What do you think? If we were able to run anything except weapons of all scales of destruction, which our national poet also fancied, would we be where we are? Anyway I don't want to get political.
My problems only relate to cricket and in that respect not only have I been a faithful complainer but have also prayed to you on a couple of occasions. Look, indulging in Pakistan's cricket begets frequent heartburns. Our troubles span the spectrum of trivial to traumatic and we look up to you to cure those instead of helping us faithfully enduring those troubles. I know you expect us less pious Pakistanis to frequently experience pain and to express it to you, but, dear God, cricket is no ordinary matter of life like suicide bombing or target killing. For only cricket gives inspired voice to our souls and momentarily spellbinds us into an illusion of national unity. There are about seventy million cricket experts in Pakistan but they are held hostage by about 20 to 30 inept people who run the affairs of our cricket board. Let me pour out to you what I want:
1. First and foremost please get us rid of Misbah in one-day cricket. Bombing a few innocent people does not deserve a punishment as severe as this. What has this guy got to do with limited overs cricket. Also he leads a very lacklustre Pakistani cricket team that neither indulges in match-fixing nor is overtly religious. It only goes about playing cricket. It seems we are back in the boring old days of Mushtaq and Imran.
2. Then can anyone tell me what is Younis Khan doing in his team. This guy has never indulged in match-fixing, does not do any politics, does not indulge in backbiting, has never been complicit in any conspiracy, and always speaks the truth. Also when he completes a century he does not perform prostration (sajda) to you. Knowing him a little bit I am sure he does it when he goes home and kneels down to pray and thank you, but, God, that is not enough. He has to do it in public. Religion is not a matter between you and him; instead it is our single most important public pursuit. Similarly when he is interviewed he does not thank you loudly before talking. When I once pointed this out to him he said that he does recite your name (Bismillah) in his heart before speaking. But that is neither enough nor an excuse for not doing it visibly. God, I tell you, this guy is not one of us. The rest you know better.
3. Please get us rid of Kamran Akmal because dropping catches without the excuse of match-fixing is not palatable at all. Besides, this guy is totally useless as batsman outside the subcontinent. Please don't get angry, we will never play without an Akmal, I vow to you, even if it has to be Kamran's spouse. In this case we can replace Kamran with his other brother Umar, in one-dayers, who is a fairly capable wicketkeeper and can get better with practice.
4. Please, for a change if nothing else, let Pakistan go on at least one tour where Imran Farhat is not a part of the touring party. I want to see for a while how cricket feels without Imran Farhat being around.
5. Please ask an agile angel to field for Nasir Jamshed. He is never going to cut it in the field.
6. Now I will not ask you to get us rid of Shoaib Malik because, given his connections, that might create a situation of conflict of interest for you.
7. Please (this one let me whisper in your ear and kindly keep it between you and me) make Hafeez the captain and a successful one because he is from the same town as I. And that for us matters more than anything else especially for people like me, who are not religious enough to dwell into sects, dealing in regional biases is the only way to feel Pakistani. Moreover, he is the best Pakistan captain I have seen since Saleem Malik. Now don't get me wrong please, I know you don't like Saleem because of his 'immoral' match-fixing but I only meant his acumen of the game. Even though Salman Butt also indulged in match-fixing as the captain, he was at least a Hafiz e Quran and always wore Islam on his sleeves.
Yours worshippingly,
Asif  Zaidi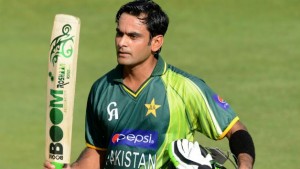 Comments
comments