5 years completed – obituary of media gurus – by Ahmed Iqbalabadi

The current political government which was a coalition of PPP, MQM, PML-Q, ANP and at various times had PML-N and JUI-F as partners, has completed something which was just not expected from it – completing five years! What was constant during the last five years was the imminent departure of the PPP government and the multi-pronged threats it faced. The Supreme Court led by an antagonist Iftikhar Mohammad Chaudhry, a Punjabi establishment that had all the signs of Zia ul Haq's creatures and an overtly free and self serving media.
While Iftikhar Mohammad Chaudhry will breathe his last upon his retirement in December 2013, the Punjabi establishment will continue to weaken as their targets weren't eliminated despite of arousing ghairat, sovereignty, as well their militant pawns, it is the media gurus who became larger than life during this period that will meet their logical end. They used lies, they used innuendos, they made fun of the political leadership, yet the maturity they had allowed them to complete their term. How good they were or how bad they were would be accounted for in the general elections. What requires to be done is the accountability of the media which kept entire Pakistan on tenterhooks because of their sensationalism and also gave Pakistan a bad name by coming up with stories that were picked up by foreign media.
They trivialized terrorism as "militancy" and "askariat pasandi", effects of global recession on Pakistan as "krupshion of the rulers" and also supported the right winged terrorists of Pakistan by giving them front page and headline space.
The people of Pakistan demand accountability of the media and the demigods it created.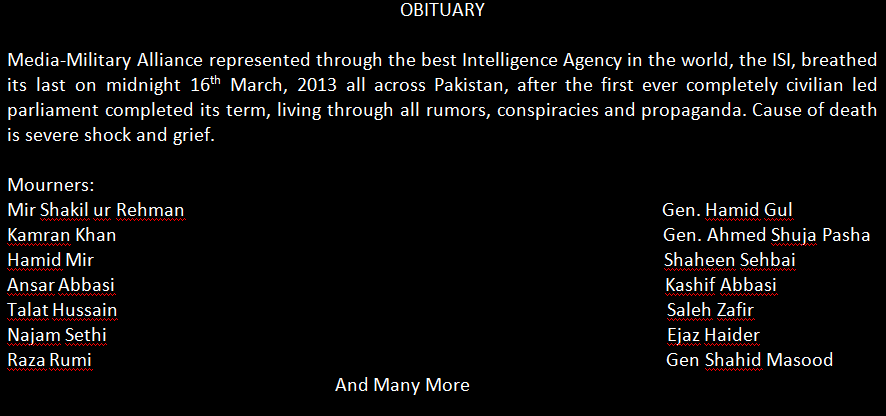 Comments
comments