Abbas Town massacre: Police arrests the prime suspect Deobandi militant of ASWJ-Taliban
Karachi (14 March 2013): Police announced to have arrested the prime suspect in last month's Abbas Town blast, along with his two accomplices from Karachi on Thursday, Express News reported.
It was revealed that they were associated with Tehreek-e-Taliban Pakistan (TTP). TTP is based in Pakistan's Tribal areas (FATA) and is present in urban areas of Karachi, Quetta, Lahore and Peshawar in the guise of Ahle Sunnat Wal Jamaat (ASWJ, aka Lashkar-e-Jhangvi LeJ).
The suspect (a Deobandi militant) was identified as Alam Sher Mehsood Deobandi and his two accomplices were identified as Mansoor and Inam Ullah Mehsood.
Karachi police carried out a raid operation in Orangi Town, where Mansoor Deobandi and Inamullah Mehsud Deobandi were arrested. They admitted to charges of being involved in the Abbas Town blast and other terrorist acts in the city. At least 40 Shias and 20 Sunnis were massacred by Deobandi militants of ASWJ-LeJ-Taliban in the Abbas Town massacre.
According to the police, on the basis of details provided by the two criminals, police carried out an operation in Khuda Ki Basti near Surjani Town. The prime suspect opened fire at the police and was caught after return of fire by the police. A press conference by the police revealed detailed information about the individuals arrested.
Speaking to media representatives on Thursday, senior police official Shahid Hayat said police first took into custody two members of the banned Tehrik-i-Taliban Pakistan (TTP), Khairdeen and Ishaq, after an encounter in Karachi's Sea View area.
"Two pistols and 100 kilos of explosives were recovered from their possession," said Hayat.
Both suspects made intriguing revelations upon which, Hayat said, police raided Khuda ki Basti in Surjani Town and nabbed four of their accomplices.
Police further claim to have recovered around 250 kilos of explosives from the possession of the four, who were identified as Irfan, Inamullah, Bashirullah and Aalam Sher Mehsud.
He claimed the arrested belong to the TTP and were involved in the Abbas Town blasts which destroyed several apartments and shops and also injured around 200 people on March 3.
Earlier in the day, another commander of the TTP Qari Bilal was killed in a shootout with security forces in the city's Manghopir area.
According to police officials, Qari Bilal Deobandi was involved in the murder of Parveen Rehman, a social worker who was gunned down in Karachi on Wednesday.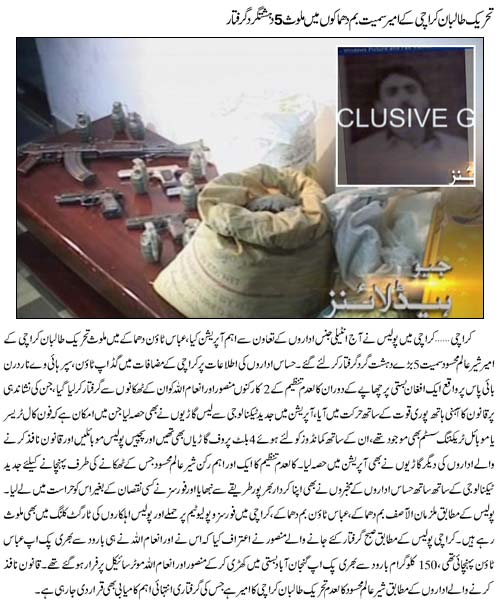 Sources:
http://jang.com.pk/jang/mar2013-daily/14-03-2013/u139678.htm
http://jang.com.pk/jang/mar2013-daily/14-03-2013/updates/3-14-2013_139669_1.gif
http://dawn.com/2013/03/14/abbas-town-bombing-culprits-arrested-in-karachi-says-police/
http://tribune.com.pk/story/520748/abbas-town-tragedy-three-criminals-arrested-from-karachi/
Comments
comments