PMLN and Sipah Sahaba (ASWJ) enable minority persecution
Source: alexpressed
PMLN has been claiming recently that their track record in terms of terrorism/ law and order has been good. Some of the anchors on the mainstream media have also been touting the same line but nothing could be farther from truth. There has been a trend of violence against minorities in Punjab including Christians, Hindus and Shias. The worrying fact is that Punjab administration has overtime and as a trend ignored the communities identified at threat and has not acted despite alarms raised by the Police, specially in cases of blasphemy. The Chief Minister has relied on suspending a few officials after every incident but (i) the administration refused to take action in presence of threat and (ii) the PMLN continues to support terrorist organisation Sipah Sahaba aka Ahle Sunnat Wal Jamaat (ASWJ).
PMLN and Punjab Government officials were held responsible after the 2009 Gojra massacre when eight Christians were killed and several dozen houses torched. Sipah Sahaba (ASWJ) militants were arrested when they were found responsible for the massacre but no meaningful actions were taken and prosecution of Sipah Sahaba ASWJ militants was not progressed. The investigation report submitted by Justice Iqbal Hameedur Rehman following the Gojra massacre made several recommendations which included the comment that the Punjab administration was irresponsible and did not liaise well with the Police or give necessary orders to take preventive actions.
What happened at Badami Bagh and what was PMLN's responsibility?
As per law, the Police is required to conduct an investigation by a SP level officer after a blasphemy complaint is lodged, and register an FIR or arrest only if sufficient evidence is found. Saawan Masih, the Christian resident of Joseph Colony Badami Bagh Lahore falsely accused of blasphemy was arrested by the Police after a complaint was lodged against him and an FIR registered. There was no investigation carried out, but this has become a standard practice of the Police considering the sensitivity of blasphemy cases as the life of the accused is in danger. There have been several incidents when accused have been killed out of court or the judges killed after the decided in favour of the accussed and set them free. The Police intends to protect the accused and normally arrests them as soon as a complaint is lodged to avoid any violence courtesy mob mentality.

Since there is serious threat of violence and arson in such cases, at this stage after arresting the accussed, the Police normally expects orders from the administration (Punjab Govt in this case) for preventive actions which may include imposing section 144, reinforcements sent, permission to use tear gas if needed, arrest possible suspects who may be involved in violence.

The Police did arrest Saawan Masih which according to them ensures the individual's security but no orders of preventive measures were given by Punjab Government to the Police. The Police vacated the area to ensure no life is lost knowing the threat of violence but expected orders from administration to take preventive measure like which never came. The Christian community was left at its own and 36 hours after the arrest, the mob torched more than 178 houses in Joseph Colony. 36 hours is more than enough time to take actions and steps to avoid the potential violence.

The Police can not be expected to take such decisions on its own but they need political backing. If they do take such actions without orders from the administration, they can face suspensions or court orders against them. It was the responsibility of Punjab Government solely but they watched the Christians being persecuted as spectators. They could have deployed Police in Joseph Colony, the CM could have issued a strong statement, the Police could have been given political backing to march around the area and arrest the suspects but the Punjab Government did nothing at all. This is not a single incident, it has become a trend with Gojra massacre a similar case. The Police officials were held responsible by the Punjab Government in both incidents of Gojra and Joseph Colony and suspensions and demotions were used as the post disaster solutions trying to cover up the failure of the Government itself.

Watch Najam Sethi explain this in Aapas Ki Baat 12 March 2013 – YouTube Link, Facebook Video Link 
PMLN MPA Muhammad Riaz /other leaders directing responsible for inciting violence resulting in houses torched
A report published in DAWN on 9th March 2013 documents the statements of the Christians of Joseph Colony Badami Bagh Lahore who were eyewitness to the developments in the area before the torching of houses actually took place. They tell DAWN:
 James Rehmat, a Christian worker, openly accuses the PML-N government of actually patronising the mob. "Some top leaders of the N-League, including Malik Riaz (local MNA) led the procession. On Friday night, another local PML-N leader came and had banners put up against blasphemy," he points upwards to freshly put up cloth banners saying 'The penalty of blasphemy is only beheading'.

Bishop Akram Gill, of the Emmanuel Church also stands and makes an official complaint against the Sharif-led Punjab government. "The Shantinagar and Gojra incidents too happened during the Sharifs' rule. How is it that when they are not in power, we tend to live more peacefully?
PMLN backed land mafia, traders and political leaders staged the violence with PMLN not stopping them
GEO News reporter Ahmed Faraz reports in Capital Talk dated 11 Nov 2013 that the locals believe that some of the traders and industrialists of Badami Bagh region backed by PMLN wanted to take over the land (Joseph Colony) to build godowns. He adds that FIR  had been registered, Sawan Masih had already been arrested and situation was at calm but 36 hours later violence erupts which shows there was someone else inciting violence. A traders election is scheduled on 20th March 2013 and those who registered the blasphemy case (PMLN backed traders, industrialists and political leaders) also nominated six of the opposition trader party in the case to make it difficult for them to contest the elections against PMLN backed traders. The locals claim that PMLN national/provincial assembly candidates Asad Ashraf and Ghazali Saleem Butt were directly involved in this episode.

Watch Capital Talk's 8 min section – Facebook Video Link or YouTube Video Link
Amir Mir writes in another report published in The News on 11th March 2013:
The anti-Christian violence in Lahore where 100-plus houses and shops were ransacked, looted and finally set ablaze by a group of fanatics has further blemished the already depressing record of the PML-N government which has mostly failed to protect members of the minority communities from the wrath of the extremists and terrorists.
This is not the first time PMLN has been blamed for inciting violence against the minorities. The Gojra massacre of Christians also had fingers pointed on PMLN. Amir Mir writes in the same report how citizens belonging to Christian and Ahmadi community or those speaking for them have been targeted as a trend in Punjab with no meaningful actions taken by the administration.
According to careful estimates, during the five-year tenure of Shahbaz Sharif as chief minister of Punjab, over 200 Ahmadis, Christians and Shias were killed in the province in hate-drive attacks, with some of the horrific attacks targeting the minority communities taking place in Lahore. In an almost similar incident, hundreds of hooligans belonging to the Sipah-e-Sahaba Pakistan (SSP) attacked a Christians' locality in Gojra city on July 31, 2009 and burnt alive eight members of a family besides setting ablaze over 100 houses. The failure of the Punjab government to prosecute any of the 70 accused held responsible for the gory incident had compelled the family head to leave Pakistan after the Punjab police failed to arrest the culprits who were hurling death threats to him for pursuing the case.

The anti-Christian attacks were triggered by reports of desecration of the Holy Quran by some Christians, which eventually proved false. Five of those burnt alive were women and children who could not run to save their lives.

A total of 72 people were nominated in the Gojra attacks' FIR who were set free one by one because the complainant in the murder case, Almas Hameed Masih, a resident of the Christian Colony, decided against pursuing the case and left Pakistan to save his life. Almas had actually nominated the president of the Toba Tek Singh chapter of the Pakistan Muslim League-Nawaz (PML-N) in the FIR as one of the accused who was held responsible for the July 31, 2010 incident along with the local leadership of the SSP which had been renamed as the Ahle Sunnat Wal Jamaat (ASWJ). Those nominated in the case registered under section 7 of the Anti Terrorism Act included Abdul Qadir Awan of the PML-N and Maulana Abdul Khaliq, Qari Abidur Rehman Shah and Hafiz Muhammad Imran of the ASWJ.

Ten months after the Gojra tragedy, two fidayeen squads of the Punjabi Taliban targeted two Ahmadi mosques in the Model Town and Garhi Shahu areas of Lahore and killed over 100 people who were offering Friday prayers. Claiming responsibility for the May 28, 2010 twin terrorist attacks, Mansoor Maawia, a spokesperson for the Punjabi Taliban, had said, "No Ahmadi would live in peace in Pakistan. Our war against them will continue till their complete elimination because they are as bad infidels as Jews are." It later transpired during investigations that the master planner of the twin attacks was in fact a doctor of the Jinnah Hospital, Dr Ali Abdullah, who was also the president of the Jamaatud Daawa Medical Wing. He told his interrogators that while pursuing his medical degree at Allama Iqbal Medical College, he had received armed training in Azad Kashmir at a Lashkar-e-Taiba (LT) training camp being run by Hafiz Saeed's Jamaatud Daawa (JD). His arrest showed for the first time that the LT was a part of the Punjabi Taliban who have let loose a reign of terror across Pakistan, especially targeting the minority communities. However, none of the accused in the twin attacks has so far been taken to task.

Seven months later (on January 4, 2011), Punjab Governor Salman Taseer was shot dead in the federal capital by Malik Mumtaz Qadri, a bodyguard from the Elite Force of the Punjab Police. The killer later explained that he had assassinated Taseer because of his criticism of the blasphemy law and his efforts to secure a presidential pardon for Aasia Bibi, a poor Christian woman already condemned to death by a Pakistani Anti-Terrorism Court for having committed blasphemy. Qadri had admitted in his confessional statement that he was actually provoked for the murder by the fiery speeches of two Rawalpindi-based clerics Mufti Hanif Qureshi and Qari Imtiaz Hussain Shah. Mufti Hanif is the ameer of a Rawalpindi-based religious outfit, Shabab-e-Islami Pakistan while Imtiaz Shah is the imam of a Rawalpindi-based mosque called Amna Masjid.

Two months later (on March 2, 2011), Federal Minister for Minorities Affairs Shahbaz Bhatti, a Roman Catholic and an outspoken critic of the blasphemy law, was shot dead in Islamabad. The responsibility for the assassination was placed on the Punjabi Taliban because of a pamphlet found at the place where he was killed. Written in Urdu, the leaflet claimed that Bhatti had been killed because of his opposition to the blasphemy law. His killers have yet to be arrested.

The next in line to be killed by the Punjabi Taliban was Bargeeta Almby, a 72-year old female Christian charity worker from Sweden, who was shot in the Model Town area of Lahore on December 3, 2012 for allegedly backing two Christian priests who had been accused of committing blasphemy, the preliminary police investigations have indicated. Bargeeta Almby, the managing director of the Full Gospel Assemblies (FGA), a church fellowship founded in the United States with congregations worldwide, was returning home from her Kot Lakhpat office when two unidentified motorcyclists shot her in the Model Town area of Lahore where she had been living since long. The day Bargeeta was targeted in Model Town, another significant incident took place in the Q Block area of Model Town where over a dozen masked men carrying arms and digging tools, vandalised the tombstones of 100-plus graves at an Ahmadi cemetery. Three months before this incident, Warren Weinstein, a 71-year old Jewish American US Aid official, was abducted from his Model Town home in Lahore (on August 13, 2011) by armed men belonging to the Lashkar-e-Jhangvi (LJ) who eventually sold him to the Tehrik-e-Taliban Pakistan (TTP).

The ugly episode in the Badami Bagh area of Lahore took place at a time when the PML-N government in Punjab was already under fire from its political opponents for trying to strike a seat adjustment deal with the ASWJ in south Punjab for the upcoming general elections. However, a Punjab government spokesman refuted the impression that it has failed to protect members of the minority communities because of a soft corner for the banned militant or sectarian outfits.
Some of the media reports stating Al-Qaeda linked Sipah Sahaba ASWJ behind Gojra massacre are listed below. PMLN has formed a political alliance with Sipah Sahaba ASWJ and probably that explains why there has been no action despite a trend of violence by them against minorities.
Daily Times, 5 August 2009 – Link
Sipah-e-Sahaba Pakistan (SSP), an outlawed pro-Taliban sectarian group, and its Al Qaeda-linked offshoot, Lashkar-e-Jhangvi, were suspected of orchestrating the attack in Gojra, Rana Sanaullah told Reuters by telephone. He claimed "masked men" had come from the nearby Jhang district, birthplace of both organisations, to incite the anti-Christian rioting in Gojra.
Reuters, 4 August 2009 – Link
Islamist militants from groups linked to al Qaeda and the Taliban are suspected of being behind the mob violence that killed eight Christians in centralPakistan over the weekend, a senior government official said on Tuesday. Sipah-e-Sahaba Pakistan (SSP), an outlawed pro-Taliban Sunni Muslim sectarian group, and its al Qaeda-linked offshoot, Lashkar-e-Jhangvi (LeJ), were suspected of orchestrating the attack in Gojra town, according to Rana Sanaullah, Punjab's law minister.
The News, 3 August 2009 – Link
Gojra city police arrested more than 65 persons on Saturday night and Sunday for their alleged involvement in Saturday's riots.The arrested persons also include a former Sipah-e-Sahaba leader Qari Abdul Khaliq Kashmiri, while father and two brothers of another Sipah activist, Abid Farooqi, were arrested after the accused was not found at home.
DAWN News, 3 August 2009 – Link
The arrested men include Qari Abdul Khaliq Kashmiri, a leader of the banned Sipah-i-Sahaba Pakistan.Police also raided the house of Sipah-i-Sahaba activist Abid Farooqi but he escaped and police took his father and two brothers into custody. Federal Minister for Minorities Shahbaz Bhatti said 40 Christian homes had been torched on Saturday by the banned Sipah-i-Sahaba group, which is accused of attacking security forces and of staging bombings at public places in recent years.
Sipah Sahaba aka ASWJ (Ahle Sunnat Wal Jamaat) caught by Daily Asaas photographer torching Christian houses in Lahore Badami Bagh Joseph Colony – March 2013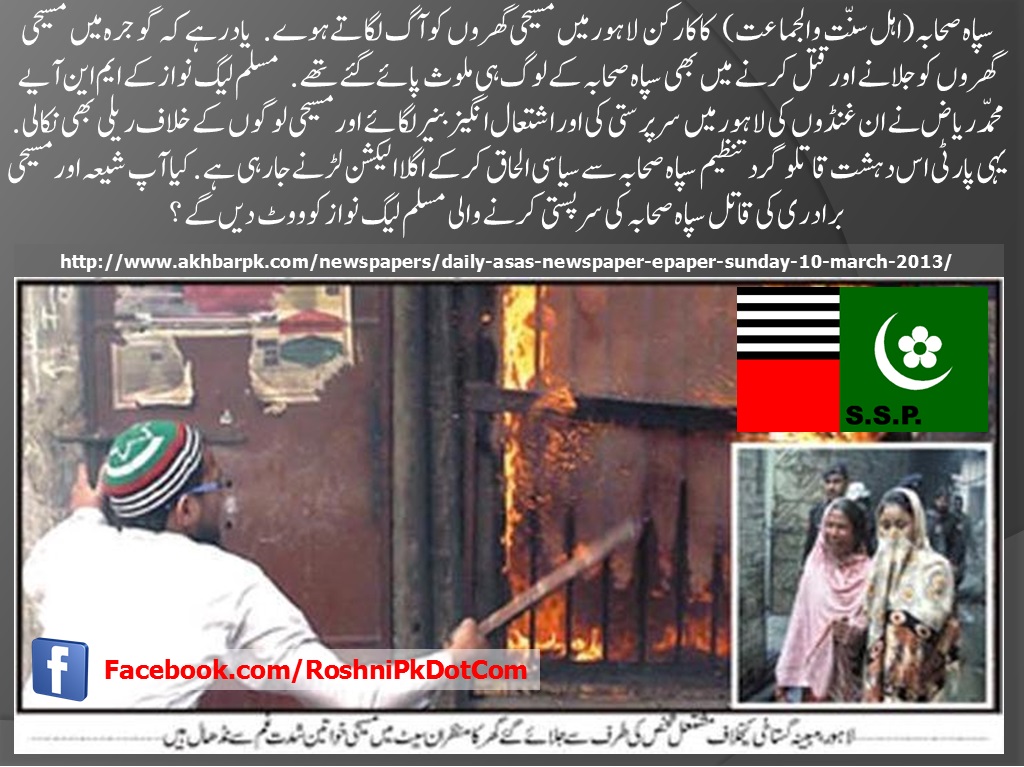 Snapshot of the frontpage of Daily Assas dated 10 March 2013 showing the said photograph
Sipah Sahaba ASWJ main Facebook page Ulma-e-Deoband inciting hate/violence against Christians and Saawan Masin falsely accused for blasphemy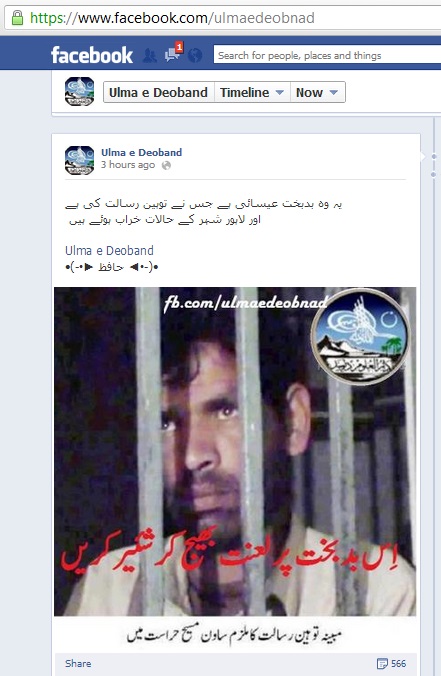 Sipah Sahaba ASWJ main Facebook page, instead of condemning their members for torching Christian houses and condemning this act of vandalism, blaming the oppressed and persecuted Christian community.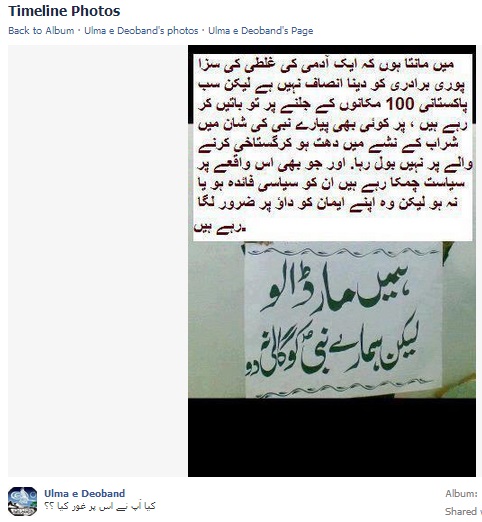 Sipah Sahaba ASWJ not missing a chance to show their blatant hatred for the Shia. A message of support for the persecuted Christian community by Shia leader Ameen Shaheedi is used to label him anti-Islam and an agent of Jews. Pakistan's Shia community, leaders and social media platforms showed exemplary solidarity with the Christian community. Jaafria Disaster Relief visited Joseph Colony and distributed relief cheques while Shia Killing Team actively covered, protested and condemned the violence.
 Amir Mir writes in Daily Jang about Lahore Joseph Colony (Badami Bagh) and Gojra massacre saying Sipah Sahaba ASWJ militants with backing of PMLN directly responsible for these incidents.
With clear evidence of Sipah Sahaba ASWJ militants torching Christian houses and killing them in Gojra massacre of 2009 and Lahore Joseph Colony incident of 2013, why PMLN does not give powers and orders to the Police to take preventive measures? Why PMLN relies on suspending and demoting Police officials when the failure is of administration? The only answer one can think of is PMLN's alliance with Sipah Sahaba ASWJ. A report published in DAWN 2 June 2012 complained that PMLN is reluctant to take action on Sipah Sahaba ASWJ and LeJ militants operating in Punjab despite strong evidence available at hand. The PMLN has sold off minority blood for a few seats, for the votes of ultra-right militants. Unfortunately other parties like PPP and MQM have also been found showing closeness to Sipah Sahaba ASWJ. PPP's Qamar Kaira in one talk show defended talks and getting support from Sipah Sahaba defending them saying "are they not Pakistani?" Well, they may but so are TTP, so were the killers of Benazir Bhutto. Would you want them in the Parliament too? The MQM also visited the Sipah Sahaba's Karachi office. Pakistan's mainstream political parties need to realize that Sipah Sahaba ASWJ is the name of Lashkar-e-Jhangvi, TTP and Jaish-e-Muhammad . They are feeding the militants which will eventually come back at them.
Imran Khan in his Peshawar Jalsa in March 2013 blames PMLN for alliances with terrorist organisation Sipah Sahaba ASWJ which results in Shia Genocide and Ahmadi Persecution
Facebook Video Link  –  YouTube Video Link
Shafqat Mahmood of PTI says Sipah Sahaba ASWJ is frontline organisation in Terrorism and PMLN has an alliance with terrorists
Facebook Video Link  –  YouTube Video Link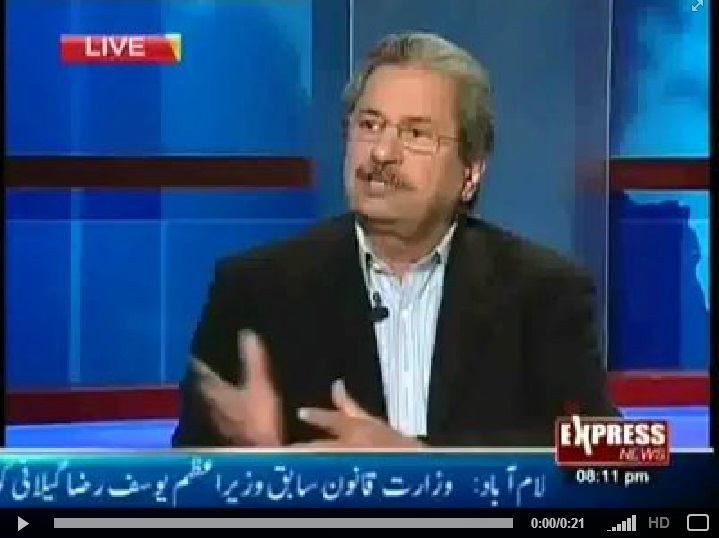 Comments
comments