Has Raza Rumi given up on progressive and moderate Tahir Ashrafi?
In the past Raza Rumi and his Jinnah Institute were promoters of Molana Tahir Ashrafi.
They kept quiet despite Ashrafi's objectionable, hateful statements about about Ahmadis and Shias. It seems, Raza Rumi has finally seen the light in the aftermath of Tahir Ashrafi's support for suicide bombers in Afghanistan.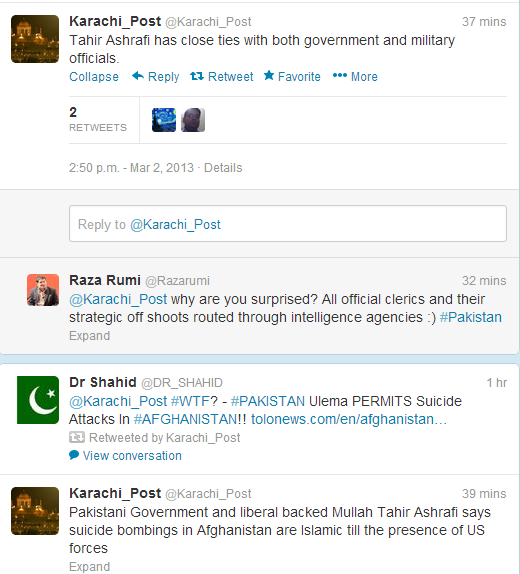 The Chairman of the Pakistan Ulema Council on Friday said that suicide attacks in Afghanistan are permitted as long as US forces are present in the country.

"Palestine is occupied by Israel, Kashmir by India, and Afghanistan by the US. So if the Muslims don't have the atomic bomb, they should sacrifice their lives for God," head of Pakistan Ulema Council Alama Tahir Ashrafi said in an interview with TOLOnews.

"We are asking America to leave the region in order for the region to become peaceful," he added.

Afghanistan's Ulema Council has rejected his comments, stressing that suicide attacks are unlawful under Islam.
http://www.tolonews.com/en/afghanistan/9627#.UTHCxQJChYc.twitter

Head Pakistani cleric backpedals on suicide attacks

By LISA LUNDQUISTMarch 4, 2013

In a somewhat startling reversal for the religious leader of a nation, Allama Tahir Ashrafi, the Chairman of Pakistan's Ulema Council, announced yesterday that his recent statement endorsing suicide attacks and other forms of violent jihad in "occupied" Muslim countries was taken out of context and that harming civilians is acceptable to none.

It was widely reported that on March 1 Ashrafi stated: "Palestine is occupied by Israel, Kashmir by India and Afghanistan by the US. So if Muslims don't have the atomic bomb, they should sacrifice their lives. We want America to leave the region." [See LWJ report, Pakistani clerics endorse suicide bombings, reject proposed peace conference.]

Ashrafi told Pajhwok Afghan News yesterday, however, that "I've never supported suicide attacks that cause civilian casualties in Afghanistan," and he added that such bombings had also been banned by Taliban emir Mullah Omar.

Despite Ashrafi's claim that Mullah Omar does not support suicide attacks, the tactic has been used with regularity by his Taliban forces.

Since the first such attack on Sept. 9, 2001, suicide attacks have killed well over 3,755 people in Afghanistan and the vast majority of the victims of these attacks have been civilians. According to the United Nations' 2012 Report on Protection of Civilians in Armed Conflict in Afghanistan, 22% of all civilian casualties inflicted by antigovernment elements in 2012 were caused by suicide attacks. The UN documented 1,507 civilian casualties in 2012 (328 killed and 1,179 injured) from 73 incidents of suicide and complex attacks (the latter include suicide attacks). Three children died executing suicide attacks in 2012, and 48 more were arrested for planning to conduct such attacks.

The UNAMA report also states: "In 2012 UNAMA documented 46 separate incidents for which the Taliban publically claimed responsibility. These incidents accounted for a total of 513 civilian casualties and included 15 targeted killings, 12 suicide and complex attacks, nine IED incidents and seven ground engagements."

It is also curious to see how Ashrafi could even assert, as he did yesterday, that a suicide bombing against a purely military target would be permissible under his version of Islam, given that many of the suicide bombers themselves are civilians. The ranks of suicide bombers include children as young as eight, women, and the mentally handicapped. [See LWJ reports, Taliban rebuild children's suicide camp in South Waziristan, Pakistani Taliban kidnap young girl to turn her into a suicide bomber, and Female suicide bomber strikes in Peshawar, and see also LWJ report, Al Qaeda in Iraq uses disabled women in Baghdad bombings.]

Ashrafi's statement endorsing suicide attacks triggered widespread condemnation from Afghan clerics and government officials, among others. The Afghan High Peace Council issued a statement castigating Ashrafi's declaration on jihad as contradicting every Islamic principle, and a group of Afghan Islamic scholars and clerics said that it was not for the head of Pakistan's ulema council to issue a fatwa, according to TOLOnews.

Afghan national security advisor Rangin Dadfar Spanta warned that the "fatwa" issued by Ashrafi demonstrated the strong current of violence that threatened the Afghan people, Khaama Press reported.

Deputy national security advisor and former spy chief Rahmatullah Nabil called for the international community to blacklist both Ashrafi and Pakistan's Inter-Services Intelligence Agency, according to TOLOnews. Nabil said the fact that Pakistani clerics had responded to the conference invitation with "a religious Fatwa and [that they] consider Jihad in Afghanistan as permissible" amounted to a "very shameless confession" that Pakistan does not want a peaceful and powerful Afghanistan.

Ashrafi's fatwa also drew a reaction from NATO. Secretary General Anders Fogh Rasmussen stated in Kabul today after meeting with President Hamid Karzai: "I strongly condemn endorsing suicide attacks and there is no justification for such a terrorist attacks." Speaking at the joint press conference with Rasmussen, Karzai said the chief Pakistani cleric's fatwa endorsing suicide attacks served to clarify Pakistan's position regarding Afghanistan, Khaama Pressreported.

The speed and the nature of Ashrafi's apparent shift in position yesterday on the issue of suicide attacks suggest that forces are working on him to 'shape the message.'

Read more: http://www.longwarjournal.org/archives/2013/03/in_a_somewhat_startl.php
Comments
comments