Malik Ishaq Deobandi's arrest by Punjab govt: An eyewash? – by Mohammad Shehzad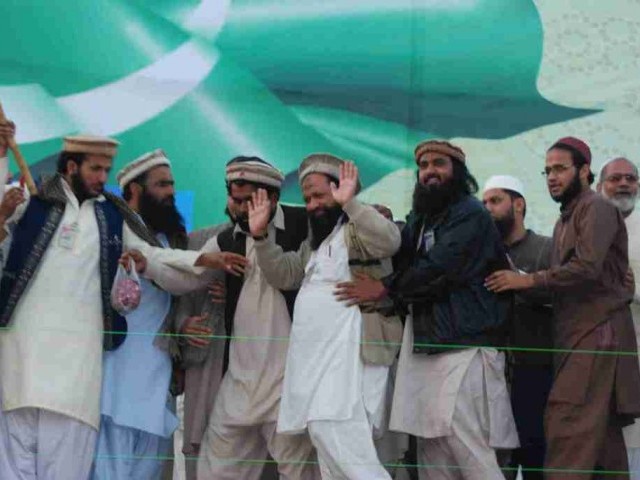 The Punjab government has put Lashkar-e-Jhangvi founder Malik Ishaq under house arrest after it was strongly criticized for being soft on perpetrators of sectarian violence. But the move, made under the Maintenance of Public Order law, will not stop the killing of Shias in Pakistan. It is as absurd as trying to stop terrorism by banning pillion riding on motorcycles.
More than 100 Shias of the Hazara community were killed in a terrorist attack in Quetta on January 10. The relatives declined to bury their dead and sat in on the streets of Quetta with the coffins in protest. The demonstration ended after the government assured them it would take measures to stop such attacks. But on February 16, there was another attack in which another 100 Shia Hazaras were killed.
The defunct Lashkar-e-Jhangvi (LeJ) claimed responsibility for both the attacks. According to the Hazara Mugal Youth Forum Pakistan (HMYF), the banned group has claimed responsibility for the killing of more than 1,000 Shias in the last 10 years. There have been no convictions in court.
The government responded to the most recent attack by carrying out indiscriminate raids arresting hundreds of workers of the banned Sipah-e-Sahaba Pakistan (SSP). Most of the members of the defunct group are not members of Ahl-e-Sunnat Wal Jamaat (ASWJ). The move failed to make an impact.
Rana Sanaullah said Malik Ishaq and his son were given 14 heavy weapons licenses by the PPP-led governments in Sindh and Balochistan
LeJ, a Deobandi sectarian outfit, was created in 1996 by three disgruntled cohorts of SSP – Akram Lahori, Riaz Basra and Malik Ishaq. Former military ruler Gen Pervez Musharraf banned the organization in August 2001. Riaz Basra was killed by Punjab Police in May 2002. Akram Lahori, who ran the outfit from his sanctuaries in Afghanistan and the tribal areas, was arrested by Karachi Police in June 2002, but was acquitted because there was no evidence against him.
This is not the first time Malik Ishaq has been arrested. He has spent 15 years in jail in more than 60 murder cases. He was acquitted in each one of them, one by one, and was released from jail in July 2011. The prosecution failed to present convincing evidence against him. His opponents say he threatens or kills all the witnesses, prosecutors and judges.
During the military operation in Swat, Pakistan Army had arrested more than 600 terrorists fighting against the state. The courts acquitted all of them because there was no evidence of violation of laws. This simply shows our legal system is not equipped to deal with the situation we are in. And a number of laws that are available are never implemented.
Malik Ishaq was reported to have made provocative speeches against Shias in large rallies in Rahimyar Khan and Faisalabad. Videos of the speeches were circulated in the social media. The Punjab government had the grounds to arrest and try him for that, but it didn't.
After his release, Malik Ishaq had announced in public that he had disbanded the LeJ and joined the ASWJ. He wrote a letter to Allama Tahir Ashrafi – now a member of the Council of Islamic Ideology – that he would work for peace and denounce violence. He made the same promise to ASWJ chief Maulana Mohammad Ahmad Ludhianvi.
But addressing a public rally in Rahimyar Khan in October last year, he said he had only locked the Lashkar-e-Jhangvi office and not closed it down. He said he had not forgotten how to use guns and could pick them up against Shias again.
Insiders say Ludhianvi made Malik Ishaq the senior vice president of ASWJ only to ensure he would remain peaceful and compliant.
While Ludhianvi's personal secretary does not know what law Malik Ishaq has been arrested under or whether a case was registered against him, others believe the move is eyewash.
Shia leader Allama Amin Shaheedi, who is the deputy secretary general of Majlis-e-Wahdatul Muslimeen, said Malik Ishaq incited his followers to kill Shias in public rallies and the Punjab government was providing him protection.
Interior Minister Rehman Malik made similar allegations. If the Punjab government does not arrest Malik Ishaq, he said, he would raid LeJ's headquarters in Lahore with the help of the paramilitary FC force and arrest him.
Pakistan Muslim League-Nawaz (PML-N) leader Rana Sanaullah, the home minister of Punjab, said Ishaq and his son Malik Usman were given 14 heavy weapon licenses by the PPP governments in Sindh and Balochistan.
Meanwhile, the ASWJ has been protesting against what it calls a move to sabotage its election campaign. The ASWJ and the PML-N are electoral allies. The group's secretary general Khadim Dhillon said the federal government was harassing its leaders and workers.
"Indiscriminate raids and arrests won't curb sectarian terrorism," said Tahir Ashrafi, who was once a close friend of Malik Ishaq but distanced himself from the leader because of his violent activities. He said the move would not address the grievances of the Hazara community, Malik Ishaq would have to be released again, and in the end sectarian violence would increase. "Only the supremacy of law and an across-the-board implementation of it can emancipate the country from the scourge of sectarianism."
He also stressed the need for new laws against hate speech, and the implementation of the existing ones, including what is known as the Loud Speaker Act. The government should invite, listen to and address the genuine concerns of leaders of all religious groups, he said. "And whosoever violates the law – Sunni or Shia – should be strictly punished."
The writer is an Islamabad-based journalist/researcher. Archived work: www.pol-dev.com Email: yamankalyan@gmail.com
– See more at: http://www.thefridaytimes.com/beta3/tft/article.php?issue=20130301&page=4#sthash.WyMzamb7.wBpDEiSM.dpuf
Source: http://www.thefridaytimes.com/beta3/tft/article.php?issue=20130301&page=4#, The Friday Times, March 01-07, 2013 – Vol. XXV, No. 03
Comments
comments