Shahbaz Sharif won Bhakkar MPA seat thanks to ASWJ-LeJ's Malik Ishaq's support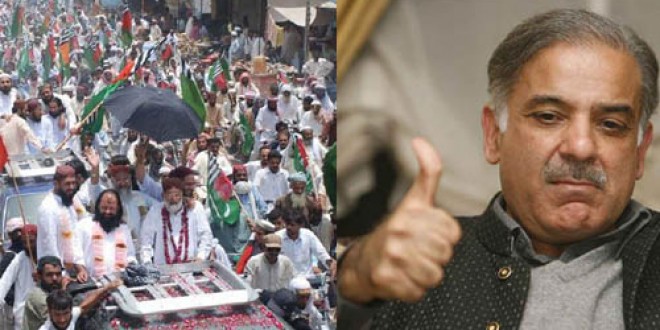 Feeling clearly upset over Nawaz Sharif-led PML-N's changing tone and tenor towards Ahle Sunnat Wal Jamaat (defunct Sipah-e-Sahaba Pakistan – SSP aka Lashkar-e-Jhangvi LeJ), the central leadership of ASWJ has reminded Shahbaz Sharif that he owes his present chief ministership to none other than the Sunni Deobandi religious party which had withdrawn its candidate in his favour from PP-48 Bhakar-II to ensure his election as a member of the Punjab Assembly in June 2008.
Visibly offended over the PML-N spokesman Pervaiz Rasheed's recent statement that he hardly knew about the existence of a party with the name of Ahle Sunnat Wal Jamaat, ASWJ's central secretary general Dr Khadim Hussain Dhillon has advised him to better check with his boss, Shahbaz Sharif, on whose request Maulana Mohammad Ludhianvi had withdrawn his party's candidate [Maulana Abdul Hameed Khalid] in Mian Sahib's favour to pave the way for his unopposed election as a member of the Punjab Assembly in the June 2008 by-election.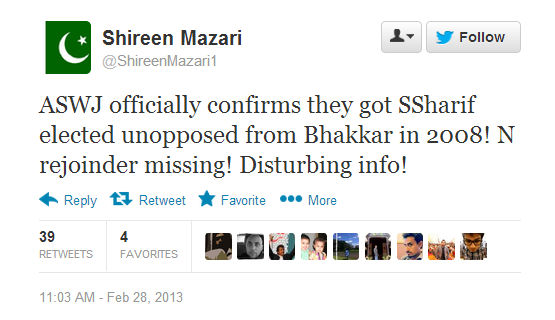 Shahbaz Sharif was elected unopposed from PP-48 (Bhakar-II) on June 2, 2008 after the remaining 17 candidates in the run were made to withdraw from the race. The Bhakar seat had actually been won by an independent candidate, Saeed Akbar Niwani, in the February 18, 2008 elections. He had retained the PP-49 seat and vacated the PP-48 seat after joining the PML-N. Mian Shahbaz Sharif, who could not take part in the February elections after being disqualified by the Lahore High Court, eventually became the provincial chief executive on the same seat on June 8, 2008.
Giving details to The News of the 2008 understanding between ASWJ and the PML-N, Khadim Dhillon said: "Our candidate from PP-48 was Maulana Abdul Hameed Khalid, the president of the Bhakar chapter of the ASWJ. Of the 18 candidates in the run, 16 had been made to withdraw by the local administration [which was under the command of Chief Minister Dost Mohammad Khosa]. Those left in the field were Shahbaz Sharif and Maulana Abdul Hameed Khalid who had refused to withdraw from the race. As the by-election loomed, Shahbaz Sharif approached Maulana Mohammad Ahmed Ludhianvi with a request to withdraw his candidate in his favour. For further talks, a six-member PML-N delegation consisting of Sanaullah Khan Masti Khel, Ikramullah Niazi, Khawaja Ahmed Hassan, Zafarullah Dhada, Afzal Khan Dhada and Najeebullah Khan formally called on Maulana Abdul Hameed Khalid at his seminary (Jamia Siddiqia) in the Panj Garan area of the Bhakar district a day before the by-election. They formally requested Maulana Ludhianvi and Maulana Khalid on behalf of Shahbaz Sharif to pave the way for his unopposed election to ensure the beginning of a new chapter of friendship and amity between PML-N and the ASWJ. Our leadership subsequently decided to oblige Mian Sahib by withdrawing its candidate as a goodwill gesture".
Approached by The News, Maulana Abdul Hameed Khan gave further details of the PML-N and the ASWJ détente which led to his withdrawal in favour of Shahbaz Sharif. "I am extremely hurt for having sacrificed my candidature and facilitated the election of someone who has no regard for his benefactors from the Ahle Sunnat Wal Jamaat. One feels sorry to say that the PML-N leadership has not only disowned its benefactors but also launched a tirade against them in the news and print media which is quite painful. Let me tell you frankly that it was actually Shaukat Javed, the then Inspector General of the Punjab Police who had first approached Maulana Ahmed Ludhianvi and arranged his meeting with Shahbaz Sharif in Lahore shortly before the Bhakar election. During the meeting, Maulana Ludhianvi had called me and handed over his phone to Shahbaz Sharif. It was then that Mian Sahib made me a personal request for withdrawal in his favour."
Maulana Abdul Hameed Khan continued: "A six-member delegation of PML-N came to see me at Jamia Siddiqia Panj Garan in Bhakar a day before the election where Maulana Ludhianvi and other leaders had finally agreed to support Shahbaz Sharif. Immediately afterwards, the PML-N delegation and the leadership of the ASWJ went to the court of the district and sessions judge (Bhakar) where I formally withdrew my candidature. Sanaullah Khan Masti Khel then called Shahbaz Sharif and congratulated him for his unopposed election. He also made Mian Sahib say thanks to me on telephone. I had met Shahbaz Sharif only once since he became the chief minister. The meeting was held in Lahore where he thanked me for my sacrifice and told me that the leadership of the two parties should constantly stay in touch".
Earlier, PML-N spokesman Pervaiz Rasheed had strongly refuted reports of a possible seat adjustment deal with the ASWJ in the coming general elections, saying his party had neither sought nor seeks the support of any extremist group or party in the polls. Although Pervaiz sticks to his 'official stance', Maulana Mohammad Ahmed Ludhianvi had reminded him that besides paving the way for Shahbaz Sharif's unopposed election from Bhakar, the PML-N and ASWJ had jointly contested the March 2010 by-election on another Punjab Assembly seat PP-82 (Jhang) that was won by PML-N's Azam Chela. Maulana Ludhianvi added while referring to the PML-N leadership: "They are weak people who can't stand up to pressures. They lack the ability to stay firm in difficult times. They deem it convenient to change their stance under changing circumstances".
According to Dr Khadim Dhillon, instead of disowning his benefactors in the ASWJ and launching a tirade against the party, Shahbaz Sharif should have been grateful to people like Maulana Ludhianvi and Maulana Hameed for whatever they did for him. "Shahbaz Sharif had given us a commitment at the time of the Bhakar by-election that he would not repeat past mistakes. But it seems that he has not only forgotten his previous mistakes but is bent upon committing more. But let me make it clear to all and the sundry that we are here to exist as a reality. We have thousands of voters in almost every constituency of South and Central Punjab and the PML-N leadership is destined to knock at our doors once again when the elections come".
Source: http://www.xreports.net/2013/02/khadim-e-aala-became-punjab-cm-because.html
Comments
comments