@CMShehbaz Sharif cordially invites you to LeJ's Conference in Rahim Yar Khan, Punjab – by Ada Khakwani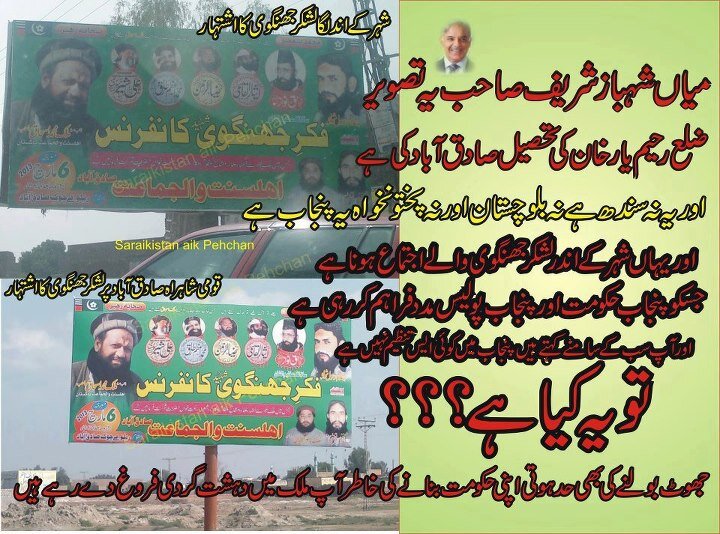 The banned Deobandi terrorist group Lashkar-e-Jhangvi (LeJ, currently operating as Ahl-e-Sunnat-Wal-Jamaat ASWJ, previous name Sipah-e-Sahaba Pakistan) is organizing "Ideology of Jhangvi" Conference in Sadiqabad, Rahim Yar Khan District, Punjab province of Pakistan on 6 March 2013.
Given that the ASWJ (political front of LeJ) is currently in political alliance with PML-N, one may assume that the Punjab government has not only allowed the holding of the "Fikr-e-Jhangvi" (Ideology of Jhangvi) conference but is also assisting in its organizing, security and subsidized participation to find new recruits for anti-Sunni Barelvi and anti-Shia terrorist activities in Lahore, Quetta, Karachi, Peshawar etc.
In Rahim Yar Khan and other cities of the Punjab, big hoardings of the "Ideology of Jhangvi" conference have been publicly displayed.
According to the well-publicized programme, known terrorists of LeJ-ASWJ including Malik Ishaq Deobandi, Ghulam Rasool Shah Deobandi and others will address the conference in order to mass brainwash to enable Shia genocide in Pakistan.
According to reports, Punjab police will provide the security to the terrorists who will attend the conference. Shahbaz Sharif has asked Rana Sanaullah to bear all expenses for organizing and security of the conference on Punjab govt's expenses.
The word "Fikr-e-Jhagvi" means the Ideology of Haq Nawaz Jhangvi, the slain founder of Sipah-Sahaba (ASWJ-LeJ), the Chief Architect of Shia genocide in Pakistan.
Pakistan Muslim League -Nawaz (PML-N) has also made seat adjustments with ASWJ-LeJ in upcoming country's upcoming elections. Takfiri Deobandi terrorists of ASWJ-LeJ have killed thousands of innocent Shia and Sunni Barelvi Muslims across Pakistan in the last few decades.
Comments
comments