Appointment of Mushtaq Sukhera as IG Balochistan is a good news for ASWJ-LeJ – by Ada Khakwani
In the aftermath of ongoing Shia genocide in Balochistan, Prime Minister Raja Pervez Ashraf has appointed Mushtaq Sukhera as Inspector General Balochistan. Apparently this appointment does not deliver good news to Shia Hazaras of Quetta.
Former Additional Inspector General Police Punjab Mushtaq Sukhera played a key role in forging a political alliance between ASWJ-LeJ terrorists and PML-N (the party currently ruling the Punjab province). Sukhera is known for his links with Takfiri Deobandi militants and is a loyalist of PML-N's Sharif Brother and the military establishment. During his posting in South Punjab (Bahawalpur, Multan etc) he used to host and hide Malik Ishaq at his private residence. The appointment of such a person as IG Balochistan is nothing but tragic joke and an insult to Shia Muslims of Balochistan.
Sukhear is the same man who carefully worked with Pakistan army and ISI to cultivate nurseries, seminaries and terrorist camps of Deobandi-Wahhabi Jihadist in South Punjab. Dr. Ayesha Siddiqa notes:
"One of the stories highlighted comments by the Bahawalpur Regional Police Officer (RPO) Mushtaq Sukhera, in which he denied that there was a threat of Talibanisation in South Punjab. He said that all such reports pertaining to South Punjab were nothing more than a figment of the western press's imagination…. Officer Sukhera and others like him do not see any threat because the Punjab-based outfits are "home-grown" and are not seen (by the establishment) as directly connected to the war in Afghanistan. This is contestable on two counts: South Punjabi jihadists have been connected with the Afghan jihad since the 1980s and the majority is still engaged in fighting in Afghanistan. Moreoever, since all these outfits were created by the ISI to support General Zia-ul-Haq's Islamisation process, in essence to fight a proxy war for Saudi Arabia to target the Shia community, and later the Kashmir war, the officials feel comfortable that they will never spin out of control."
https://lubpak.com/archives/19450/comment-page-1#comment-300207
DIG Mushtaq Sukhera also played a key role in harassing and torturing retired Colonel Ehsan and Shahid Mahmood upon the instructions of Shahbaz Sharif in the Justice Sharif murder plan scandal. The FIA report contained a statement that charged the DIG Sukhera-led inquiry team with "torturing, threatening and bribing" a sub-inspector, who they wanted to be the fall-guy in the case. https://lubpak.com/archives/30993
7 January 2013: Dunay News and Dunya newspaper report about an electoral alliance between PML-N and ASWJ (Sipah Sahaba). In the dialogue team, PML-N's Rana Sanullah, ASWJ-LeJ's Malik ishaq, Ahmed Ludhianvi, Khadim Dhillon and additional IG Mushtaq Sukhera participated.

اگر ہم آپ کو کہیں کہ تختِ اقتدار پر بیٹھے ہوئے بھیڑیے آپ کے جذبات کے ساتھ کھیل رہے ہیں اور آپ کو بیوقوف بنانے کی پوری کوششیں کر رہے تو آپ کیا کریں گے؟
پنجاب میں کالعدم سپاہِ صحابہ اور ان کے رائیونڈی ساتھی مسلم لیگ نواز کے درمیان اتحاد اور دوستی کا معاہدہ کروانے والے شخص کا نام ہے مشتاق سکھیرا۔ کون ہے یہ مشتاق سکھیرا؟
مشتاق سکھیرا بلوچستان کا نیا آئی جی پولیس ہے جسے آج صبح ہی وزیر اعظم نے عہدہ سنبھالنے کا حکم دیا ہے۔ ہمارے کچھ نادان دوست اس تبدیلی کو ایک چھوٹی سی کامیابی سمجھ بیٹھے ہیں جبکہ اصل میں یہ حکومت کی سازش ہے تاکہ ہمارا دل بہلایا جاسکے۔ یعنی تین دن دھرنے کے بعد بھی ان مردہ ضمیروں کو ہوش نہیں آیا، انہیں ہوش دلانے کے لئے اب کیا کرنا پڑے گا؟
Source: Adapted from Karbal-e-Quetta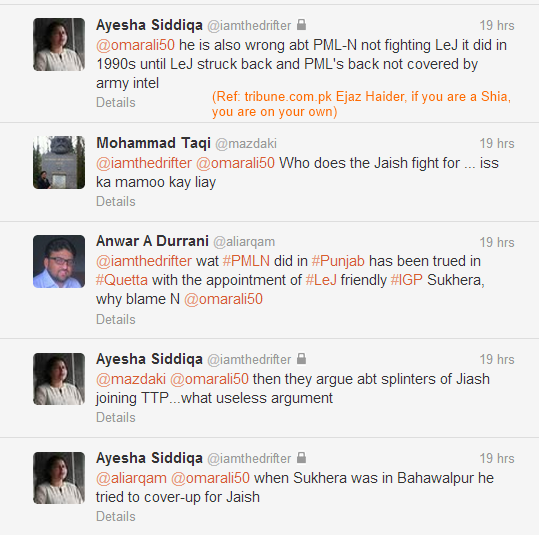 Comments
comments