Molana Tahir Ashrafi, Beena Sarwar and Ali Abbas Taj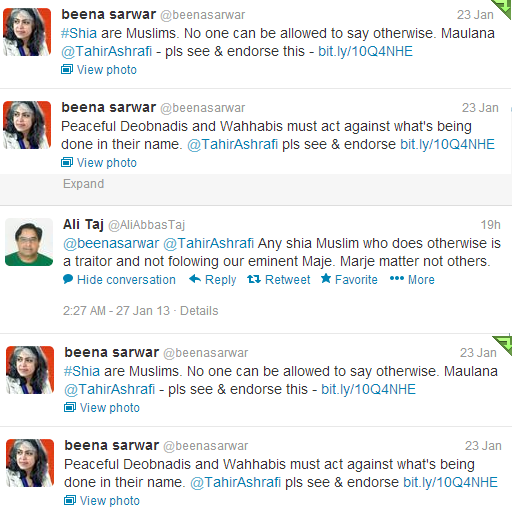 Chief amongst those who engage in Takfir are the militant groups like ASWJ/LeJ and the Taliban – both of whom are composed almost entirely of Deobandi Sunni muslims. However, Takfir as a reductionist worldview even compels these groups to murder those Deobandi muslims who do not subscribe to their Takfiri-inspired violence.
LUBP's principled condemnation of Takfir is the primary cause of the heated debate between this blog and Maulana Tahir Ashrafi. Inspite of the casualties, one hopes that there is a positive outcome from all of this and that is a clear and unambiguous acceptance of Shias as muslims by the Maulana who had just been appointed to the Council of Religious Ideology.
Refer to these two statements by prominent Shia clerics and scholars which should allay any concerns.
Maulana Tahir Ashrafi should realize that holding Shia muslims collectively responsible for the insensitive speeches of some clerics is wrong. Similarly, historical critiques cannot justify mass murder.
At this critical juncture of history, Maulana Ashrafi has a great opportunity to put an end to to the ongoing genocide of Shia muslims in Pakistan. He can use his considerable media influence to state, without ambiguity, that Shias are muslims and that Takfirism and extremism have no place in our society.
http://www.radianceweekly.com/226/6211/does-the-verdict-legitimise-masjid-demolition/2010-10-17/shia-sunni-unity/story-detail/denigration-of-hazrat-ayesha-is-haramsunni-scholars-hail-khameneis-fatwa.html
http://www.mehrnews.com/en/newsdetail.aspx?NewsID=1800912
High Time for Deobandi/Salafi/Wahabi to Think – by Zahoor Hyder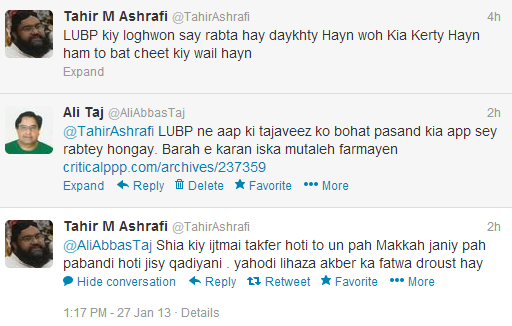 اکابردیوبند علما شیعہ مسلمانوں کی تکفیر کو درست نہیں سمجھتے – از عبدل نیشاپوری
Comments
comments