ANP wants OBL Commission report in parliament -by Mustajab Tareen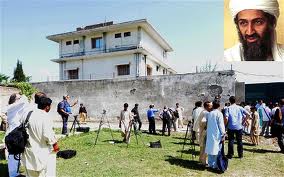 ANP vice president, member national assembly and one of the most outspoken voices among Pakistan political forces Bushra Gohar has demanded that Abbottabad commission report to be presented before the public representatives in the parliament.
We appreciate her bold stance over the most embarrassing incident of the whole saga known as 'War On Terror' when head of a terrorist outfit AlQaeda appeared found in a bunker built in the Garrison town of Abbottabad, situated on a stone throw distance from the illustrious institution of Pakistan Military Academy. It must be remembered that Al-Qaeda is the Takfiri-Salafi outfit responsible for the deaths of thousands in Pakistan, Afghanistan, Iraq, United States, Libya, Syria, Algeria, Kenya, Indonesia and across the world
We urge other parliamentarians and social activists to voice their support for the call to made the report public for an accountability of those responsible for the OBL fiasco.
Here's how Daily Times has reported the demand made by Bushra Gohar.
ANP wants OBL Commission report in
parliament
By Tanveer Ahmed
ISLAMABAD: The Awami National Party (ANP) on
Thursday demanded that Abbottabad Commission's
report be presented in parliament for further debate
in the National Assembly, which was again haunted
by creation of new federating units in Punjab.
Contrary to previous days of current session, the
House appeared lacklustre because of thin presence
of members and absence of stalwarts of the
parliamentary parties. ANP's Bushra Gohar stirred up
an otherwise dull atmosphere of the House. Speaking
on a point of order, she noted that Abbottabad
Commission's report had been presented to the
prime minister and it should also be placed before
parliament.
"Inquiry commissions are constituted in Pakistan to
shelve matters," she said and added that history and
record of commissions constituted earlier in the
country to probe into different incidents was not
good. Gohar said Abbottabad Commission's report
should not only be presented in parliament but stern
action should be tkane against the people and
institutions found negligent in connection with the
US operation, she demanded.
Source; DailyTimes
Link: www.dailytimes.com.pk/default.asp?page=2013%5C01%5C25%5Cstory_25-1-2013_pg7_1
Comments
comments